Are you planning a road trip with your dog? Lucky you! Road trips are a blast, and they're even better when you can bring your doggo along. But before you hit the open road, there are a few things you need to do to prepare.
In this ultimate guide, we'll tell you everything you need to know about taking your dog on vacation. From packing essentials to finding dog-friendly accommodations, we've got you covered.
So pack your bags and get ready for an adventure with your pup!
How Long Can a Dog Go On a Road Trip?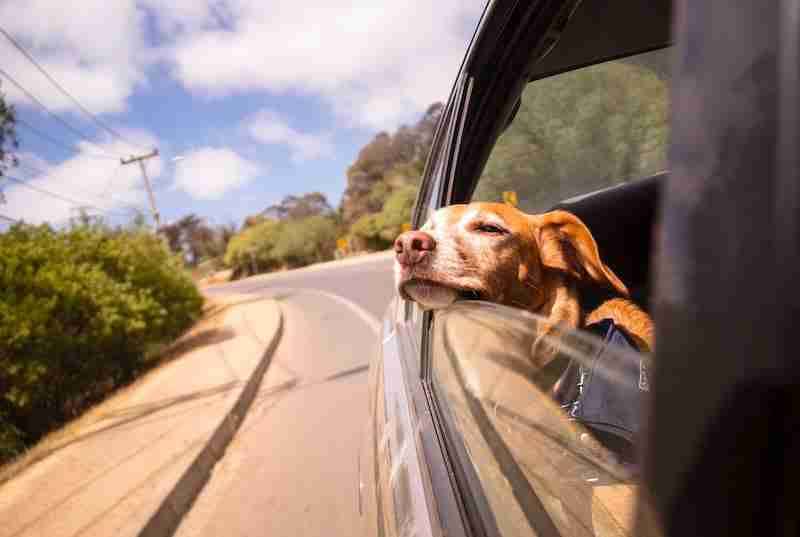 You're planning the perfect dog friendly vacation with your pupperino, but you may be wondering, how long can a dog go on a trip like this?
Well, it depends. Some dogs are better at handling long car rides than others. The best way to tell if your dog can handle a road trip is to take them on some shorter trips first and see how they do.
Extend these trips by an hour or two each time until you're confident that your dog can handle the car rides. If your dog does well on these shorter trips, then they should be able to handle a longer road trip.
Here are some factors that will influence how much tolerance your dog has for a long ride:
Your Dog's Age
Puppies and senior dogs may not be able to handle a long road trip. If you're planning a road trip with a puppy, make sure to plan plenty of stops so they can take potty breaks and stretch their legs. Senior dogs may need more frequent bathroom breaks as well.
Your Dog's Familiarity with the Car
This is a huge one – if your dog never goes for car rides, they're probably not going to enjoy a road trip. If you want your dog to be comfortable in the car, start taking them on short car rides around town before the big trip. This will help them get used to the car and build up their tolerance.
Your Dog's Size
Smaller puppers may get car sick more easily than larger dogs. If your dog's prone to motion sickness, you may want to consider giving them an anti-nausea medication before the trip. Ask your vet about this.
Your Dog's Personality
Some dogs just love road trips! They enjoy being in the car and taking in all the new sights and smells. Other dogs get anxious and stressed in new environments. If your dog is the latter, road trips probably aren't for them.
They may have a history of trauma or just be a generally anxious dog. If this is the case, you can try some calming supplements or pheromone collars to help them relax. Also get them used to pet friendly travel in small amounts over time.
How Long Is Too Long for a Dog to Be in a Car?
In general, you'll need to let your pupper out of the car every 3 to 4 hours for a bathroom break and to stretch his legs. Regular stops are also helpful for feeding, since it can be hard on your doggerino's stomach to eat while the car is moving.
This is assuming your dog is already comfortable with car rides and can handle longer periods of time in the car. It also assumes your dog is older and can hold it for that long.
If you have a puppy or a senior dog, you'll need to stop every 1 to 2 hours, depending on their age and needs. They don't have as much control of their bladders and may need to potty more frequently.
And of course, if your dog is showing signs that they need a break – such as whining, pacing or barking – then you'll want to stop as soon as possible.
What About Leaving My Dog Alone in the Car?
Did you know when it's 80 degrees outside, your car can skyrocket to 99 degrees in only ten minutes? Since your pup doesn't have sweat glands as humans do, they can't cool themselves down as easily.
This means that leaving your dog in the car – even for a short period of time – can be dangerous. Try not to leave your dog in the car for more than 5 to 10 minutes at a time.
Since it may be impossible to avoid leaving your dog in the car at some point on a road trip, it's important to take precautions. Here are some of the best choices you can make to keep your pupperino cool and safe in the car:
Park in the shade
Use reflective window shades
Leave the air conditioning on
Crack your windows (this actually doesn't reduce the temperature much, but ensures a flow of fresh air)
Leave water in the car
Put a note with your contact info on your window in case of an emergency
Make sure to frequently check on your dog to make sure they're doing okay.
Get a cooling mat for your doggie
Put a cooling vest on your puppo
Read more about how to cool a dog down here
With these preparations, you and your four-legged friend will be safe when left alone in the car for short periods of time. Personally, when my pupper Indy gets small breaks during road trips, I'm pretty sure she soaks up the alone time and enjoys a brief nap. She's pretty tired out from all of the road tripping adventures!
Are Road Trips Stressful for Dogs?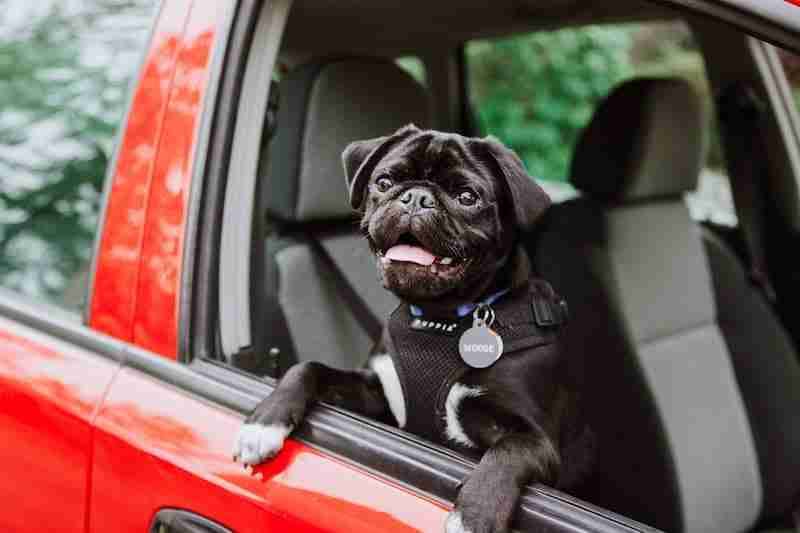 Road trips can be challenging for dogs, just as they have the potential to be for humans. Think about it – even if you're having a great time road tripping across the country with your pupperino, you may be getting less sleep, less hydration, and less or more exercise than you're used to.
The same goes for your dog. They may not be getting the same amount of walks, playtime, or cuddles as they normally do. This can lead to some stress and anxiety for your pup.
However, if your dog isn't showing signs of distress such as increased panting, pacing, hiding, or barking, then they're likely enjoying the road trip just as much as you are!
It's your job to reduce their stress levels by preparing properly for the road trip. Make sure to frequently stop for potty breaks and playtime, and by keep their schedules as regular as possible.
Minimizing stressful situations will make for a much more enjoyable road trip – for both you and your doggerino!
What to Bring For Your Road Trip with Your Dog
Whenever I take Indy on a road trip, I use this pet-friendly packing list to make sure I have everything we need ahead of time:
The Basics
Water and food bowls: I like to use this dog travel water bowl to make sure Indy never gets thirsty and also recommend a set of collapsible dog bowls.
A week's worth of food: You can use a rigid plastic container or a kibble carrier bag that helps keep the food fresh.
Medications: If your dog is on any medication, make sure to pack enough for the entire road trip.
Proof of vaccination: Some hotels or camping grounds require proof of vaccination, so it's always good to have this handy.
Treats: Not only will treats keep your dog happy along the way, but they are great for rewarding good behavior.
Toys: Of course, toys are essential for trips with your dog. Just consider keeping the squeaky toys to a minimum to avoid driving yourself crazy!
Poop bags: Whatever amount of poop bags you think you'll need, bring double! You never know if you'll need extra, and they may even be handy for other purposes such as picking up trash in the car.
Leash, collar, and tags: Make sure your dog's tags are up-to-date with your current contact information in case they get lost along the way. Read about the different types of dog collar that may be useful for this purpose here.
Dog bed or blanket: It's helpful for your dog to have his own territory in the car, and a bed or blanket will make it feel more like home. You can bring your dog's bed from home or get them a travel dog bed that can easily fold up and save you space.
First Aid Kit: There are plenty of Dog first aid kits that can be purchased online or in pet stores. Alternatively, you can make your own by including items such as gauze, non-latex gloves, hydrogen peroxide, cotton balls and swabs, scissors, and tick tweezers.
For the Car
Dog Seat Cover: This dog seat cover is a must if you plan on keeping your car clean or want to go on a more adventurous road trip.
Dog Car Seat: Using a dog car seat can help stabilize your doggo while making her feel more calm on the journey.
Seat Belt: These straps attach well to the back of a headrest and you can attach them to a harness to help keep your dog from falling off the seat. Never attach these to a dog collar.
A pet barrier: These car net barriers are great for dogs that like to hop between the front and back seat.
Anti-nausea medication: Talk to your vet about whether your dog may need anti-nausea medication for road trips, especially if they are prone to car sickness.
Extra towels: I like to keep some extra towels in the car for things like muddy paws, accidents, or beach days.
Puppy Pads: Puppy pads can be placed on the seat or floor of the car and are great for road trips with puppies who are still being potty trained.
A list of nearby dog parks and dog friendly stops: This will come in handy when you're looking for things to do with your dog along the way.
Extras
Finding Pet Friendly Accomodations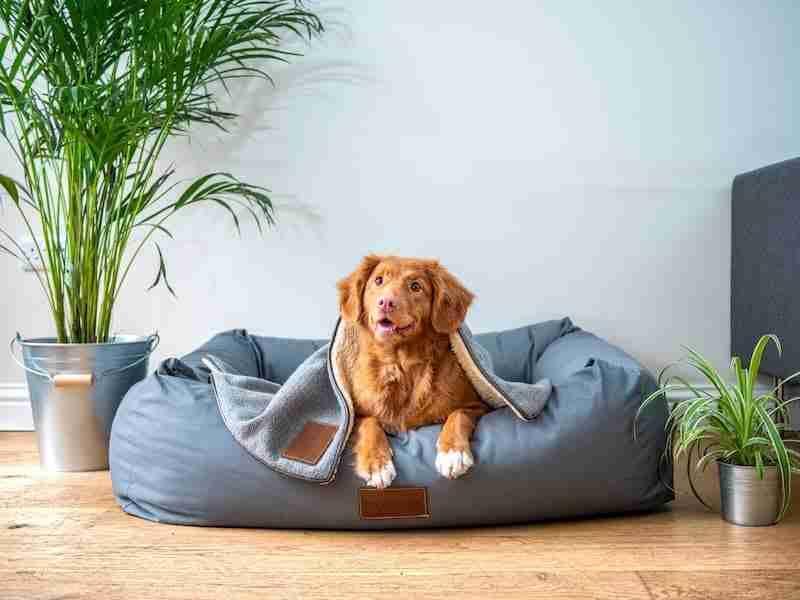 One of the most important parts of road tripping with your dog is finding pet friendly accommodations. There are a few different ways to go about this:
Look Up Dog Friendly Hotels
You can use websites like BringFido or Pets Welcome to find hotels, motels, and even vacation rentals that allow pets. You can then confirm availability for dogs by calling the property.
There are some questions you'll want to ask before booking pet friendly hotels. They may have a fee for pets or a deposit. They may also have a limit on how many dogs are allowed per room, as well as weight and size limit. There may be a possibility of breed restrictions as well.
Make sure to check in about all of these details when you call to book.
Use the Pets Allowed Filter On Airbnb
There is a convenient feature on Airbnb that allows you to filter your search by only looking at accommodations that allow pets. This can be a great way to find places to stay, especially if you're looking for something more private like an entire home or apartment rather than a hotel room.
As with hotels, it's important to confirm with the host that your dog is indeed welcome ahead of time to make sure your trip with your dog goes as smoothly as possible.
RVing or Camping With Your Dog
If you're road tripping in an RV or plan on camping, then finding pet friendly campgrounds should be your first priority. You'll want to call any national, state, or private sites to confirm that they are pet friendly and to find out about any potential rules or restrictions.
There are a handful of national parks that dog owners love to road trip to with their furry friends due to open access to many of the trails and facilities. In the US, these include Acadia National Park, Great Smoky Mountains National Park, and Zion National Park.
Staying With Family and Friends
If you're road tripping to visit family or friends, make sure to call ahead and let them know that you'll be bringing your dog. This will give them time to make any necessary preparations, such as puppy proofing their home or setting up a pet bed in their guest room.
You'll also want to take note if your friends and family have pets of their own. Depending on your dog's temperament, it may be best to find other accommodations if there will be too many animals in one place.
What Can I Give My Dog to Calm Him Down in the Car?
When you're on a trip with your dog, it can become pretty stressful for them to be in the car for extended periods of time. If this is the case, here are a few things you can do to take the edge off during the extended route.
Stop for a Food and Water Break
Make sure to stop for food and water breaks every few hours so your dog can stretch his legs, use the restroom, and have a snack. This will help to keep him from getting too stir crazy during the drive.
Use a Thundershirt or Other Anxiety Wrap
A thunder shirt is a piece of fabric that wraps around your dog's chest and provides a sense of security. It's often used to calm dogs during thunderstorms, but it can also be helpful for road trips.
Use a Calming Supplement
Calming supplements usually come in treat form or you can add them to your dog's water to help him relax during the drive. Be sure to speak with your veterinarian before giving your dog any type of supplement.
Try a Calming Diffuser in the Car
These work just like a regular diffuser but clip onto the air vents in your car. Take your car diffuser and put a few drops of calming essential oils like lavender or chamomile on it. This can help to create a relaxing atmosphere in the car for your dog during the drive.
Keep the Music Low
Taking a trip with your dog means that you shouldn't blast your speakers. Keeping the music low will help to keep your dog calm during the drive. Don't play anything too loud or with a lot of bass, as this can agitate your dog.
Stop By a Dog Park
If you're going to be in the car for a long period of time, it's a good idea to make a pit stop at a dog park. This will give your dog the chance to run around and play with other dogs, which can help to burn off some energy.
Ways To Keep Your Pupper Extra Safe
No one wants anything bad to happen to their dog, so here are a few tips on how to keep your furry friend safe during your road trip.
Brush Up on Basic Commands
Before hitting the road, make sure your dog knows basic commands like sit, stay, come, and down. This will be helpful if you need to get their attention in a crowded or loud place.
Bring Their Identification
Take time to update your pupperino's ID tags before your trip if necessary and attach them securely to their collar. You may also consider microchipping your dog in case they get lost, so that they can be returned to you more easily.
Make Sure Your Doggo is Updated on All Shots
Before a road trip with your pup, make sure that they are up to date on all of their vaccinations. This is important if you come into contact with other animals during your travels. Keep any papers with recent vaccinations on hand or digitally on your phone.
Pick the Right Car Harness or Crate
It's important to choose the right type of harness or crate so it is comfortable and works well. A properly fitting harness will keep your dog secure in the car, and a crate can provide a safe space for them to rest during long road trips.
Be Aware of Vets in the Area
If you're going to be traveling in an area where you're not familiar with the local veterinarians, it's a good idea to research those vets before your trip. This way, you'll know where to go if your dog needs medical attention while you're away from home.
The Bottom Line
For many pet owners, taking a road trip with dog companions is one of the best ways to explore the country. Now that you know how to prepare, all that's left to do is hit the road!