As a loving dog owner, when you're searching for that perfect luxury dog toy to spoil your furry friend, you want fun and entertainment for them and provide a touch of elegance and style.
Before you make a purchase, it's crucial to consider some pointers to ensure that you're choosing the perfect high-quality dog toy that is not only luxurious but also safe and suitable for your beloved pupperino.
Our Top 5 Items From This Article
Scroll down further for full details
The Best 10 Fancy Dog Toys 2023
Welcome, fellow dog lovers, to a world of opulence and extravagance where our furry friends reign supreme.
We understand that your loyal companions deserve nothing but the very best.
That's why we've curated a collection of stylish dog toys that will make tails wag and hearts flutter with delight.
From designer delights to technologically advanced marvels, these toys are tailor-made for pampered pooches who expect nothing less than royalty.
Let's dive into our exclusive reviews of these lavish toys fit for the most discerning doggie connoisseurs.
This exquisite pull toy is the epitome of canine sophistication.
Made with premium materials and showcasing the iconic Hugo Boss design, this toy adds a touch of elegance to your furry friend's playtime.
Features and Benefits:
Premium craftsmanship with the signature Hugo Boss colors
Promotes physical exercise and mental stimulation
Adds a touch of luxury to your dog's toy collection
Say hello to the future of dog toys with the Wickedbone Smart Interactive Dog Toy by Cheerble.
This innovative toy combines cutting-edge technology with playful fun.
It can be controlled via an app on your smartphone, allowing you to drive, chase, and entertain your furry friend from the comfort of your couch.
It's perfect for even the most active pups and one of those brilliant luxury dog gifts for friends or family. Check it out in the video below.
Features and Benefits:
Interactive smartphone control for an engaging play experience
Durable construction ensures long-lasting use
Intelligent sensors avoid obstacles and adapt to different surfaces
USB-rechargeable for convenience
Provides both physical exercise and mental stimulation for your pupper
Wickedbone Smart Interactive Dog Toy by Cheerble
What We Like:
It's an innovative and interactive playtime experience
Easy control through the smartphone app with your iOS or Android device
Durable construction for rough play
Auto-play mode, helpful for when you're too busy to play with Fido
Easy to clean
FDA food-grade polycarbonate, which is toxic-free and safe for dogs
What We Don't Like:
Not suitable for heavy chewers
Buy on Amazon
We may earn a commission if you make a purchase, at no additional cost to you.
These are the canine equivalent of Sudoku and Rubik's Cube rolled into one.
You're not just giving your fur baby a toy, you're handing them a challenge, a brain teaser, a cerebral workout.
Each puzzle is designed to mentally stimulate your pooch, keep them engaged, and reward them with treats for their puzzle-solving prowess.
So, forget Netflix and Chill. It's time for Puzzles and Play.
Features and Benefits:
These puzzles provide mental stimulation to keep your dog's brain sharp.
They come in different difficulty levels, catering to all canine IQs.
Each puzzle is designed to reward your dog with a treat for every successful attempt.
They are made with durable, dog-safe materials.
Help develop problem-solving skills and keep boredom at bay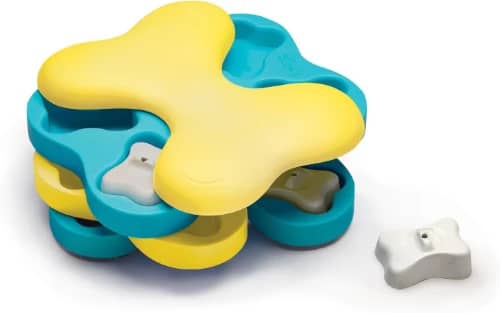 Outward Hound by Nina Ottosson Interactive Dog Toys
What We Like:
They're a great way to keep your dog entertained and engaged.
They help prevent boredom and associated behavioral issues.
You get to watch your dog have a "Eureka!" moment, which is just too adorable.
Four levels of difficulty to challenge your doggerino
What We Don't Like:
Some super-smart dogs might figure them out too quickly.
Cleaning can be a bit tricky with all the nooks and crannies.
If your dog is a heavy chewer, the puzzle's life span might be shorter.
Buy on Amazon
We may earn a commission if you make a purchase, at no additional cost to you.
This ingenious device is designed to keep your canine friend entertained providing endless hours of fetching fun.
With the simple push of a button, the iFetch launches tennis balls for your dog to chase, bringing a whole new level of excitement to the classic game of fetch.
Imagine the sheer delight on your pup's face as they anticipate the launch of that tennis ball.
Say goodbye to tired throwing arms and hello to endless tail wags.
Features and Benefits:
Easy-to-use automatic ball launcher for dogs
Launches tennis balls at various distances to accommodate different play settings
Promotes physical exercise and mental stimulation
Perfect for both indoor and outdoor use
Adjustable launch settings for different energy levels and play preferences
Durable construction for long-lasting use
Two models that work with standard tennis balls or smaller-sized balls for small dogs
iFetch Interactive Ball Thrower
What We Like:
Hands-free fetch action for endless playtime fun
Adjustable launch distances to suit different play environments and dogs
Encourages physical activity and mental engagement
What We Don't Like:
Tennis balls may get dirty or slobbery after repeated use
Buy on Amazon
We may earn a commission if you make a purchase, at no additional cost to you.
Elevate your pup's treat time with the Cheerble Wicked Egg Automatic Interactive Treat Dispensing Toy.
This clever toy combines treat-dispensing and interactive features, keeping your dog entertained while rewarding them with tasty treats.
The toy rolls, wobbles, and dispenses treats in unpredictable patterns, encouraging physical activity and mental engagement.
Features and Benefits:
Automatic treat dispensing provides stimulating rewards
Rechargeable and replaceable battery for convenience
Replaceable shell, an eco-friendly solution for dogs that chew up their toys
Easy to clean and maintain
Cheerble Wicked Egg Automatic Interactive Treat Dispensing Toy
What We Like:
The treat-dispensing feature keeps dogs entertained and motivated
Replace the shell, not the toy
Variable difficulty mode
What We Don't Like:
Use only kibble that is 12mm / half an inch in diameter for the best experience
Buy on Amazon
We may earn a commission if you make a purchase, at no additional cost to you.
Let your precious pooch indulge in a touch of luxury with the Yellow Fausta Dog Toy by Bitch New York.
This stylish and vibrant toy is designed to catch your pup's attention and provide endless entertainment.
Made from high-quality Casentino fabric, it features no squeakers and it's made with non-toxic materials, to satisfy your dog's need for play and companionship.
Features and Benefits:
Chic and eye-catching design adds a fashion-forward touch
Durable construction ensures long-lasting use
Perfect for indoor and outdoor play sessions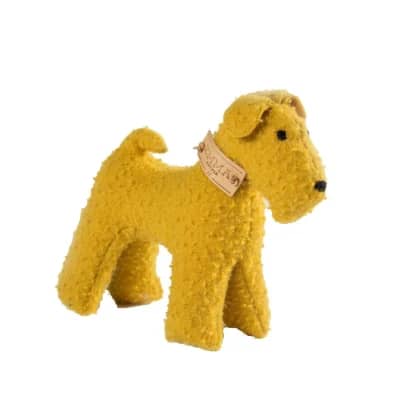 Yellow Fausta Dog Toy by Bitch New York
What We Like:
Fashionable and luxurious design
The Casentino fabric is produced in Tuscany since the Middle Ages and using the same procedures
It's a superb luxury gift for dog lovers
What We Don't Like:
Not suitable for aggressive chewers
Dry clean only
Buy on Bitch New York
We may earn a commission if you make a purchase, at no additional cost to you.
Welcome to the world of BarkBox subscription boxes, where every month feels like a doggy birthday party.
Subscription boxes are the smartest way to keep your pupper always spoiled with great toys to stay engaged and entertained.
For a monthly fee, your fur baby will get a box delivered right to your doorstep, filled to the brim with innovative toys, all-natural treats, and a drool-worthy chew.
Features and Benefits:
Each box is themed, making every month a new surprise.
Toys and treats are customized to your dog's preferences.
The all-natural treats and chews are made in the USA or Canada.
Options are available for heavy chewers too
Exclusive Offer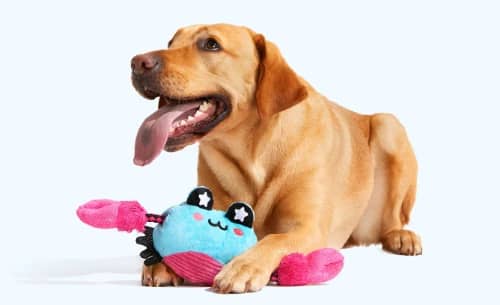 BarkBox Subscription Box with Free Extra Month
What We Like:
The level of customization is pawsome. You can choose the box according to your dog's size.
The themed boxes keep things fresh and exciting.
You can skip, pause or cancel your subscription
BarkBox's customer service is top-notch. If your pup doesn't love something, they'll make it right.
What We Don't Like:
You can't choose individual items in the box.
Buy on BarkBox
We may earn a commission if you make a purchase, at no additional cost to you.
If your dog is a chewing champion, Bullymake Box is where it's at.
This subscription service is designed specifically for power chewers, promising durable, tough toys that can withstand even the most voracious chewers.
Features and Benefits:
All toys are 100% made in the USA, ensuring high-quality products.
Each box comes with 2-3 super durable toys and 3-4 delicious and nutritious treats.
They offer a 14-day toughness guarantee on their toys.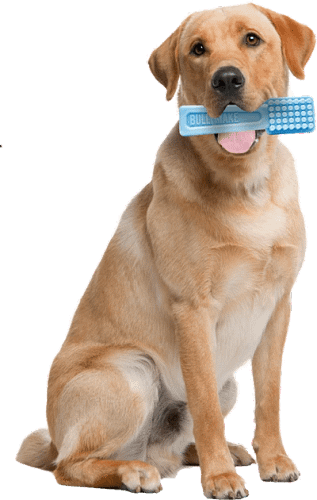 Bullymake Subscription Box For Power Chewers!
What We Like:
They get the struggle of having a power chewer, and they cater to it.
The toys are really, really durable.
Their toughness guarantee offers peace of mind.
Themed boxes every month
They ship to Australia and Canada as well, but without treats for now
What We Don't Like:
The box lacks the personalization that some other subscription boxes offer.
If your dog is not a power chewer, the toys might be a bit too tough.
Buy on Bullymake
Down Under, there's a box that's got tails wagging and tongues lolling.
Olly's Box, an Australia-only service currently, is a monthly carnival for your pup.
The box comes packed with engaging toys, healthy treats, and even cool products for the dog parents.
Features and Benefits:
Each box is personalized according to your dog's size and temperament.
They source products from trusted, ethical brands.
A part of the profits goes to help less fortunate dogs.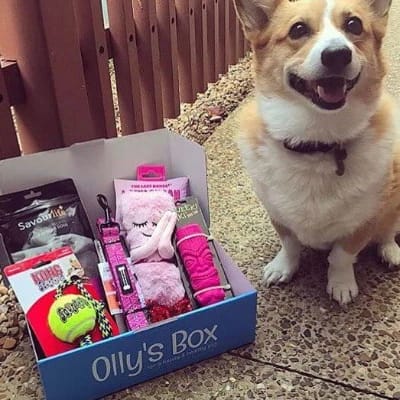 Olly's Subscription Box
What We Like:
The box is not just about the dog; they have stuff for the parents too.
100% Aussie-made treats that are actually good for your doggerino
They contribute to a good cause, which is awesome.
Personalization options ensure your dog gets what he loves.
What We Don't Like:
Shipping is only within Australia at the moment.
Buy on Olly's Box
Direct from the UK, Collar Club is committed to spoiling your dog and caring for the environment at the same time.
This subscription box is a mix of eco-friendly and natural toys, treats, and grooming products that are as good for your dog as they are for Mother Earth.
Features and Benefits:
All products are organic, natural, and eco-friendly.
The boxes are tailored according to your dog's size and dietary needs.
You have the option to donate a box to a rescue dog.
Collar Club Eco-Friendly Subscription Box
What We Like:
They are environmentally conscious, and we dig that.
They cater to your dog's specific dietary needs.
The donate-a-box option is a heartwarming touch.
What We Don't Like:
The eco-friendly focus means fewer flashy toys.
Limited to the UK only, which is a bit of a bummer for our international pooches.
Buy on Collar Club
5 Things To Consider Before You Buy A Luxe Dog Toy
Quality and durability should be the top priorities when searching for a boutique dog toy.
Invest in a product made from high-quality, non-toxic materials to ensure the toy lasts for a long time and does not pose a hazard to your doggerino.
Another critical consideration is to find the right size and style that matches your dog's preferences and play habits.
By keeping these factors in mind, you will successfully find a toy that not only brings joy to your pup but also complements your lifestyle.
Dog Size and Age
In order to make the best choice for your furry friend, one of the first things you need to consider is the size of the toy in relation to your dog's size.
Whether you're searching for a luxury toy for puppies or luxury dog toys for small dogs, sizing and compatibility are essential factors to account for.
When you're picking out the perfect toy, always keep in mind the size of your dog's mouth and paws.
You don't want a toy that's too big to fit comfortably in their mouth, or one that's too small that it could be swallowed accidentally.
A well-fitting toy will prevent choking hazards and provide a more enjoyable playtime experience.
Tailor your choice to meet their specific needs, whether it's a food-dispensing toy for a growing pup or a challenging puzzle toy for a curious adult dog.
Material
Luxury Plush Dog Toys
Elevate your dog's plush toy collection with luxury plush toys, made of high-quality, ultra-soft fabrics and materials. 
These plush toys are perfect for cuddling, making bedtime more comfortable and enjoyable for your furry friend.
Moreover, many luxury plush toys come in adorable designs and patterns, so you're sure to find one that fits your pup's personality and taste.
High-End Dog Toys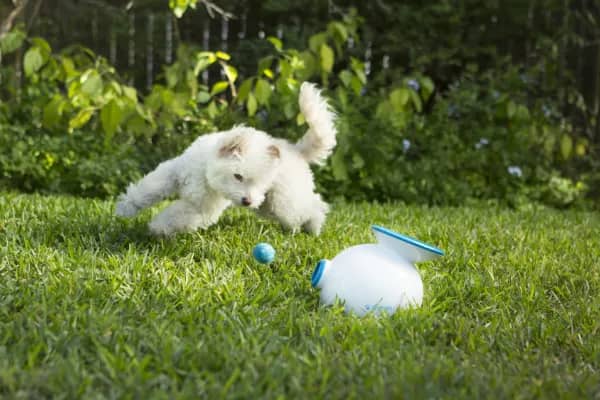 When it comes to durability and style, high-end toys offer the best of both worlds. 
These toys are made from premium materials and are designed to withstand even the most enthusiastic chewers.
Plus, they often come in elegant and stylish designs that will look great in your home.
Look for toys made of non-toxic, high-quality materials such as natural rubber, BPA-free plastics, or eco-friendly fabrics.
The safer the materials, the better it is for your pupper's overall well-being.
Brand
Designer dog toys often resemble popular fashion items or brands, giving your dog a taste of the finer things in life.
These toys may feature intricate details, premium materials, and durable construction for long-lasting enjoyment.
Unfortunately, we couldn't find many toys by legit designer brands, except for Hugo Boss, at the time of publishing this article.
Sounds
Some dogs can't resist a good squeak, and luxury squeaky dog toys are the perfect way to satisfy their inner squeaker hunter.
These toys are constructed with high-quality materials that can endure endless rounds of squeaking fun, all while looking chic and sophisticated.
Additional Requirements
Quality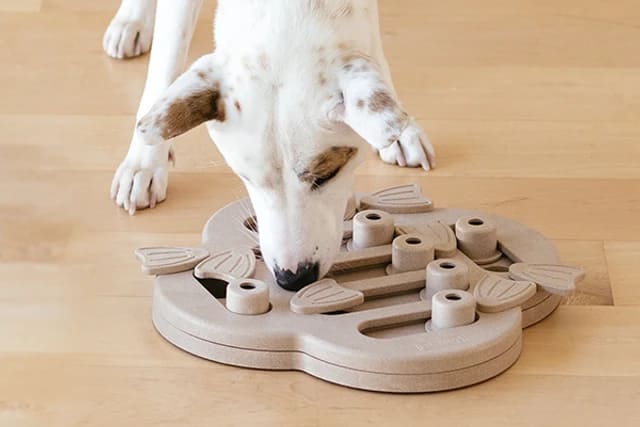 When it comes to upscale dog toys, you want nothing but the best for your beloved pupperino. 
High-quality dog toys ensure that your dog has a safe, fun, and engaging playtime.
Remember, a well-crafted toy will not only entertain your pup but also promote their mental and physical health.
So, it's essential to invest in good-quality toys that cater to your dog's specific needs and preferences.
Durability
Durability is another significant factor to keep in mind.
Can you imagine the frustration if your dog's brand-new, luxurious toy breaks or gets torn in just a few days?
To avoid such situations, opt for indestructible dog toys that are both safe and long-lasting.
West Paw Zogoflex and KONG Extreme Flyer are fantastic examples of sturdy dog toys that can stand up to even the most aggressive chewers.
Compatibility
Lastly, pay attention to the compatibility of the luxury toy with your dog's breed and their unique preferences. 
Some breeds, like Golden Retrievers, excel at fetch and thus would benefit from toys designed for tossing and retrieving.
Similarly, herding dogs like German Shepherds and Border Collies are likely to enjoy rope toys, ball launchers, or flirt poles that allow them to use their agility and burn off excess energy.
Finding High-Quality Toys Locally In Stores Near You
You can find fabulous luxury dog stuff in various stores across the USA, Canada, UK, Europe, Australia, and New Zealand.
Say hello to a fantastic shopping experience for you and your canine friend.
US & Canada
You can find high-quality dog toys, beds, treats, and more at West Paw retailers in over 6,000 stores throughout these two countries.
Your pup will be wagging his/her tail with joy.
UK
Don't miss out on the luxurious dog toy options available at Mungo & Maud and Selfridges.
Whether your dog enjoys chasing, chewing, tugging, or snuggling, they've got the perfect plaything to banish boredom.
Europe
Germany
MiaCara, Am Behälterberg 1, Herzogenaurach
Their dog products have a clear design language and a unique design style, where the function is always of the highest importance
Italy
Upper Pets, Via Cadore 26, Milan.
Brand new pet store and boutique where you can find all kinds of products for your dog.
They distribute the best and exclusive Italian brands
France
Two Tails, 199 Rue de Grenelle, Paris
The premier boutique in Paris that offers the best toys among other products and services for dogs.
Hariet & Rosie, 7 Rue Voltaire, Nantes
Carefully selected high-end products for their durability, design and the ethics of their manufacture.
They regularly offer new, fun and innovative products, designed with respect for animals and people.
Australia
Dogue is Australia's best store for designer dog products.
Designed in Australia, the Dogue range will excite both you and your pupperino.
Locations in Sydney, Melbourne and Brisbane.
New Zealand
Charli & Coco, 3/54 Holmwood Road, Merivale, Christchurch
Charli & Coco is a luxury pet boutique and grocer specializing in high-quality, pet-safe and environmentally friendly wares you'll adore.
FAQs
What are the most durable upmarket dog toys in the world?
Several high-end brands have made their mark in the upmarket dog toy space, providing not only durability but also an unrivaled sense of luxury and elegance.
For a sustainable yet luxurious option, Harry Barker offers Eco-Friendly Dog Toys.
These toys are not only durable but also made from sustainable materials like jute and cotton, striking the perfect balance between luxury, durability, and eco-friendliness.
Also, Barc London's Dog Rope Toys make an elegant statement with a minimalist design and durability.
These toys, handcrafted from non-toxic, dog-safe, 100% recycled cotton ropes, are ideal for interactive games and also support dental health.
Each of these toys exhibits a unique blend of durability and opulence, offering an elevated play experience for your dog while seamlessly complementing your stylish home decor.
What is the most expensive designer dog toy?
Unfortunately, a definitive answer to this question isn't available.
While there are many high-end, luxury brands in the pet industry creating expensive dog accessories, a widely accepted consensus on the single most expensive dog toy in the world does not exist.
Brands such as Goyard, Versace, and Louis Vuitton have been known to create designer dog accessories, including toys, often made with their signature fabrics and styles but do not offer them now.
The only designer toy we could find was the Hugo Boss tug toy covered in this article above.
What is the best luxury dog toy brand?
Determining the "best" luxury brand for dog play items is subjective and depends on the specific needs and preferences of both the pup and their human.
However, a standout in the luxury brand dog toy market is "MiaCara", mentioned above.
A German company known for its high-quality, stylish dog products, MiaCara focuses on innovative design paired with luxury materials to create toys that are as durable as they are aesthetically pleasing.
Their products range from minimalist plush toys to designer dog balls, all made from premium, dog-friendly materials.
They're not only functional but also designed with modern, elegant aesthetics to fit into a stylish home.
However, it's essential to note that the "best" brand can vary depending on individual needs.
Some owners may prioritize durability, while others may value aesthetics or sustainability.
Therefore, while MiaCara is a leading brand, the best choice will always be the one that best suits your and your dog's specific requirements.
Final Thoughts
Just like we recommended when buying a luxury dog leash, a designer pup harness or a high-quality collar for your dog, always consider quality, durability, and non-toxic materials when choosing a luxury dog toy too.
Take your time to ensure the toy is the right size and style for your dog's preferences and play habits
To get the best results in your search, explore both online and local shopping options to find the best luxury dog toys.
Let us know in the comments what your pupper's favorite luxe toy is.