Ever thought your beloved furry friend deserves to lounge on a luxury dog sofa, just like you?
You're not alone, and that's why these extra-premium dog sofas are a must-see for dog owners.
These sofas don't just provide the ultimate comfort for your four-legged pal, but they also add another touch of elegance and style to your home decor.
Investing in one of these sofas for dogs not only requires you to pick the coolest design, but also consider a few factors to make it dog-friendly, easy to clean, and as you might've guessed, choosing the style and design that best complements your home's interior.
So, read on beyond the Top 10 section below to ensure you make the best purchase to truly pamper your pupperino (and yourself).
Sneak Peak At Our Top 5:
The 10 Best Luxury Dog Couches 2023
Let's take a stroll through the high-end, the designer, and the downright decadent world of dog beds that look like couches.
By the end, your canine friend might just have a better seat in the house than you do.
Are you the kind of dog parent that adores minimalism and functionality?
If so, then the BadMarlon Linden Pet Daybed is like the doggy version of a Scandi-style living room.
The clean lines, understated oatmeal color, and innovative design blend this modern dog sofa seamlessly into your upscale home decor.
This isn't just a dog's couch; it's an interior design statement.
Features and Benefits:
Created with eco-friendly painted wood and a comfy cotton blend cushion for a guilt-free purchase.
Easy assembly makes it as simple to put together as an Ikea bookshelf, but way cooler.
The modern elevated design is perfect for keeping your furry friend off cold floors, with added style points.
BadMarlon Linden Pet Daybed from Pets So Good
What We Love:
The chic minimalist design is a sight for sore eyes.

Environmentally friendly materials make your dog and Mother Earth happy.

Easy to spot-clean the bed frame with a wet towel and hand-wash cushion covers

Also available with cushions in choco brown
What Could Be Better:
The cushion might not be plush enough for dogs who prefer extra softness.
Saks Fifth Avenue
Get ready to unleash your dog's inner fashionista with the Gucci Herbarium Pet Bed.
This sofa dog bed isn't just about branding; it's about giving your pup a taste of the finer things in life.
The striking Herbarium print is an eye-catching addition to any room, and it'll have all your guests cooing over your dog's designer digs.
Features and Benefits:
Made from 100% cotton, it's breathable and super comfy.
The distinctive Gucci Herbarium print is as stylish as they come.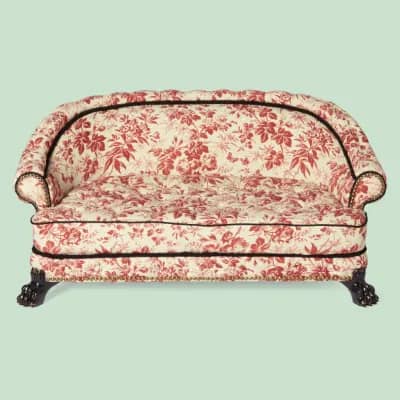 Gucci Herbarium Pet Bed
What We Love:
It's Gucci, darling. Need I say more?

The Herbarium print adds a lush, botanical feel to any room.

The upholstery has been treated with a stain-repellent and an antibacterial agent.

Made in Italy
What Could Be Better:
It might be a bit too loud for a minimalist home decor.

No removable cover for easy cleaning.
Buy on Gucci
The Haute House Thebes Bed is the epitome of classic elegance.
The deep button tufting and rich wood detailing of this sofa for dogs give your pup's space a touch of royal opulence.
It's like sleeping on a throne, only without the fear of a Game of Thrones-style coup.
Features and Benefits:
Handcrafted with wood and rich velvet upholstery, it's the epitome of luxury.
The deep tufting provides comfort and a regal aesthetic.
The Dior bed from Haute House has got chic written all over it.
With its sculpted silhouette and crystal details, it's like your dog's very own red carpet look.
And trust me, it's way more comfy than any designer gown.
Features and Benefits:
Two color options (silver or black) to fit into almost any decor.
Its sculpted silhouette brings elegance to any room.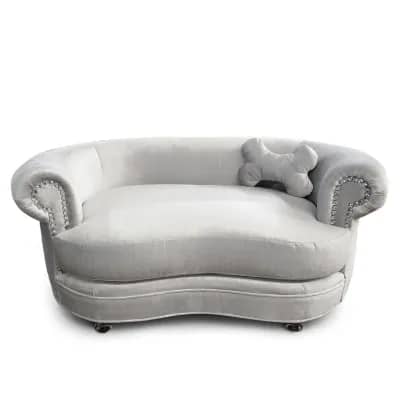 Dior Pet Bed by Haute House
What We Love:
This couch for dogs' design is unique, making it a piece of decor in its own right.

Love the bling from the crystal details, it's like Hollywood for your doggerino.
What Could Be Better:
The velvet material, though luxurious, might be tough to clean.
Buy on Haute House
This fancy dog sofa screams Hollywood glamour with its silver velvet and fringed details.
Your pooch will be ready for his or her paparazzi moment.
Features and Benefits:
Handcrafted and upholstered in velvet with a faux fur seat cushion, this dog bed brings old Hollywood glamour.
The fringe detail adds a dash of playfulness.
Pantages Pet Bed by Haute House
What We Love:
Its Hollywood design could make your dog the next Lassie.

Who can resist the charm of the playful fringe?

Comes in three delicate colors: silver, blush and aqua
What Could Be Better:
The velvet material might be a hair magnet.

The light color could show dirt easily.
Buy on Haute House
This little piece of Paris is just what your pampered doggo needs to lounge in style.
It's practically begging you to serve your dog a bowl of 'haute' cuisine by it.
Features and Benefits:
This posh dog sofa's design is a conversation starter. Say 'bonjour' to impressed guests.
Its upholstery and detailed woodwork bring a touch of Parisian elegance.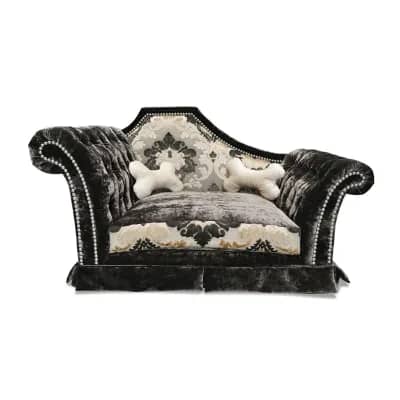 Tre Bien Chaise Pet Bed by Haute House
What We Love:
It's like a piece of art - unique and beautiful.

Its chaise design gives it a fun, quirky twist.

There's a matching Tre Bien Chaise for humans, in case you get jealous of Fido
What Could Be Better:
Its elaborate design might not fit with every home decor style.

May require extra care to keep it looking fabulous.
Buy on Haute House
Raise the roof for the Dogbed High Conic Limited Croco Gold XL by Philipp Plein.
With its towering design and gold croc print, this faux leather dog sofa will make your dog feel like the top dog.
I mean, who doesn't want to sleep in a gold tower?
Features and Benefits:
Its towering design gives your dog a great view and the enveloping shape makes them feel safe.
The faux black croco leather is absolutely unique and luxurious.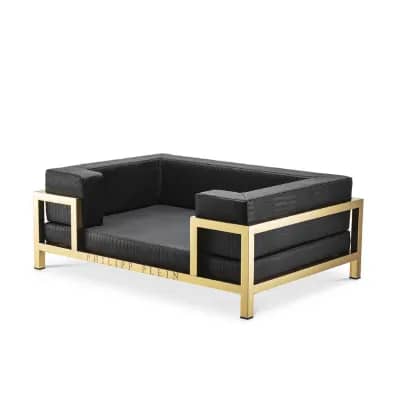 The Harlow Cuddle Pet Bed from Haute House is just the cozy retreat your doggie needs after a long day of play.
This luxury pet sofa's enveloping design is like a warm hug for your dog, and the plush velvet is soft enough to melt hearts.
Features and Benefits:
The dog couch bed's design envelops your dog for ultimate comfort and security.
It's handcrafted and has a luxe finish.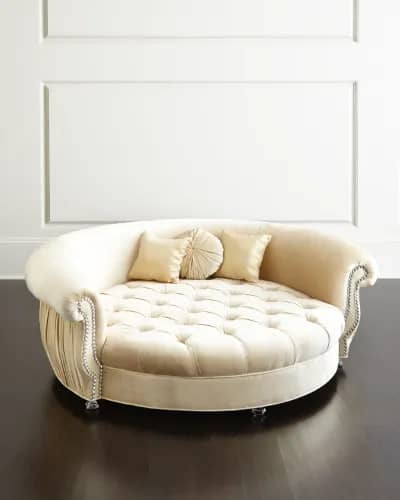 Harlow Cuddle Pet Bed by Haute House
What We Love:
It's like your pup's personal cuddle zone.

The plush finish feels super soft and inviting.

The Alder wood frame is synonymous with quality
What Could Be Better:
We'd love to see it in other colors that are easier to maintain clean
Buy on Neiman Marcus
Enter the pretty in pink Isabella Blush Pet Bed from Haute House.
With its blush pink velvet upholstery and tufted design, this sofa bed for dogs is the perfect bed for the dainty, sophisticated pooch.
It's like a pink cloud, but without the potential for rain.
Features and Benefits:
The blush pink velvet and tufted design give it a delicate, feminine touch.
The shape offers plenty of room for your doggerino to curl up.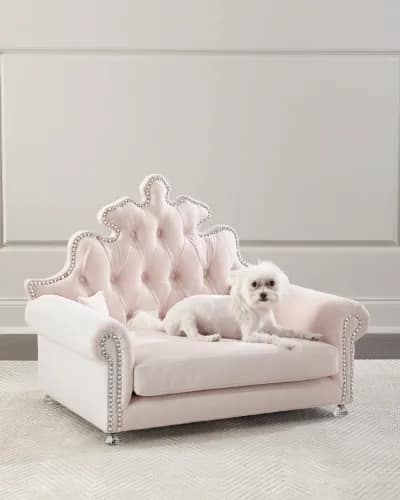 Isabella Blush Pet Bed by Haute House
What We Love:
The pink color is just too cute to resist.

The bed is handcrafted and with crystal tacks giving it a superb sophisticated look
What Could Be Better:
The pink may not fit into every color scheme.

It may not be the best fit for very large breeds.
Buy on Neiman Marcus
Last but certainly not least, we have the Dorina Peacock Pet Bed from Haute House.
The peacock pattern and detailed design give this mini dog couch a vibrant, eclectic charm.
These luxury small dog beds are like your dog's personal festival, minus the mud and porta-potties.
Features and Benefits:
The peacock pattern adds a touch of exotic style.
Its cushioned interior is perfect for sprawling out.
5 Things To Consider Before You Buy A Luxe Dog Couch
Alright, so you've decided to spoil your canine friend with a comfy and stylish premium dog sofa.
So let's talk about some key factors to keep in mind to find the perfect doggy couch.
We'll guide you through some essential considerations such as dog size, material, frame, brand, and additional requirements.
Dog Size
First things first, think about the size of your furry companion.
Whether you have a tiny pup or a large doggo, you'll want to find a sofa that fits them snugly.
Measure your dog's length, width, and height to make sure you pick a large dog sofa or a small dog couch that suits their dimensions perfectly.
Material or Fabric
Now, let's talk about materials.
You want a fabric that'll stand up to your doggie's scratches, hair, and messes.
Look for sofas for dogs made of durable and easy-to-clean materials like cotton, hemp, microfiber, leather, or upholstery with a tight weave.
The goal is to find a bed that's both cozy and resistant to wear and tear.
Frame
Next up, the frame.
A sturdy, well-built frame is essential, especially if your pup is a bit on the heavy side.
Look for frames made of high-quality wood, metal, or heavy-duty plastic – anything that can hold up your doggerino and survive the test of time.
Keep an eye out for elevated dog sofas or designs with raised legs to give your doggo some extra comfort and support.
Brand
When it comes to brands, there are plenty to choose from.
You can opt for a well-known manufacturer with a reputation for quality, like Haute House or Pets So Good.
These companies typically offer warranties and customer support to ensure you're more than satisfied with your purchase.
Additional Requirements
Finally, think about any additional requirements that might be important to you and your dog.
Does your pup need orthopedic support?
Are they prone to accidents?
Consider factors like removable, washable cushion covers and built-in storage for toys or blankets.
Essentially, you want the best sofa for dogs that caters to your pupperino's unique needs.
With these considerations in mind, you'll be well on your way to finding the perfect luxury dog couch for your beloved furry bestie.
FAQ
What are the most durable upmarket dog sofas in the world?
If you're looking for the best of the best, try checking out the Haute House dog sofas.
They're known for their durability and top-notch design.
Their construction not only looks fabulous but also stands the test of time.
So when it comes to impressing your fur baby and your human guests, their dog couches are sure winners.
What is the most expensive designer dog couch?
If you're in the mood to really splurge on your beloved pup, take a look at the swanky Gucci Herbarium Pet Bed that goes for $7,500.
This elegant, cozy piece of art will make your dog feel like royalty.
There's no question that your pupper will be the talk of the town when lounging on this extravagant piece.
What is the best luxury dog furniture brand?
Choosing the best luxury dog brand depends on your taste and preferences.
But one amazing brand that stands out is Lord Lou, which offers a stunning collection of pet sofas.
Their sophisticated designs and quality materials, like the Arthur Mocha Linen Dog Bed, are simply unmatched.
This brand truly knows how to create dog furniture that will make your canine friend feel loved and pampered.
Trust us, you can't go wrong with Lord Lou.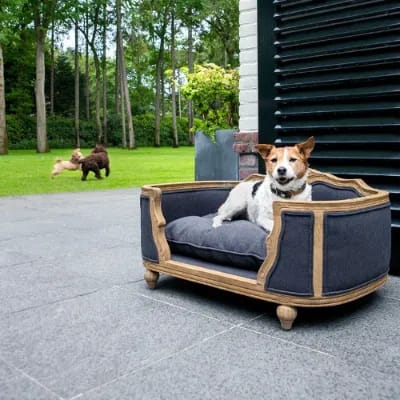 Final Thoughts
Key Takeaways
A fancy dog couch would not only provide comfort for your pupper but would also elevate your home's style.
Consider size, durability, and materials when choosing the perfect luxe couch for your canine companion.
To find the ideal one-of-a-kind dog sofa, explore different options both locally and online to compare quality and design.
Let's be honest, who doesn't want their furry friend to lounge in the lap of luxury?
From snuggly green dog sofas to oversized XL dog sofa beds that'll comfortably fit your gentle giant, there's something for every pup in this glamorous realm of canine bliss.
And if you want to ensure the utmost comfort for an achy pupper, why not opt for a cushy orthopedic dog couch that'll help relieve those achy joints after a long day of play?
So if you believe your dog's comfort is just as important as your own (and who doesn't?), go ahead and spoil them with a swanky dog sofa they can call their own.
Their wagging tail will be all the thanks you need.
Now you've got some ideas to guide you on your quest to spoil your furry friend with comfiness and style.
Let us know in the comments which one is your favorite. We'd love to know.
Happy shopping.
And for more ideas on giving your pupper the royal treatment, check out our other articles here.