When it comes to our beloved four-legged friends, we want nothing but the best luxury items.
That's why finding the best dog harness is essential for every pup parent!
Not only do they provide a safe way of keeping your pup close by during walks, but they can also be stylish and fashionable too.
But don't let looks fool you – when shopping for a luxury harness, always make sure to pay attention to all of the details so you know that not only will your pooch look trendy while out on their adventures but they'll also be safely secure, and comfortable as well.
With this in mind, check out our top 10 list of elegant dog harnesses that are both aesthetically pleasing and made with high-quality materials for maximum durability.
From designer dog harness options to custom dog harness choices, there are plenty of posh items out there to make your pup look and feel their best.
A Quick Peek At Our Picks:
Scroll Down For Full Details
7 Things To Consider Before You Buy A Luxury Dog Harness
If you're a proud dog owner and are looking for the best accessories for your furry friend, a cool dog harness is a perfect choice.
Not only do they provide comfort and style, but also offer increased safety and control when walking or traveling with your dog.
However, before you make a purchase, there are certain factors you should consider to ensure you choose the right harness for your dog.
Here they are:
1. Dog Size/Harness Size
When buying a harness, the first and most important consideration is the size of the harness.
It's important to make sure that the harness fits your dog properly; too big or too small can cause discomfort, chafing, or even injury.
When choosing the size of the harness, consider your dog's breed, age, and weight.
There are different harness sizes that cater to specific dog sizes and breeds, such as small/puppy, medium, or large.
Some popular dog breeds like Beagles, Bulldogs, or Dachshunds may have specific sizing needs due to their unique proportions, such as a wider chest or a thicker neck.
Be sure to measure your dog's chest, neck, and girth before making a purchase to ensure they get a perfect fit.
2. Material/Fabric
Another crucial factor to consider when buying a harness is the type of material or fabric used to make the harness.
There are many cute dog harness options available, including leather, nylon, bamboo, hemp, denim, cotton, and even crochet.
Each material has its pros and cons, and the right choice will depend on your preferences as well as your dog's needs.
Leather harnesses offer a classic and stylish look, durability, and easy maintenance; however, they can be more expensive and heavy.
Nylon harnesses are lightweight, affordable, and come in a wide range of colors and designs; but, they may not be as strong as leather or other materials.
Hemp harnesses are eco-friendly, soft and comfortable; however, they may not be as long-lasting as other materials.
Bamboo and cotton are breathable and lightweight; however, they may not hold up as well to wear and tear as other materials.
Crochet harnesses are cute and unique; however, they may not be as durable or practical as other materials.
Consider what kind of activities you will be engaging with your doggo and how often you plan to clean the harness and then choose the material that best suits your needs.
3. Pattern
One of the fun aspects of purchasing an awesome dog harness is the opportunity to pick a pattern that suits your style or your dog's personality.
Popular patterns for harnesses include:
Burberry style dog harness
Tartan
Herringbone
Solid
Burberry and tartan patterns are classic and stylish, making them a popular choice for a cute male dog harness.
Herringbone patterns offer a more refined and sophisticated look, perfect for formal events.
There are also a lot of options for colorful patterns and prints that can show off your dog's personality and style.
When choosing a pattern, consider your dog's fur color and personal style or your preference.
For example, if your dog has a distinguished look to him, a Burberry plaid dog harness or a Burberry dog harness and leash may be a perfect fit.
4. Color
When choosing a harness, designer lovers enjoy mixing and matching colors for a fashionable effect.
You'll want to choose a color that complements your dog's coat and matches their personal style.
Black and brown are classic and versatile colors that can easily match your dog's fur color.
Red is vibrant and bold, making it a great choice for dogs with solid coat colors.
Blue is calm and peaceful, while pink is sweet and feminine, both great options for female dogs.
Purple is a regal color and a perfect choice for dogs with coats in shades of gray or silver.
Green is a rich natural and earthy color that can complement outdoor activities and is a perfect choice for dogs who love nature.
When selecting a color, also consider its visibility, especially if you will be walking your dog at night.
Bright colors such as orange or yellow can help improve your dog's visibility and reduce the risk of accidents on late-night walks.
5. Brand
The brand of the harness is also an essential consideration, especially for those looking for high-end pooch harnesses.
A brand can indicate the quality of the item itself as well as the support you'll receive from the manufacturing team.
You want to choose a brand that is reputable and known for producing high-quality products for your pupper.
Many people search first for a Saint Laurent dog harness or another designer brand to match their wardrobe and would go to a luxury brand they know they can trust.
Regrettably, it appears that there are no authentic dog harnesses available from Chanel, Coach, Burberry, or Louis Vuitton at the time of this article's publication.
However, sophisticated dog parents don't need to worry.
We've discovered an array of other exceptional harness options that are just as fashionable.
The Gucci, Audi, Cane Corso, Versace, and Pagerie brands offer some of the best designer harnesses around.
Some of the brands reviewed in this post also offer a matching dog leash to go with the harness.
Check out the selection below for the ideal harness to suit your dog's style preference.
These upmarket dog harness brands are backed by a quality team and thousands of positive reviews, so you can be sure you're investing in magnificent high-quality products.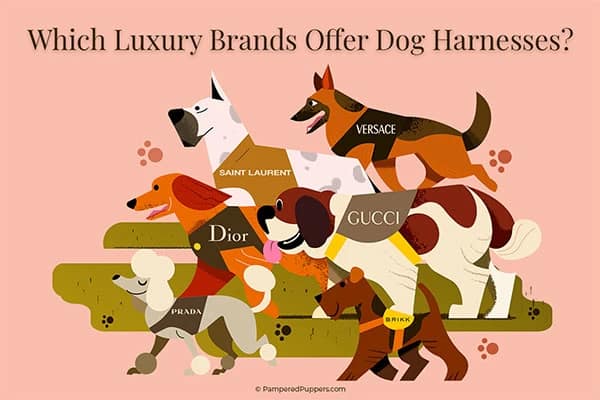 6. Attachments
Attachments are a crucial component when buying a dog harness, with popular examples being buttons, buckles, and zippers.
Buttons are durable and suitable for frequent use and zippers are convenient for easy removal.
Buckles may be harder to put on and remove but sometimes include a lot of bling in them.
Choose the attachment based on how often the harness will be used and your dog's behavior.
Many bold fashion-forward dog owners may go for an opulent bedazzled dog harness or a bling dog harness, keep in mind that there will be small pieces of rhinestones on it.
These won't be soft to the touch, and more importantly, they can be choking hazards for your doggie if not carefully placed into the harness.
Purchase or customize a diamond dog harness that is very well constructed and won't lose its attachments over time.
7. Additional Features
Here are a few additional features you'll want to consider before making your purchase:
No Chew / Anti-Chew: Harness designed to prevent dogs from chewing and damaging the harness. This is very similar to what you'd do when looking for luxury toys for dogs.
No Slip: Harness design that prevents slipping of the harness and ensures the dog remains secure.
Number of straps: Harnesses that have multiple straps for added stability and control during walks.
Washable: Harnesses that are machine washable for easy maintenance and hygiene.
Arthritic Harness: Specialized harness designed to provide support and comfort for dogs with mobility issues caused by arthritis.
Chest Plate Harness: Harness with a chest plate that provides additional support, control, and comfort.
Disabled Dog: Harnesses that cater to dogs with disabilities, such as front or rear leg amputations, blindness, or deafness.
Novelty: Harnesses with unique and creative designs such as angel wings, bat wings, or bumble bee patterns, suitable for dog owners who want to add a fun touch to their pupper's wardrobe.
3-Point Dog Harness: A harness with three anchor points, which is ideal for larger dogs and helps to distribute pressure evenly.
The Top 10 Exclusive Dog Harness Options For Your Doggerino
Are you ready to find the best rated dog harness for your one-of-a-kind pupperino?
These 10 options will help you to find an upscale or glamorous option for your furry friend.
A Gucci harness is more than just a stylish accessory for your furry friend- it's a symbol of refinement and luxury that will make your pup stand out as the most fashionable dog on the block.
Made with the finest materials and exquisite craftsmanship, a Gucci harness is designed to be both functional and stylish, ensuring that your pup is comfortable and chic at all times.
Not only will a Gucci harness add a touch of sophistication to your doggerino's wardrobe, but it will also provide a sense of safety and protection while out and about.
With adjustable straps and secure fastenings, you can trust that your pup will be safe and secure at all times.
The best part?
This is a bespoke dog harness that you can take to your local Gucci boutique to add an engraving.
Your pup's harness will be literally one of a kind!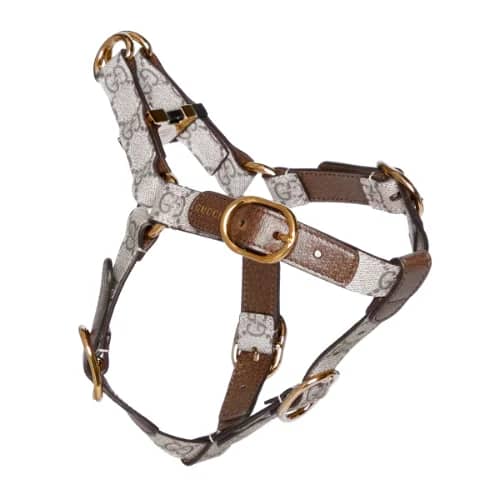 Gucci Pet Harness
Why We Like It:
Designed for small/medium dogs
Hardware is gold-toned, adding a luxurious look to the harness
Made in Italy with quality materials
Choose between classic beige or sleek black depending on your preferences
Vegan and sustainable materials make this harness eco-friendly
Buy on Gucci
Your dog deserves a unique dog harness that's a cut above the rest, and the Babbi Harness is one of the most fashionable and opulent options available.
Inspired by a saddle, the Babbi Harness by Pagerie is crafted with great care and attention to detail and prioritizes comfort above all else.
It comes with quilt padding that can be attached, providing a cozy layer of warmth on chilly mornings.
This is a rich luxury leather dog harness that is well-made and you can expect to have it around for a long time with proper care.
REACH-certified grain leather is the pinnacle of luxury, crafted using environmentally conscious techniques and sourced sustainably for superior comfort and quality.
Paired with 100% organic cotton sarga quilt padding, this ultra-luxurious material offers a perfect combination of style and practicality – perfect for keeping your furry friend comfortable year-round.
The Babbi Dog Harness by Pagerie
Why We Like It:
This Pagerie dog harness is constructed out of high-quality and comfortable leather
D-ring leash attachment areas on both sides of the harness
The fastener is secured with a signature turn-lock closure on the back, and for additional security, simply push the flip-hook down.
Removable posh quilt padding in organic cotton
Stainless steel hardware
Buy on Neiman Marcus
Give your pup the best of the best with this ultra-luxurious Versace item, the best leather dog harness on the market.
Crafted from fine calf leather, this full buckle design comes adorned with golden Medusa studs for a truly glamorous look.
Available in sizes ranging from 9.8 to 13.7 inches and made in Italy, this is the height of fashion and quality – perfect for styling up that stroll around the park.
This fancy dog harness is a step-in model, meaning it will be easy to slide on and off your pup without dealing with meticulous straps.
Its sleek minimal design gives it a richness that a classic dog harness can't come close to.
Versace Leather Dog Harness with Medusa Studs
Why We Like It:
REACH certified grain leather is environmentally friendly and sourced sustainably
100% organic cotton sarga quilt padding provides unbeatable comfort and insulation
Perfect combination of style and practicality thanks to gold Medusa studs and full buckle design
Three sizes available, so you can kit out any pup - big or small!
Made in Italy for the highest quality craftsmanship
Buy on Neiman Marcus
If you have an antsy dog that you want to keep safe and secure while on the road, the Audi Harness may be the ideal choice for you.
Designed specifically for the Audi vehicle, this high-quality car harness is built to hold and securely and easily attaches to your rear seat.
You can rest easy knowing that this harness meets the legal requirements with ECE R -17 and DIN-75410-2 secure cargo requirements.
Choose from four different sizes that will make sure your furry friend has a snug yet comfortable fit around the chest.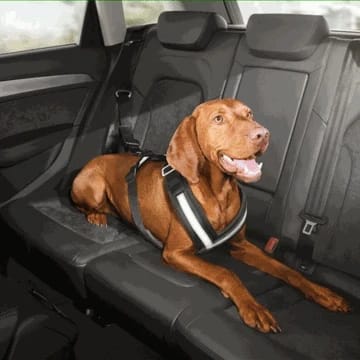 Audi Dog Harness
Why We Like It:
Fits most Audi. Check their website to confirm it will fit yours.
Comes in S, M, L, and XL to fit most pupperinos
Easy to attach
Buy on Audi
If you're looking for a distinguished black or brown harness that is both high end and comfortable for your furry friend, look no further than the Cane Corso harness.
This harness is made out of a soft and natural leather material that is malleable and will form to the body of your dog over time, creating maximum comfort while reducing the possibility of chafing.
The harness is adorned with brass studs that are arranged around the Y-shaped chest area, making this harness a real show-stopper when it comes to taking your pupper on walks.
You can adjust this harness all around with the 4-way adjustable straps and use the quick release buckle for quickly and easily removing the harness from your dog after a walk or in the case of an emergency.
Not only will your dog feel great in this comfortable unit, but he or she will look stylish walking down the street in this harness.
This touch of luxury pops out when you're traveling, heading out on doggy playdates, or just taking your doggo on his daily walk.
Introducing the epitome of sophistication and luxury for your furry companion – the Prada harness.
Crafted with precision and finesse, this exquisite accessory boasts Prada's iconic introduction to the luxury market, Nylon.
The harness features a side-release buckle and a lustrous enameled metal triangle logo, making it a symbol of refined elegance.
Elevate your pupper's fashion statement with this must-have accessory that exudes opulence and exclusivity.
Let your pup stand out as the most fashionable and debonair dog on your walks with the Prada harness – a posh dog harness that truly encapsulates sophistication.
Prada Dog Harness
Why We Like It:
Works really well with the rest of the Prada dog accessories
Will also match your own outfit when out and about
It's luxury from the lustrous enameled logo all the way down
Includes a little pocket to carry walkies essentials
Buy on Prada
The Bestia Maximus Silver Big Dog Leather Harness is specifically designed for larger-sized dogs.
It is made of 100% genuine, hand-crafted leather for maximum strength and durability, and offers a soft padded chest plate for added comfort.
The silver embellishments make it look elevated, stylish, and expensive without breaking the bank.
This black leather dog harness fits large to extra-large dogs including Great Danes, Mastiffs, Saint Bernards, Scottish Deerhounds, Neapolitan Mastiffs, Leonbergers, Newfoundlands, Irish Wolfhounds, Great Pyrenees, and Bullmastiffs.
Even the best rated dog harness can be a pain to walk with if your dog is used to darting back and forth during walks.
The Bestia Maximus Silver Big Dog Leather Harness is specifically designed to reduce the strain of pulling by distributing your dog's weight evenly, which helps to make your walks easier.
Its sturdy construction withstands even the strongest pullers, while its soft padded chest plate provides comfort and support for your pup's neck and shoulders.
Bestia Maximus Silver Big Dog Leather Harness
Why We Like It:
Great premium dog harness for stronger dogs who pull or chew on their harnesses.
Soft padded chest plate ensures maximum comfort for your pup.
Fits medium-sized dogs as well like the Bullterrier, Boxer, English Bulldog etc.
Stylish silver embellishments give an elevated, expensive look at a reasonable price.
Craftsmanship; top-quality construction will last through many adventures together.
Buy on Amazon
We may earn a commission if you make a purchase, at no additional cost to you.
The Yves Saint Laurent harness and leash are at the top of the list of refined accessories for your pupperino.
An SLRD exclusive, made in Italy with the finest materials and adjustable and removable buckles that will delight the most chic pooch and their trendy humans.
This indulging item embodies sophistication and extravagance that will set you and your pup apart.
You will no longer take your dog for a walk, you'll now both indulge in a splendid strut around the neighborhood, turning heads as you go.
The Brikk Lux Buddy Belt harness is an unparalleled statement piece for dogs.
Brikk has partnered with Canadian manufacturer of dog harnesses and other accessories Buddy Belts to curate a deluxe premium rendition of the renowned Buddy Belts concept.
The Luxe Dog Harness hardware is plated in 24K yellow gold and has over one carat of conflict-free diamonds (color D, clarity VVS).
The hardware includes the Brikks signature heptagon stud with a diamond tip and a diamond-encrusted buckle.
This exclusive piece is created using premium-quality black stingray leather and lined with soft lamb skin to ensure your pup's greatest comfort.
This high-end dog harness comes in all standard Buddy Belt sizes, from 1 to 10, to fit a 2lb / 1Kg to a 100lb+ / 46Kg+ doggo.
There's a handy sizing chart available when you order to make sure you get the best fit for your dog, based on their girth and weight.
The price goes from USD 7,000 to USD 10,000 depending on size.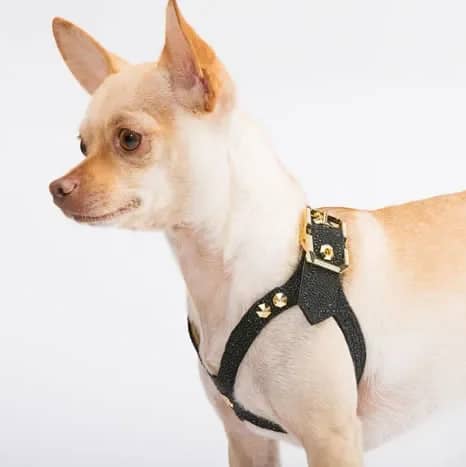 Discover the latest addition to the Spring 2023 dog accessory collection from Maison Dior, featuring the brand's signature couture codes.
The harness is made in Italy and is skillfully crafted in the iconic beige and black Dior Oblique jacquard fabric, accentuated by a lustrous aluminum buckle clasp bearing the Christian Dior signature and CD initials.
The elegant yet comfortable design lined in microfiber is finished with D rings at the back, seamlessly accommodating the matching leash for an opulent and stylish look.
Frequently Asked Questions
What is the most glamorous dog harness in the world?
There are an abundance of high-end dog harness brands that are renowned for their luxurious and stylish designs, such as Gucci, Versace, and Dior.
As you can see in our article above, these top-tier brands offer a variety of harnesses crafted from high quality materials such as leather, embellished with elegant hardware and ornaments, making them a popular choice among fashion-conscious pupper owners.
Ultimately, the most glamorous dog harness is subjective and depends on the individual's style and personal preferences.
What is the most expensive designer dog harness?
Some of the most expensive designer dog harnesses are made by luxury designer brands like the above-mentioned Gucci, Versace, and Dior, which are renowned for their exquisite craftsmanship and premium materials.
The exact price of the most expensive designer dog harness can vary based on factors like the brand, materials used, and any embellishments or hardware.
Just take a look at the Brikk Lux Buddy Belt harness showcased above, with a price that ranges between $7,000 and $10,000.
What is the best luxury dog harness brand?
If you're looking for the very best, you can't go wrong with top-tier designer brands like Gucci, Dior, and Versace.
These luxury brands are renowned for their exquisite craftsmanship, premium materials, and stunning designs, making them a popular choice among fashion-conscious dog owners.
To answer this specific question is the reason why we wrote this article, and showcased the best luxury designer brand harnesses we could find. You are in the exact spot to keep up to date with this topic!
The Bottom Line: Luxury Harnesses For Dogs
With so many different options available, finding the perfect stylish dog harness should be a fun and exciting experience.
Take the time to consider your dog's needs, personality, and lifestyle, along with your preferences, when making your selection.
A well-made chic dog harness is an excellent investment that not only keeps your best friend safe but also makes them look stylish and fashionable.
To make the ensemble perfect, check out our article on luxury dog leashes too.
Happy shopping!
PS: sign up to our newsletter so you'll hear about our new and exciting articles on how to treat your pupper like royalty! 🐶 👑