Let's face it, sometimes dogs are like walking furnaces. They always seem to be hot, even when the rest of us humans are comfortable in shorts and a t-shirt. This is because they can't take off their fur coat and they regulate their body temperature differently than we do, so it's crucial to know how to cool a dog down.
If you have an especially active dog like my Indy, then you know that they can really get aerobic on hot days! But don't worry, there are plenty of ways to help your furry friend beat the heat.
In this blog post we'll cover how to keep your pupper cool on those hot weather days.
14 Ways to Keep Your Dog Cool
1. Groom Your Pup Regularly
One of the best ways to keep your dog comfortable in the heat is to make sure they are well-groomed. This means brushing their fur regularly to remove any dirt or debris. It also helps to remove any excess fur that they may have. This will help them regulate their body temperature better and prevent them from getting too hot.
Some dogs have double coats, which can be especially difficult to keep cool. In these cases, you may need to take them to a professional groomer to have their coat trimmed or shaved down.
If you're not sure how often you should be grooming your dog, talk to your veterinarian. They will be able to give you specific recommendations based on your dog's breed and coat type.
If you want to save some money and time and try grooming your pup at home, you can invest in a grooming table arm and a clipper set. This will allow you to groom your dog regularly so she can stay cool at all times.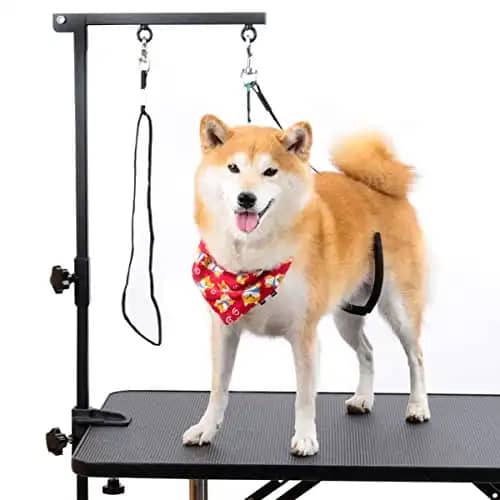 Breeze Touch Dog Grooming Table Arm
This grooming restraint for small and medium dogs up to 30 lbs can be adjusted up to a height of 35in. It features a no-sit haunch holder and an innovative foldable design that breaks down to less than 20in in height, making it simple to carry and setup, also saving a lot space for storage.
Buy on Amazon
We may earn a commission if you make a purchase, at no additional cost to you.
2. Try a Chilled Bed
One way to keep your dog cool during the summer is to buy them a chilled pet pad. These are pads that you can put in the freezer and then use to keep your dog's bed or crate cool.
My dog Indy loves her Cool Pet Pad (in S, M and M/L or M, L and XL) on a hot summer day. We can take it in the car and on road trips when we're away from home. It's a great way to make sure she stays cool and comfortable no matter where she is.
It's also great for dogs who suffer from joint pain or arthritis. The cool gel helps to reduce inflammation and pain.
This pad is made out of a self-cooling gel that doesn't require any water, a fridge, or electricity. It provides up to 3 hours of cool relief. When too much heat has accumulated in the pad, just let it breathe for 15 to 20 minutes to recharge itself. Then it's ready to use again!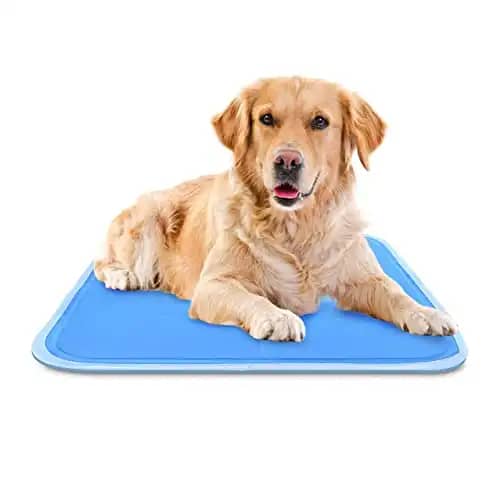 TheGreenPetShop Dog Cooling Mat - M, L and XL
This pressure-activated cooling pet mat provides chilled relief for your dog or cat. It's the perfect solution if your pet struggles to stay cool and comfortable in the summer heat. Use it on the floor, sofa, or place it in your pet's crate, bed or kennel. The cooling pads are lightweight and folds effortlessly, ideal for travel. Clean with a damp cloth as needed.
Buy on Amazon
We may earn a commission if you make a purchase, at no additional cost to you.
3. Give Your Doggerino a Cold Drink
If your pup is having fun in the sun, make sure to offer them a cold drink of water often. This will help to keep them hydrated and prevent them from overheating.
You can also add some ice cubes to their water bowl to help keep it cool. Indy loves when I do this because she enjoys eating the ice as well!
Try using an insulating water bowl such as the Coldest Dog Bowl to keep your pupper's water cooler for longer periods of time. This is great for when you're away from home or your doggo is spending lots of time outdoors.
And don't forget to bring water along for your doggerino's walks! The MalsiPree Dog Water Bottle allows you to turn the cap of a water bottle into a bowl with no leakage along your hike.
MalsiPree Dog Water Bottle Dispenser with Bowl
The MalsiPree Leak-Proof Dog Water Bottle Dispenser is made with food grade plastic and it comes with an Integrated drinking bowl. It's perfect for taking your dog outdoors, walking, hiking, camping or travel. The leftover water can go back in the bottle by pressing the button, ready for the next round of drinks!
Buy on Amazon
We may earn a commission if you make a purchase, at no additional cost to you.
4. Cool Down a Dog with an Ice Pack
If your dog is starting to overheat, you can use an ice pack to help cool him down.
Wrap the ice pack in a towel and then place it on your dog's back or stomach. The back of the neck is a great spot as well, because it helps to regulate the entire body's temperature. You don't want to put it directly on their skin as this could cause an ice burn.
If you don't have an ice pack, you can use a bag of frozen peas or corn. Just make sure to wrap it in a towel first.
Leave the ice pack on for about 15 minutes or until it starts to melt. You can then remove it and let your dog rest in a cool, shady spot.
5. Keep Your Pupper in the Shade
If you're spending several hours outside, make sure your pup has a shady spot to relax.
This is especially important if they are spending time on hot pavement or sand. The heat from these surfaces can quickly cause them to overheat, in addition to the overhead sun.
You can use an umbrella, a pop-up canopy, or even just a towel to create a shady spot for your dog. You can even invest in an outdoor dog bed that comes with a canopy to provide them with a shady spot at all times.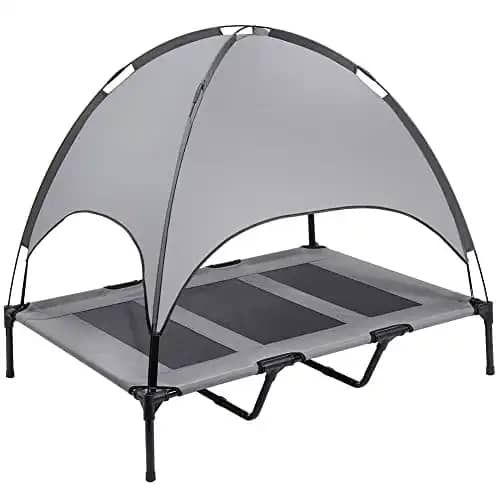 SUPERJARE XL Portable Elevated Dog Bed with Canopy
A luxurious accessory for furry kings and queens to escape the heat. You will need no tools, no screws, and no handyman in order to install your buddy's new incredible canopy bed. Only takes a few minutes.
Whether it's for a weekend at the beach, or for a camping trip, this lightweight, easily portable bed will make your pupperino extremely happy!
Buy on Amazon
We may earn a commission if you make a purchase, at no additional cost to you.
6. Stick to Water Activities
If you're a nature lover and your dog loves to join you on your adventures, try to stick to water activities during the warmest months. This could include swimming, hiking near streams, and playing in sprinklers.
Not only will this help to keep your pup cool, but it can also be a great way to bond with them. Indy loves going for hikes with me and she always gets so excited when we come across a stream or river. You know, like all water dogs.
It's important to make sure your dog is a good swimmer before taking him into deep water. If they're not, start with shallow water and gradually work your way up. You can also splash out on a doggy life jacket to help keep them safe.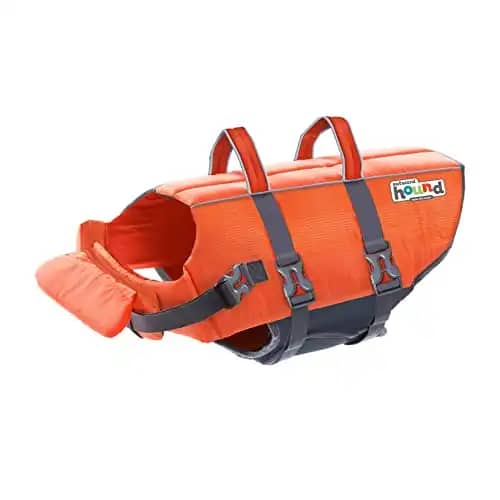 Outward Hound Dog Life Jacket
This dog life jacket is constructed to provide maximum buoyancy in the water without restricting movement on land. Adjustable straps and side release buckles provide a secure fit and neoprene belly band supports their chest and belly while getting their float on. Comes in sizes XS to XL.
Buy on Amazon
Buy on Chewy
We may earn a commission if you make a purchase, at no additional cost to you.
7. Avoid Heat Exhaustion with Frozen Toys
Sometimes I like to reward Indy with a frozen treat when we're having an outdoor party or BBQ. This way she can have a snack alongside the rest of us!
You can make your own frozen dog treats at home by freezing pieces of fruit such as watermelon or bananas. You can also use a mold to make fun shapes out of chicken broth, cream cheese or peanut butter.
I personally love using the Chew King treat toy. I fill it up with some kibble and water and freeze it. Once it's frozen, I give it to Indy and she gets to take her time fishing out the kibble. You can also fill it with treats or pieces of fruit or vegetables.
It's a great way to keep her occupied and cool at the same time. It's also a good toy for pup-parents who are trying to slow down their dog's eating habits.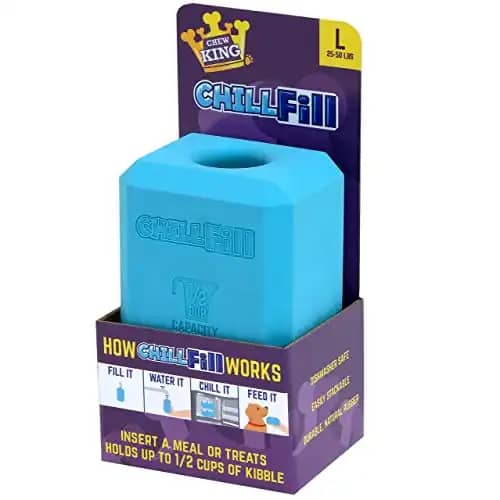 Chew King Premium Treat Dog Toy
The Chill Fill is made of durable, non-toxic natural rubber. it's spongy but resilient, easy on your dog's gums but still withstands regular chomping as he tries to get out every last bit of kibble.
Buy on Amazon
We may earn a commission if you make a purchase, at no additional cost to you.
8. Give Your Dog Indoor Breaks
Heat exhaustion is usually the result of prolonged heat exposure. This can lead to lethargy, dehydration, or even heat stroke. So, the simplest way to keep your pup's body temperature down is by giving them breaks indoors.
This could mean letting them inside for 15 minutes every hour or so if you're spending a long day outdoors. If it's particularly hot outside, you may need to give them more frequent breaks.
Whenever possible, try to let your dog rest in a cool, air-conditioned room. You can even put a fan in front of a window to create a cross breeze. If your dog is panting excessively or seems lethargic, these are signs that it needs to cool down immediately. So let them in right away when you notice signs of heat stroke on the way and try the ice pack mentioned above to help lower their temperature.
9. Avoid Outdoor Activities During Peak Heat
Another simple way to cool your dog and avoid heat exhaustion is by avoiding outdoor activities during the hottest hours of the day altogether.
This usually means avoiding the outdoors between 11 am and 3 pm when the sun is at its strongest. If you must be outdoors during these hours, make sure to take plenty of breaks in the shade and bring along their dog water bottle.
10. Hose Your Pup Down
A simple way to cool down a dog in the hot weather is by hosing them down with cool water. This is a great way to quickly lower their body temperature and help them feel more comfortable.
If you don't have access to a hose, you can use a bucket of water or even a spray bottle. Just make sure the water isn't too cold and the pressure isn't too strong as this can cause shock.
You can even turn your hose into a water fountain with the Trio Gato Paw Activated Fountain. This is a great way to keep your dog hydrated and cool at the same time, which avoids heat stroke with cool water.
Trio Gato Paw-Activated Water Fountain
This water fountain comes with a 2-way Y hose connector that lets you easily hook it up to your water connection! Adjusting water pressure is done easily using the control valve on it.
Once connected, enjoy watching your doggerino having fun and cooling down at the same time. You'll both love it!
Buy on Amazon
We may earn a commission if you make a purchase, at no additional cost to you.
11. Cool Your Dog with a Damp Towel
Cooling your dog when you don't have access to water is easy with a damp towel. Just wet the towel down with cool water from a water bottle and wrap it around your dog's neck or back. You can also put it on their chest or under their armpits.
This is a great way to lower their body temperature quickly and help them feel more comfortable in the heat. It's also a good option if you don't want your dog to get soaking wet when lowering her body heat to protect floors or any other surrounding areas from getting too wet.
12. Purchase a Cooling Vest or Bandana
There are a number of different cooling vests and bandanas on the market that can help keep your dog cool in the summer heat. These products work by absorbing your dog's body heat and then releasing it into the air.
Indy looks stylin' in her DOGZSTUFF Dog Cooling Vest. It's easy to put on and take off, and it really does help her regulate her body temperature in the heat. It also offers 50 SPF sun protection, which is an added bonus for protecting her coat and skin.
Check out our other post where we review calming vests for dogs to help them with anxiety.
Best Vest to Beat the Heat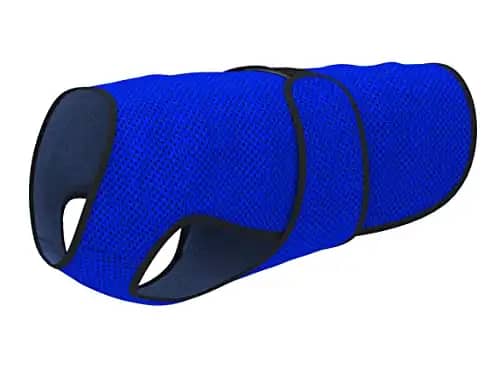 DOGZSTUFF Dog Cooling Vest
Once you wet and then fit the dog cooling vest to your pupper, the unique microfiber fabric will get to work. It absorbs and draws the excess heat out of your dog, so he doesn't have to work as hard to pant to cool his body down.
Buy on Amazon
We may earn a commission if you make a purchase, at no additional cost to you.
13. Take Your Dog for a Dip
If your dog loves the pool, you can get them a kiddie pool to cool off in. Just make sure the water is clean and not too deep for your pup. A foldable dog pool is a good idea because there's a possibility your pup may puncture an inflatable model. They're also easier to set up and store.
Another option is to take your dog to a dog park that has a water feature where they can splash around and cool off. Dogs are vulnerable to heat exhaustion when they're socializing and running around, so it's important to make sure they have a way to cool down.
Pecute Foldable Dog Pool
Safe and high-quality PVC material, built-in 0.2 IN honeycomb board (PVC material board), high strength, strong pressure resistance, make the whole pet pool more durable and not collapse!
Just need a few seconds to open and fold easily! Easy to store and carry when going outdoors or traveling.
Buy on Amazon
We may earn a commission if you make a purchase, at no additional cost to you.
14. Feed Your Dog Ice Cubes
You can also help your dog cool down from the inside out by feeding them ice cubes. This is a great way to cool your dog when you don't have anything else on hand. They'll appreciate this in the hot weather and the cubes will keep your dog entertained as they try to catch them.
Just make sure the ice cubes are small enough that your dog can easily swallow them. You don't want to give them large chunks of ice that could choke them or damage their teeth.
Does Wetting a Dog Cool It Down?
In general, it's a good idea to use water to cool down your pup. While wetting a dog down will help lower their body temperature, it's important to make sure you're doing it correctly. You don't want to use cold water or get your dog too wet as this can cause shock. Room temperature or slightly cool water will work best.
Since dogs don't sweat like humans do, adding water will help cool them down by evaporative cooling. This is when the water on their fur will evaporate and help lower their body temperature.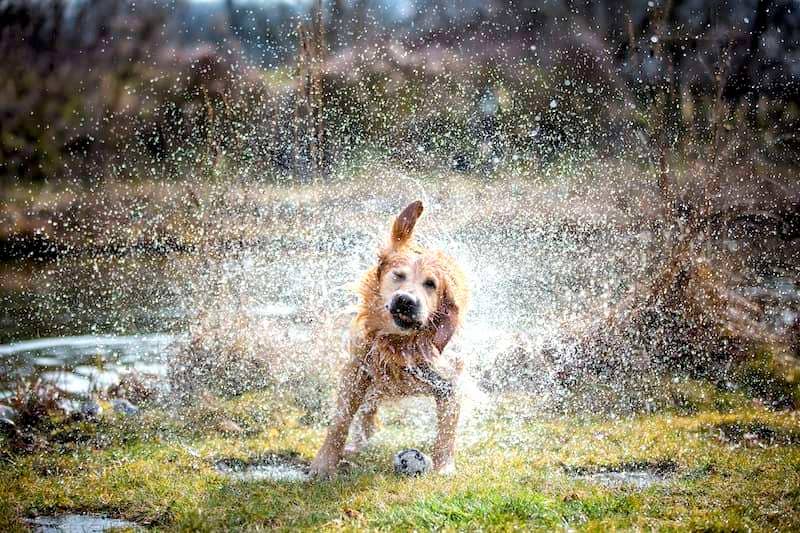 How Can You Tell If a Dog Is Overheated?
Some signs of a dog experiencing overheating or heat exhaustion include excessive panting, drooling, lethargy, dark tongue and gums, increased heart rate, and vomiting. If you notice any of these signs in your dog, it's important to take action immediately to cool them down.
What To Do If My Dog Is Suffering From Heat Exhaustion
If your dog is suffering from heat exhaustion, the first thing you should do is move them to a cool area. If possible, put them in front of a fan or air conditioner to help lower your dog's temperature. You can also wet their fur with cool water and give them ice cubes to lick.
Next, offer your dog some water to drink. If they're too weak to stand, you can pour some water into their mouth or soak a towel in water and offer it for them to lick. Do not give your dog cold water as this can cause shock.
If your dog is still not showing signs of improvement, it's important to seek professional medical attention immediately. Heat exhaustion can lead to heat stroke, which can be fatal.
Call your veterinarian or, if they're unavailable, take your dog to the nearest emergency animal hospital. They will be able to provide your dog with the proper treatment and care to get them back to feeling their best.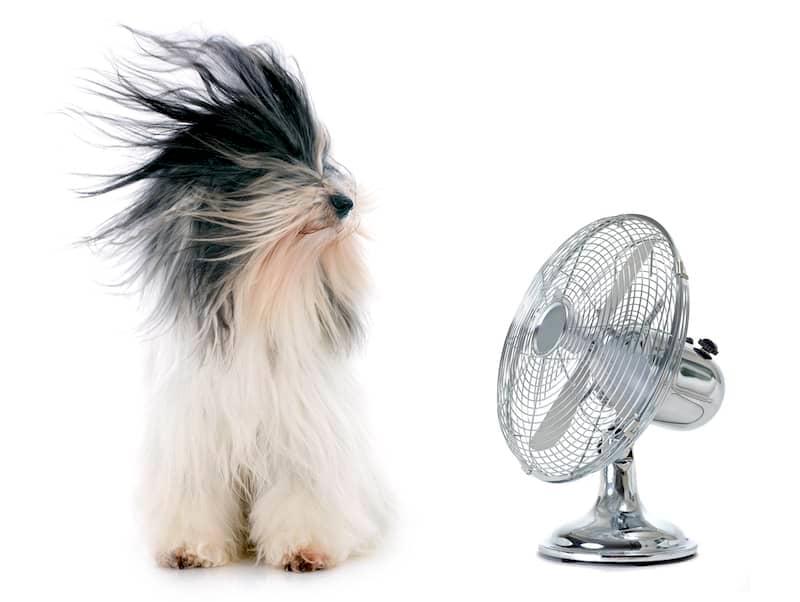 Do Dogs Sleep More When Hot?
On average, dogs sleep for about 12-14 hours a day. But, during the summer months, they may sleep more due to the heat. This is because their bodies are working hard to stay cool and they need more rest to recover.
So, unless your pup is showing other signs of heat stroke such as excessive panting or lethargy, you don't need to worry. Your dog is simply preserving his energy and staying cool.
How Can I Stop My Dog's Paws From Overheating On Walks?
If you're worried about your dog's paws overheating on walks, there are a few things you can do to help. First, try to walk them on grass whenever possible instead of concrete or asphalt. These surfaces can get very hot during the summer months and can burn your dog's paw pads.
Another good idea is to get them some booties or shoes for them to wear. This will provide a layer of protection between their paws and the hot ground. You can also apply paw balm or petroleum jelly to their paw pads before walking to help protect them from the heat.
Many people use a product called Musher's Secret which is a four-season wax that can be applied to your dog's paw pads. This easy-to-use product helps protect their paws from hot surfaces, salt, snow, and ice.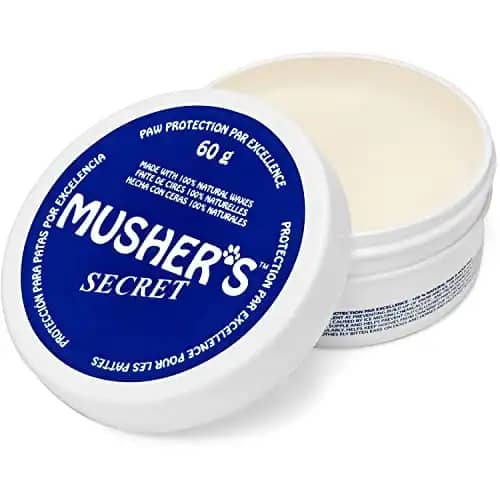 Musher's Secret Dog Paw Wax
The Musher's Secret Dog Paw Wax is an all season pet paw protection against heat, hot pavement, sand, dirt, snow - Great for dogs on trails and walks!
Buy on Amazon
Buy on Chewy
We may earn a commission if you make a purchase, at no additional cost to you.
The Bottom Line: Cool Down a Dog During Hot Months
There are so many great ways to keep your pup cool during the summer months. By following these tips, you can help to avoid heat exhaustion and make sure your pupperino has a fun and safe summer!