We know exactly what you're like – you'll do anything you can to keep your little furry buddy happy. That includes making sure they get their daily walk or trip to the park, regardless what time of day it is. The fact of the matter is, they deserve to run wild! But we've surely all heard a horror story about people walking their dog at night, right? 
The Risk to Dogs after Dark
Without nighttime dog walking gear like a light-up collar or harness and a reflective leash, you're instantly exposing your pup to a world of danger.
Firstly, and probably most crucially, drivers can hardly see your doggerino by the roadside when you're on a late-night walk. And it doesn't matter what color their coat is – they will likely only see that when their headlights make them visible. Or in other words, when it's far too late.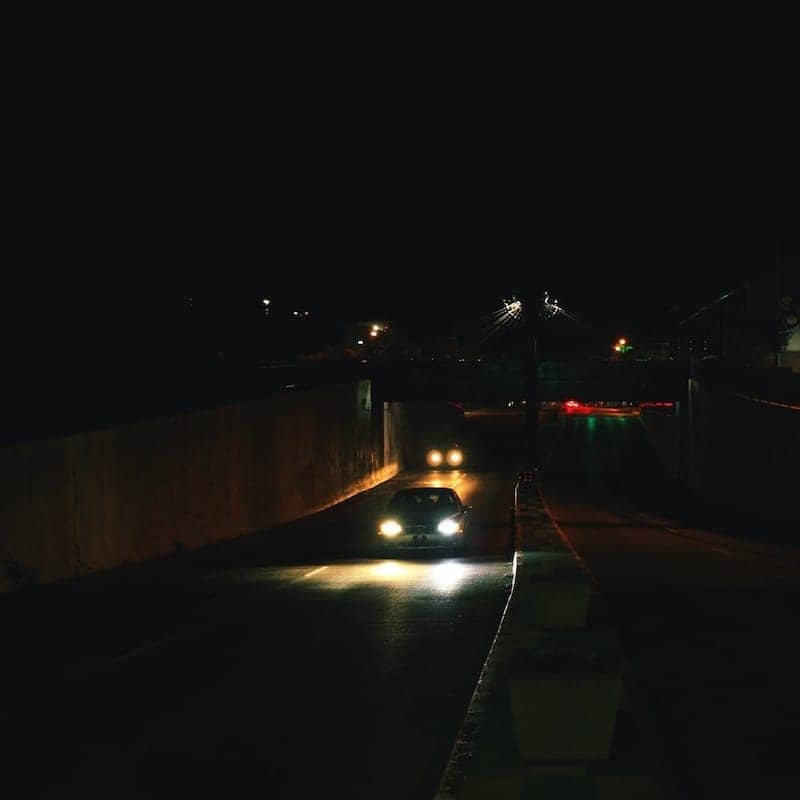 If anything, most road users aren't even on the lookout for dogs on the road. And according to statistics, car drivers put the pedal to the floor when night falls, meaning there's definitely no time to dodge your excitable pupper. And you don't want them to become 1 of the 1.2 million dogs killed yearly by road users in the US alone, right?
Running Wild
The same concept applies to that nightly run you enjoy doing together after work. This is a great time for you to properly bond after a long day of being apart. Plus, it can seriously improve the mental and physical wellbeing of both you and your pup! What's not to love?
But you probably know that when you're pounding the ground one foot after another, your balance can be a little off.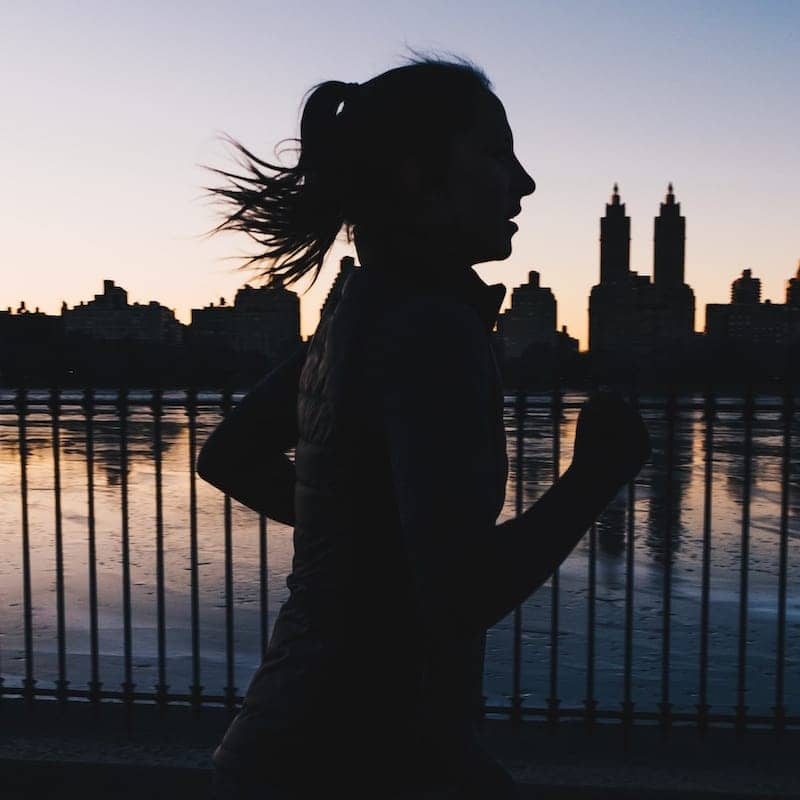 Combine that with a doggerino who's been waiting for this moment all day, and there's a huge risk they could end up in the middle of the road. Especially if your dog is off-leash, with the speed you're both running at, there's certainly not enough time to keep them from colliding with vehicles. And there's no use putting them on a leash to try and control them because unless it's highly reflective, your doggie is still invisible. 
But unfortunately, that's not the end of your worries…
Garden Shenanigans
There's also the issue of losing your furry bestie in your garden – something you probably battle with every night, right? And even worse, many of us let them out without a collar on.
Needless to say, it's because we trust them and we know their true character. But sometimes puppers just get a little distracted. Despite any preventions you may have in place, if they want to bolt, they can and they will!
Depending on where you live, this can be a petrifying experience. Are you close to a busy road? Will nearby sounds and smells distract your beloved buddy? That heart-wrenching moment when you call their name and they don't run back is one you don't easily forget. Plus, searching for your doggie when they're barely visible is impossible.
Playtime at the Park
For dog parents with a smaller garden or living in an apartment, there's only one way to give your furry friend the exercise they deserve – a trip to the local park! Except, unless it's well-lit, you'll probably struggle to see your dog roaming around. In which case, you won't know when your bestie has gone astray. This could be serious as they may encounter danger with another dog or even local wild animals.
However, you don't want to keep your pup on a leash. As you know, doggies love to run, play, explore and take in all the smells of the park. Keeping them nearby is restricting their freedom that they're so desperately craving.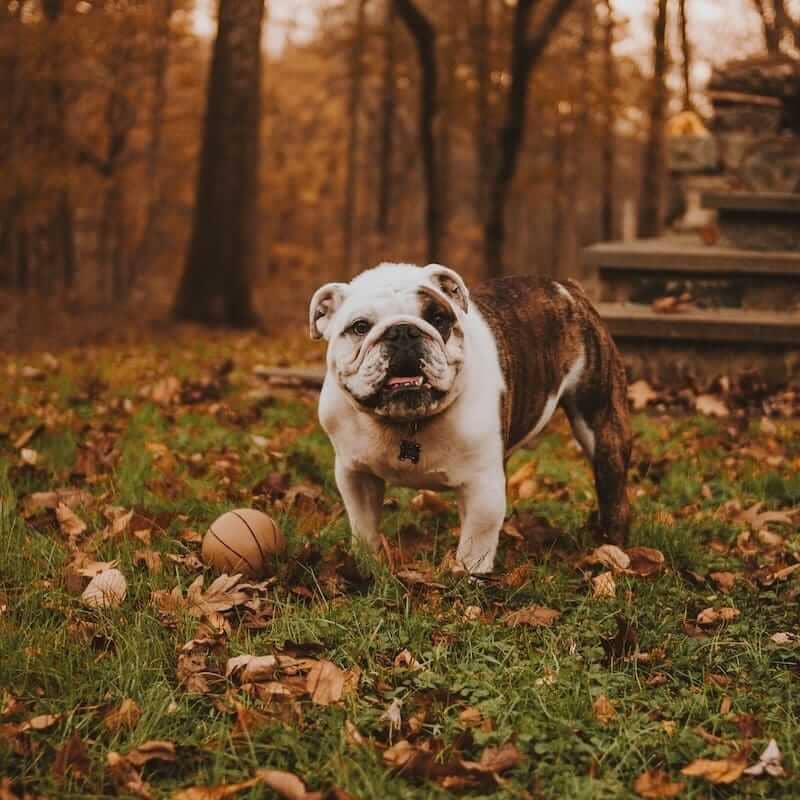 So, unless you've got reliable high visibility gear, you're putting an awful lot on the line. A plain collar and solid black leash are not your friends in the dark. You're going to need something much safer.
The Wonders of Light!
Like you, I had my own worries about walking my dog Indy at night. And I was right to be worried. It became apparent very quickly that not only was she invisible to vehicles, but while running around the park, I had no clue where she was. In fact, with the number of life-threatening dangers at risk, it felt safer keeping her at home.
Was I being a responsible pet parent? Yes. I didn't have the correct safety gear to make sure people could see Indy in the dark. But was I being a fair dog parent? No.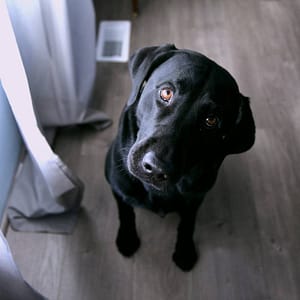 That's exactly why we wanted you to know about the best products with reflecting material or lights for walking your dog at night, which are essential for keeping your pup visible after dark! Your doggo deserves to get out for that evening walk or run – what fun is it being cooped up inside?
Gear for Dog Walking at Night
When I first put this snazzy collar on Indy, I knew it would completely change our nightly walks for the better. Sure, it's a sight for sore eyes – and in the best possible way! What you want is for your doggy to be seen, right?
With three different flash modes, it was such a welcome relief that Indy was fully visible to oncoming traffic no matter how dark it was. Who doesn't love a doggie disco? And I felt pretty content knowing that my little friend wasn't at risk of becoming another statistic.
Plus, when I later let her out one last time before bed, she was glowing all around the garden. It's a pretty amusing sight but it's one that my family definitely couldn't do without now. Especially if you've got a big garden, there's no going back!
However, it's understandable that you may have some reservations about the battery life, but there really is no need to worry. The LEDs are rechargeable via USB, which can be used with any USB charger or laptop, so there are no battery replacing and disposing issues. After 1hr charge the built-in battery lasts for multiple walks and the LEDs stay on the whole time your doggerino is exposed to dark conditions. All this means they're always visible and much safer than without it.
ILLUMISEEN LED Dog Collar USB Rechargeable
These bright & high visibility, lighted dog collars are the must-have accessory for safer night walking. They're also weatherproof and come in 6 colors & 6 sizes, to fit your doggie's neck and sense of style.
Buy on Amazon
Buy on Chewy
We may earn a commission if you make a purchase, at no additional cost to you.
Now, if you prefer walking your dog at night with a harness instead of a collar, fear not! This harness is way up at the top of its category, with lots and lots of positive reviews.
On top of its super-bright reflective strips, the main reason we included it in this article, there's a long list of benefits for you and your pupper:
Helps with curbing your dog's pulling without choking them, thanks to the two metal leash rings, one at the front for less pulling, the other at the top for regular walking or running.
Easy to put on and take off, unlike those complicated harnesses that need an instruction video to understand the procedure.
Although it comes in 4 sizes, S, M, L and XL, you can easily adjust it up or down for the perfect fit, while allowing for some growth too.
Super comfortable with a very breathable air mesh that helps keep Spot cool while enjoying the outdoors, and padded in the important areas to protect their skin
Additional control for more rebellious dogs, thanks to the top handle
Unfortunately, we couldn't find any great LED harnesses (let me know in the comments if you did), which would be even brighter than this one. So, if the LED Collar is your choice but you'd rather use a harness, then why not combine the two for super extra visibility while out at night?
Adding the reflective strips of the harness to the LEDs of the collar would make your dog the most visible on Earth and therefore, one of the safest too! Imagine how relaxed your night walks or runs will be once this issue is out of the way!
Of course, to be as safe as you can be and complete the walking/running gear, you'd need a leash. We've got you! Just read on for the deets.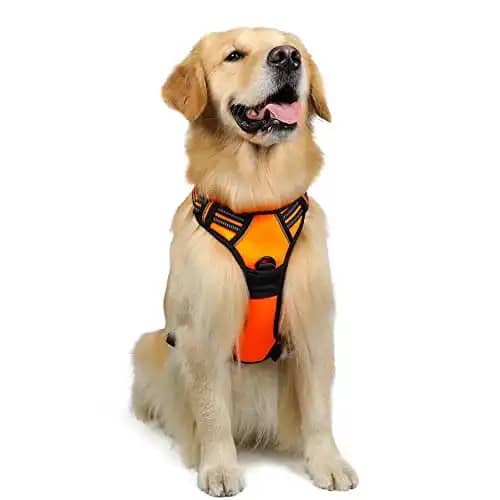 rabbitgoo Reflective Dog Harness
This reflective, no-pull dog harness is fitted with 2 leash clips, it's adjustable and has soft padding for a comfortable pupperino. It's the necessary accessory for safer night walks when you'd rather use a harness than a collar.
Buy on Amazon
We may earn a commission if you make a purchase, at no additional cost to you.
Illumiseen LED Leash and Baapet Reflective Leash
Even if your doggie has a superb recall, you should always use a leash at night by the roadside. Why? Because as well as being at risk of colliding with oncoming traffic, there are so many other dangers. Like other humans or animals could easily scare your dog into darting for the road.
Despite always walking our dog at night on a leash, I knew very well that that was only half of what we needed to keep her safe. And although she's usually right by my side at all times, it could get tricky if she gets distracted.
So we started researching LED and reflective leashes to ensure she would be even safer in every eventuality.
The main differences between these two dog leashes for night walks are:
The Baapet Reflective Leash has threads that shine in vehicle's headlights and doesn't need charging. It's made with strong mountain-climber nylon rope and comes with a comfortable padded handle.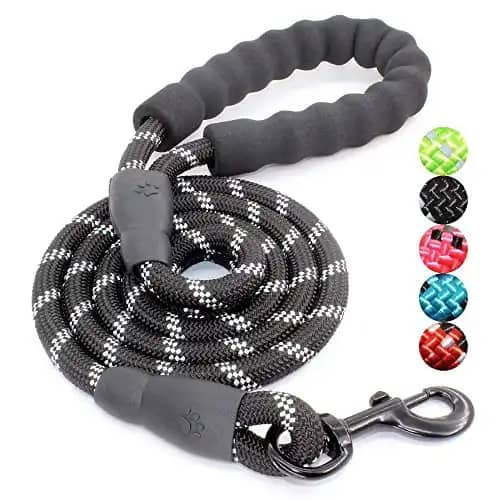 The Illumiseen LED Leash shines on its own and its battery should be regularly recharged using its USB port. A 1-hour charge lasts 5 hours or several walks, like the LED Collar we talked about above, which it matches beautifully with.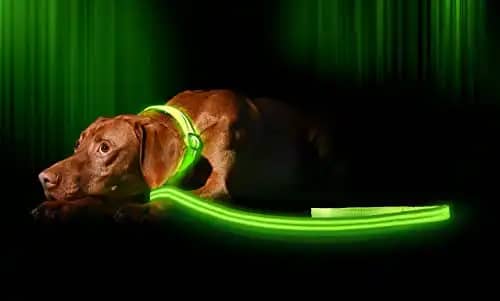 Illumiseen LED Dog Leash USB Rechargeable
This super-bright illuminated dog leash is USB Rechargeable and comes in 6 colors and 2 sizes to choose from. It makes your dog visible and safer!
Buy on Amazon
We may earn a commission if you make a purchase, at no additional cost to you.
No More Unexpected Consequences
If your doggo is involved in a road collision, it's very easy to point the finger at the driver of the vehicle concerned. However, in many US states, there is a law that requires you to walk your dog on the leash.
Typically, if your off-leash pupper is hit by a car in a state with leash laws, you will nearly always be at fault. With the LED Collar or a Reflective Harness and a Reflective or LED Leash, you can be almost certain that you won't be involved in any avoidable accidents, let alone lawsuits!
And not just that, but you're saving an innocent driver from a whole lot of traumas. Accidents such as hitting and killing a doggie can result in anxiety, depression and other fear-related health issues. By keeping your dog safer, you're essentially also keeping other people from living with unexpected consequences.
A visible dog is a safer dog!
It's Glow Time!
If you're trying to make a decision on dog collar vs harness for day or night use, check out our blog post to know more about the pros and cons between them.
We're all about the safety of our dogs at Pampered Puppers.
For maximum security and protection, we go all out – especially during walkies. Combining the reflective harness, a reflective or LED leash and an LED collar is the best safety precaution you could provide for your pupperino. Check out this luminous power combo to increase your safety when walking your dog at night!