What makes life perfect for a dog? Plenty of treats, belly scratches, a backyard full of squirrels, and, last but not least, the best squeaky toys for endless playtime.
Those squeaky toys make your dog light up like a Christmas tree every time they hear that high-pitched noise – it's like doggy catnip!
And who can blame them? Dogs like squeaky toys because of their prey drive. This provides them with endless hours of amusement as they try to catch, bite, and chew the life out of that squeaker.
So if you want to make your little guy the happiest doggerino on the block, check out our list of the 9 best squeaky toys for dogs. There's something for every type of pup, from the small and mighty to the big and bold.
The 9 Best Squeaky Toys for Playful Pups
1. Apasiri Durable Dog Squeaky Toy
If you're looking for a chew-proof toy for your dog, look no further than the Apasiri Durable Dog Squeaky Toy. This all-natural rubber dog toy with squeaker is eco-friendly and durable enough to last for ages.
Customers love the toy for its oblong shape that's easy to hold. It can be used as a football outside, or your pupperino can play solo for hours. The firm ridges also have the ability to clean tartar from teeth, and the squeaky sound is dog-approved.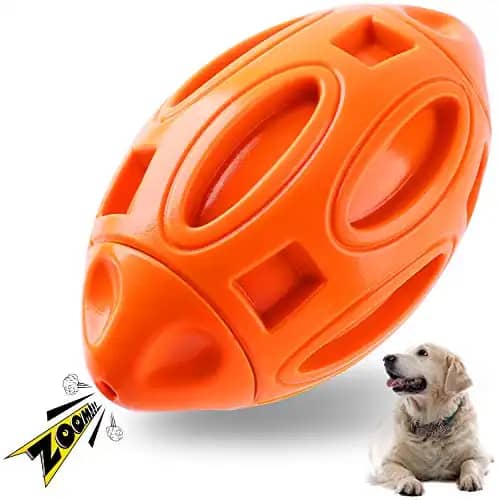 Apasiri Durable Dog Squeaky Toy
A bonus feature of this football is its beef flavor and scent, which helps to engage your doggerino when it's playtime. You can also apply gooey foods such as peanut butter onto the grooves of the ball if you want to use it as a treat dispenser.
Buy on Amazon
We may earn a commission if you make a purchase, at no additional cost to you.
2. Hear Doggy Flatties with Chew Guard Technology
When Indy is having one of those crazy "puppy outburst" days, she is likely to chew on her squeaky toys endlessly. And I must admit that it doesn't sound like music to my ears.
I was overjoyed when I found Hear Doggy's ultrasonic squeaker chew toys!
The squeakers are tuned to an ultrasonic frequency level between 24 and 28 kHz which people can't hear but dogs still love the noise! From a human perspective, it sounds like the squeaker has died and there's only air escaping. From a doggo's point of view, however, it still sounds loud, squeaky, and interesting.
Ultrasonic Squeaker
3. KONG Jumbler Ball
What can't KONG make better? This company is the mastermind behind some of the most popular dog toys on the market, and their Jumbler Ball is no exception. It's the perfect option for larger or stronger breeds such as German Shepherds, pit bulls, and labs.
The KONG Jumbler Ball is a two-in-one squeaker toy that will keep dogs entertained for hours. The outside ball has a handle that's easy to grip, and the inside ball contains a squeaker.
KONG Jumbler Ball
The Jumbler Ball is perfect for dog owners that want a toy their furry friend can play fetch with outdoors. It's durable enough for plenty of outdoor seasons as well as a classic game of tug-of-war.
Buy on Amazon
Buy on Chewy
We may earn a commission if you make a purchase, at no additional cost to you.
4. Best Pet Supplies 2-in-1 Stuffless Squeaky Dog Toys
Has your doggerino ever torn apart a plush toy, leaving a trail of stuffing behind? This 2-in-1 squeaky toy from Best Pet Supplies is the perfect solution for curious pups that love to destroy their toys.
There are two separate squeakers in every toy, one in the animal's head and another in the tail, so it can perform double duty when your pup is feeling playful. And if your dog like the crisp sound of crinkling, you can insert an empty plastic water bottle in all medium and large models of the toy to take this item to the next level.
Stuffing Free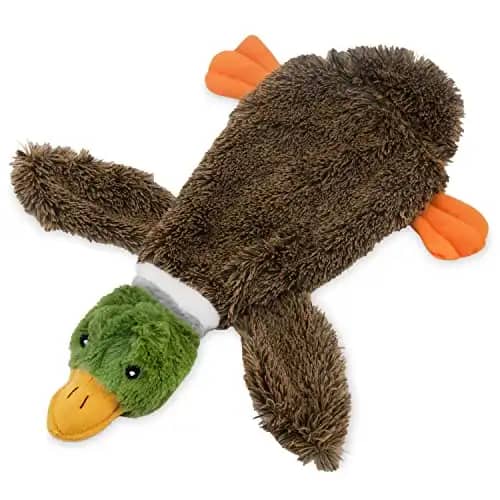 Best Pet Supplies 2-in-1 Stuffless Squeaky Dog Toys
This stuffing-free dog toy comes in the shape of a duck, alligator, cow, penguin, deer, fox, hare, lion, monkey, raccoon, and pig. They also come in small, medium, and large sizes so that you can choose the perfect mouthful for your chewer friend.
Buy on Amazon
We may earn a commission if you make a purchase, at no additional cost to you.
5. VANFINE Dog Squeaky Toys Almost Indestructible Tough Durable Dog Toy
Some dogs are tougher on their toys than others, and if your pup falls into this category then you need a toy that can withstand some serious chew time. The VANFINE Dog Squeaky Toy is made with durable rubber that's designed to withstand vigorous playtime.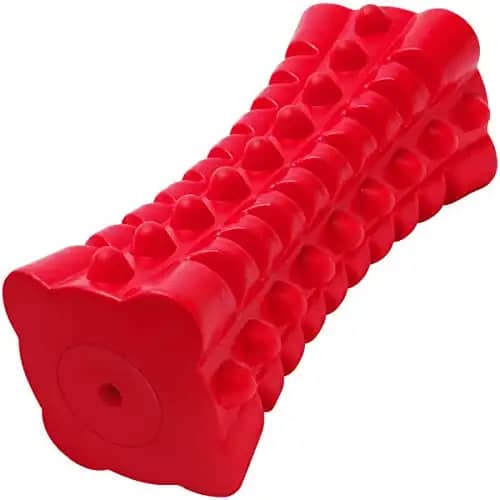 6. Multipet Latex Chicken Globken Dog Toys
Dogs will adore playing with Multipet Globkens Chickens! These toys feature a brightly colored polka-dotted latex exterior with a plush filling that's simply irresistible to pups. Not only are these chickens a beautiful color, but they also squeak when squeezed- providing an interactive experience for any dog. The latex exterior on this toy is durable and will last long for chewers.
It Floats!
7. Sedioso Dog Plush Toy
If you're team crinkle versus team squeak, then you'll want to check out the Sedioso Dog Plush Toy series. You can choose from a cow, crab, donkey, lion, lobster, monkey, or octopus, or spoil your pup and buy them a whole set. They have an aesthetically pleasing woven surface that looks nice in your home while feeling satisfying on your dog's gums and teeth.
Sedioso Dog Plush Toy
They come with a crinkly tail for hours of entertainment minus the high-pitched squeak. The Sedioso toys can be washed by hand or in your washing machine, which can help extend their life.
Buy on Amazon
We may earn a commission if you make a purchase, at no additional cost to you.
8. HDSX Smile Face Dog Squeaky Toys
If you want an indoor fetching ball that's lightweight but adds drama with a satisfying squeaky noise, these colorful Smile Face Dog Squeaky Toys are the perfect option for your pupper. These are best for small-breed dogs who love to run and play indoors. The 2.25-inch size is also perfect for tiny mouths and is soft enough that your doggo will have a good chomping grip.
For Smaller Dogs
HDSX Smile Face Dog Squeaky Toys
These flat and bouncy balls are to be lightly to moderately chewed. They are light and soft, but they make a loud squeak. Ideal for dogs under 11Kg or 24lb.
Buy on Amazon
We may earn a commission if you make a purchase, at no additional cost to you.
9. Pet Craft Supply Hide and Seek Plush Crinkle Squeaky Dog Toy
Do you want a squeaky toy with a puzzle element to it? The Pet Craft Supply Hide and Seek Plush Dog Toys will entertain your furry friend for hours. With three squeaky pizza slices that your dog needs to fish out of the container, this pizza box is sure to provide your pet with hours of mental stimulation.
Squeaky Puzzle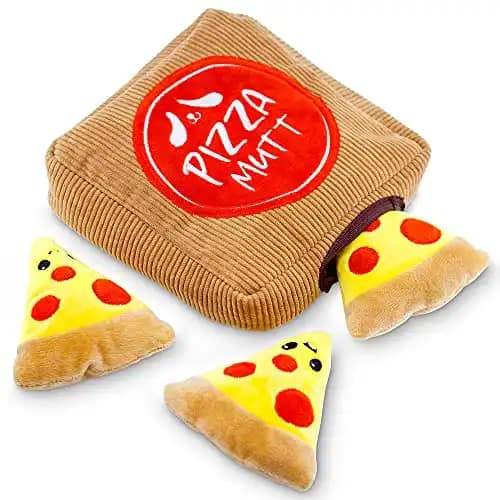 Why Do Dogs Like Squeaky Toys?
Dogs love to hunt because it's in their nature. Catching a ball, chasing small animals, and play-fight with other dogs are all activities that excite their hunting instincts. All prey have certain qualities that predators look for, and squeaky toys have these same exact qualities. They are small, they make noise when touched (like injured prey would), and eventually, the noise stops (as if the toy has been turned into food).
Check out our special article on why dogs love squeaky toys so much. You'll be surprised by the many levels there are to this!
How to Choose the Best Squeaky Toy for Your Pupperino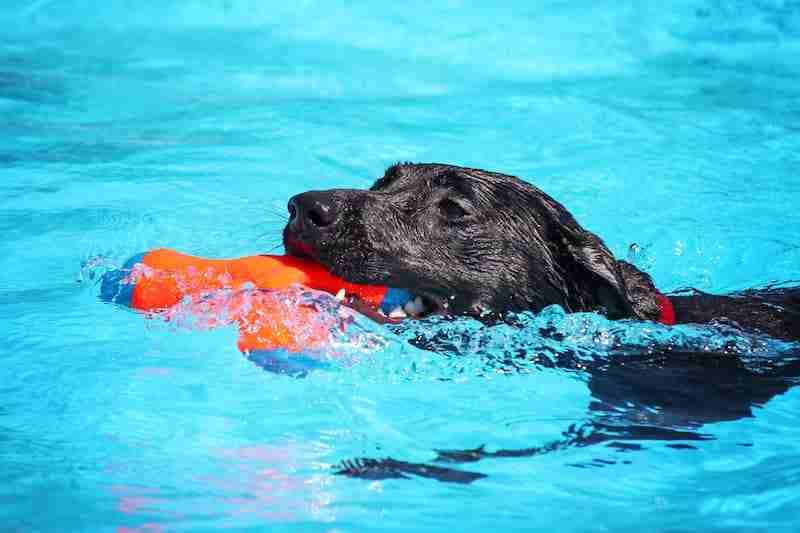 Here are some things you'll want to consider when picking the perfect chewing squeaking toy for your four-legged friend:
1. Is It the Right Size?
The size of the toy is important for two reasons: safety and enjoyment. A toy that's too small can pose a choking hazard, and a toy that's too large can be difficult for your pup to carry around or chew on to make sounds. Choose a squeaky toy that's appropriate for your dog's size.
2. Is It Durable Enough?
Some dogs are heavy chewers while others prefer to cuddle with and lightly groom their squeaking toys. Consider your dog's chewing habits when selecting a squeaky toy, as you'll want to choose one that will withstand rough play or one that is soft and cuddly for light chewers.
3. What's It Made Of?
Dog toys with squeakers are usually made from plush fabric, latex, or rubber. Some are even filled with stuffing. Be sure to choose a toy that's made from safe materials and that doesn't have any sharp edges that could hurt your pup.
4. Is It Safe?
As with any pet product, you'll want to make sure the squeaky toy is safe for your dog. Avoid toys with small parts that could pose a choking hazard, and avoid latex toys if your pup is allergic to latex.
The Bottom Line: Best Squeaky Dog Toys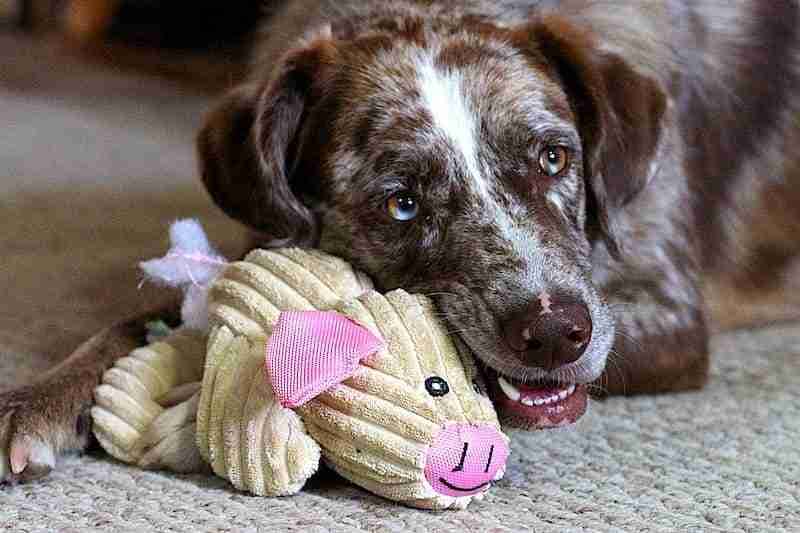 Squeaky toys are some of the most exciting items a pupper can have around. They love the texture, the sound, and the challenge of trying to figure out how to make the noise happen over and over again.
Test toys until you find what works. When your dog meets their squeaky toy best friend, you'll know it by how they won't let go.
Happy playing!