Do you want to make sure your pup has the best life possible? Of course you do! One of the best ways to do that is by providing dog enrichment activities.
Enrichment for your dog keeps him mentally and physically stimulated, which can help prevent boredom and destructive behavior. When my doggie Indy gets restless, I like to tire her out with an enrichment activity so that she can relax and get a good night's sleep.
In this blog post, we will discuss a variety of different enrichment ideas for dogs. So read on for all the info you need to create a blissful pupper life!
The Importance of Providing Your Dog With Mental Stimulation
Unfortunately, dogs don't get to go to school, work for a living, go on awkward first dates, or participate in other human activities that help us to stay mentally sharp.
Can you imagine if you were cooped up all day long, only to have a short 10-minute walk when your human comes home from work?
You would get pretty bored, right? The same goes for dogs. In the wild, wolves and other canines spend most of their day searching for food. This requires a lot of mental stimulation as they use their noses to sniff out prey.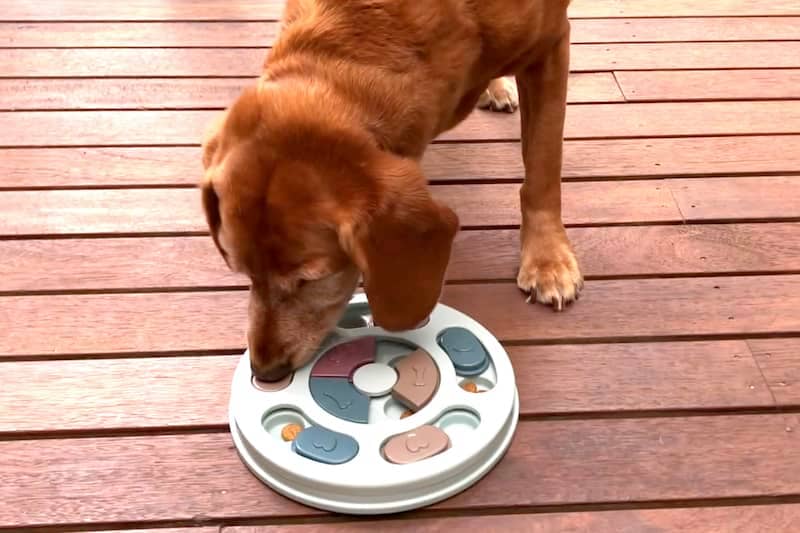 When we provide our furry besties with canine enrichment toys and mental stimulation activities, it emulates these ancient scavenger hunts and has plenty of benefits, including:
Decreased anxiety: Just a few minutes of pooch mind enrichment can significantly reduce your pupperino's anxiety levels.
Improved obedience: Dogs who are well-stimulated are more likely to be obedient since they have learned how to focus and follow commands (and often get treats out of it!)
Increased bonding: Working on enrichment together can help strengthen the bond between you and your dog since many puzzle toys are interactive.
Less bad behaviors: Does your dog endlessly chew on your shoes or bark at the mailman? Providing adequate enrichment can surprisingly help decrease problem behaviors.
Better physical health: These enrichment dog toys are more than mental, they're also physical! This will help prevent your dog from becoming sedentary and gaining excess weight.
Memory and problem-solving skills: Just like people, dogs need to use their noggins to keep their minds sharp. Enrichment can help with this by providing a stimulating environment for your pup to play in.
Now that we know all about the benefits of canine enrichment, let's get into some specific ideas! Next, I'll share some great dog mind enrichment ideas that can help to improve your pup's life.
Best Dog Enrichment Toys For Your Furry Bestie
A snuffle mat is a great way to provide mental stimulation for your dog as they have to use their noses to sniff out treats or kibble. This one from Pet Arena is adjustable, so you can make it function as a snuffle mat or a food bowl.
The polar fleece material is machine washable, making it easy to keep clean and microbe-free. The material won't pill, meaning that it will look new after several uses.
The mat is also non-slip, so you can use it on any surface without worrying about your pup slipping and hurting themselves or pushing their snuffle mats all around the house.
Fun for All Pups
PET ARENA Adjustable Snuffle Mat
Promising Review:
Finally, a break!
I have a 5 month old, large, mixed breed puppy, and he is quite demanding! We take daily walks, play fetch in the yard, and go to training classes and doggie day camp weekly. Despite all this, he is still a lot to handle. I didn't think I'd like this as much as I do, but it's probably one of my favorite dog purchases. We use it for all his meals. I love that I can sprinkle his food in here and it gives me a good 15 minutes of peace while he sniffs out every kernel.
Buy on Amazon
We may earn a commission if you make a purchase, at no additional cost to you.
Do you want your dog to be a brainiac? The Outward Hound line carries a variety of dog puzzles ranging from easy, intermediate, advanced, to expert levels.
The level one toys give your dog a chance to have fun with a puzzle without getting discouraged. They require only one step and are a great foundation for learning how to use the more difficult puzzles.
As your pup moves to level two, it can learn how to lift, flip, and slide different pieces to get to the treats or kibble. These are great for dogs who already know how to use their noses and need a little more of a challenge.
The level three toys are designed for the smartest of pups who have mastered levels one and two. They have many more compartments, so your dog will need to really use its nose to discover treats within the puzzle.
Finally, level four toys combine all of the challenges above and also have a spinning element to make it even more difficult for your pup.
If you have a super smart pup, this is the ultimate challenge! They will undoubtedly be ready to head off to college once they've mastered all of the toys.
Read our review on dog puzzle toys in our other post here.
An Academy of Stimulation Toys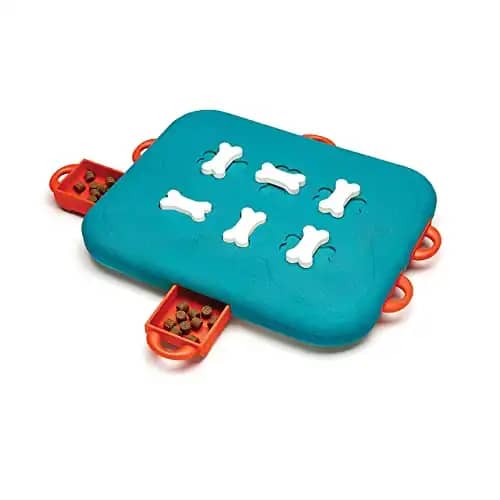 Nina Ottosson by Outward Hound Dog Interactive Puzzle Toys
Promising Review:
Perfect for a smart, high energy dog.
This is awesome! My border collie's level of intelligence is a part time job for me. He requires engagement and he figures out everything fast. This puzzle took him a good hour and a half to figure out the first time and every time after that, he sits with this for about an hour. He's really calm (which he's normally not) and concentrated with it, methodically moving pieces. I ordered a second, different puzzle a day after we received this first one.
Buy on Amazon
Buy on Chewy
We may earn a commission if you make a purchase, at no additional cost to you.
Instead of using the same old commands of "sit" and "stay" to reward your pup with a treat, try this interactive treat dispenser from StarMark.
The Bob-A-Lot has a weighted bottom, so it wobbles as your doggo nudges it around. This makes it harder for them to predict where their treats will come out, adding an element of fun and excitement.
You can also adjust the size of the treat opening, so you can make it easy or difficult for your pup to get their treats. This puzzle toy can hold up to three cups of food, so it's suitable for feeding kibble as well as dessert.
Dogs love it when dog owners sit on the ground and wobble the toy for them, participating in the game. However, this is also a great toy for when you need to leave your pup alone at home or need to crate it.
Making Treat Time Fun
StarMark Bob-A-Lot Interactive Dog Toy
Promising Review:
She never gets tired of it
My dog was having some issues with being left for more than a couple hours and our trainer suggested that we look into some interactive feeding solutions. I spent quite a bit of money on various ones, and this is by far her favorite. When I got it I really didn't think she would like it. But she took right to it. I like that I can change the size of the holes to make it easier or harder.
Buy on Amazon
Buy on Chewy
We may earn a commission if you make a purchase, at no additional cost to you.
The Kong is a classic for a reason. It's been around for decades and is surely one of the most popular dog toys on the market. It's made out of durable rubber that is perfect for heavy chewers. You won't need to worry about small plastic pieces breaking off and becoming choking hazards, as many other puzzle toys are made of.
You can fill the Kong with peanut butter or hide treats in it. Freezing the treats in water or freezing the peanut butter makes the game even more challenging and enjoyable for your pup.
The Kong Wobbler is also great for interactive playtime. You can bounce it around to make the treats come out or let your pup nudge it across the floor.
Kong toys come in many different sizes and is an entry-level puzzle that is perfect for all dogs.
A Classic Entertainer
KONG Wobbler Interactive Toy
Promising Review:
Best toy we've gotten yet
We love this toy.It keeps our husky mix puppy entertained for quite a long time - which is usually hard to do! We put a mix of his dry dog food mixed with a small handful of training treats such as Charlee Bear or Pet Botanics Training Rewards in it and he goes crazy.
Buy on Amazon
Buy on Chewy
We may earn a commission if you make a purchase, at no additional cost to you.
Wouldn't it be convenient if your pupper could feed herself once in a while? Well, with this mental enrichment food dispenser dog toy, you can make that dream a reality.
The PETGEEK Automatic Dog Feeder Toy can be programmed to release a set amount of food whenever a button is pushed. The button will play a sound and immediately dispense the food.
First, demonstrate the button to your pup, and then help your dog figure out how to press the button itself. Eventually, your pup will learn to press the button on its own to get food.
This dog toy comes with a yard stake if you want to use it outdoors. This way, your dog can reward itself with a snack after running around in the backyard.
Just be aware that if your dog is food mad like Indy, having food on command could become an issue with weight gain.
The Trixie brand offers three levels of difficulty when it comes to interactive dog toys in 12 different game varieties. Talk about a lot of options!
The first level is perfect for beginners and has four different game varieties. The second level is a bit more challenging with six game varieties, while the third level offers four game varieties for experienced pups.
One of my favorite Trixie games is the "chess game" as I've always wanted to challenge Indy to a game of chess (in which she would probably just eat the pieces).
With this dog-augmented puzzle, my crazy wish just may indeed come true!
Toy Varieties to Beat Pup Boredom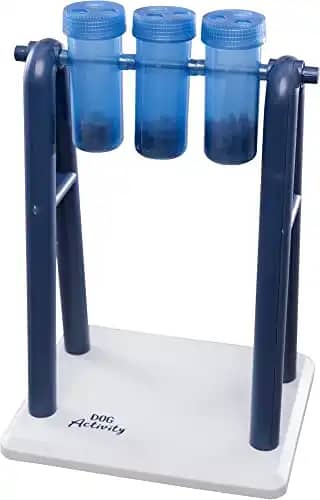 TRIXIE Dog Activity Strategy Game
Promising Review:
A fun product for dog and owner
It took little Mikey (schnoodle) a little time to figure out what to do to get the goody to tumble out, several sessions of exposing it to him. We had to spin the containers for him, hold his paw up and guide it to the cylinder and spin it, etc., but then a light bulb evidently shown dimly in his dog brain and from then on he was money.
Now he gets very excited when he sees us loading it up and seems to think it is great fun. It stimulates his dog brain somewhat, makes him think a little, which many dogs really need.
Buy on Amazon
Buy on Chewy
We may earn a commission if you make a purchase, at no additional cost to you.
Best Activities That Provide Enrichment For Dogs
There are some great canine enrichment activities that will not only help your dog keep its mind sharp, but will provide an opportunity for some important bonding time. Your pet will love training her brain with her favorite human joining it.
Here are some of my favorite games to play with Indy, which has practically made her a doggie genius:
1. Hide and Seek
This makes for one of the best hunting games for dogs. To play, simply have your dog sit and stay while you hide. Once you're in position, give the release command and let your pup find you!
You can make this game more difficult by hiding in different rooms or even outdoors.
You can also play with food and hide your doggerino's dinner, toy, or a few treats in different places around the house. This is a great way to get your dog to use his nose and think critically about where things may be hidden.
As mentioned above, seeking games emulate the activities that canine pups would perform in the wild. By playing these types of games with your dog, you're providing valuable mental activity and stimulation.
2. Agility or Obstacle Courses
Another great way for canine enrichment is to set up an agility or obstacle course in your backyard.
You can use household items to create a simple course, or you can purchase some agility equipment. Some good DIY options include:
Hurdles: Use broomsticks or PVC pipes to create hurdles of different heights.
Tunnels: Create a tunnel out of an old sheet or purchase a plastic tunnel designed for pets.
Weaves: Weave poles can be easily created by threading rope through PVC pipes.
You can also use your imagination to create other obstacles, such as balance beams, see-saws, and tire jumps.
The key is to start with simple obstacles and then gradually make the course more difficult as your dog masters each one. Not only will your dog love this activity, but it's also a great way to get some exercise!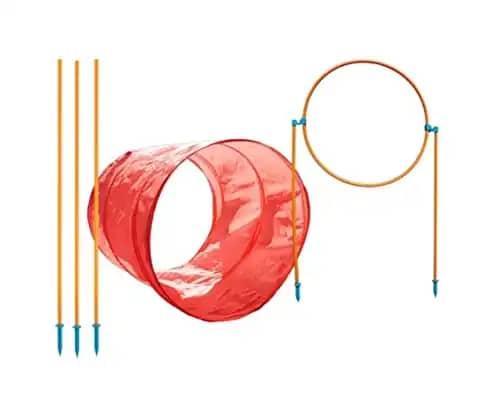 Outward Hound Zip & Zoom Outdoor Dog Agility Training Kit
Do you have dreams of your pup becoming the next canine superstar? Start training early by setting up an obstacle course in your backyard.
This game is perfect for dogs who are full of energy and need to burn it off. The obstacles can be anything from jumping over a hula hoop to crawling under a table.
Buy on Amazon
Buy on Chewy
We may earn a commission if you make a purchase, at no additional cost to you.
3. Scent Games
Scent games are a great way to provide enrichment for your dog. They're also a lot of fun!
There are many different ways to play scent games with your dog. One option is to play this game on a walk. Hide a treat or your dog's favorite toy along the route and then let your pup find it!
Another fun scent game is "pick the hand" in which you hide a treat in one of your hands and then let your dog choose the correct hand. You can use commands such as "sit", "seek", or "find" to help your dog along.
4. Physical Exercise
Blood and oxygen flow to your dog's brain is essential for cognitive function. Just like humans, dogs need to get their blood flowing in order to think clearly!
Physical exercise is a great way to provide enrichment for your dog. Not only will it help to keep her mind sharp, but it will also provide some much-needed physical activity.
A game of fetch is always a good way to get your dog moving, or you can try something new like swimming or hiking with your pup. Just make sure to start slowly and increase the level of difficulty as your pupper gets more comfortable.
Check our article on whether you need to protect your dog with a coat or sweater when it's cold.
5. Dog Safe Bubbles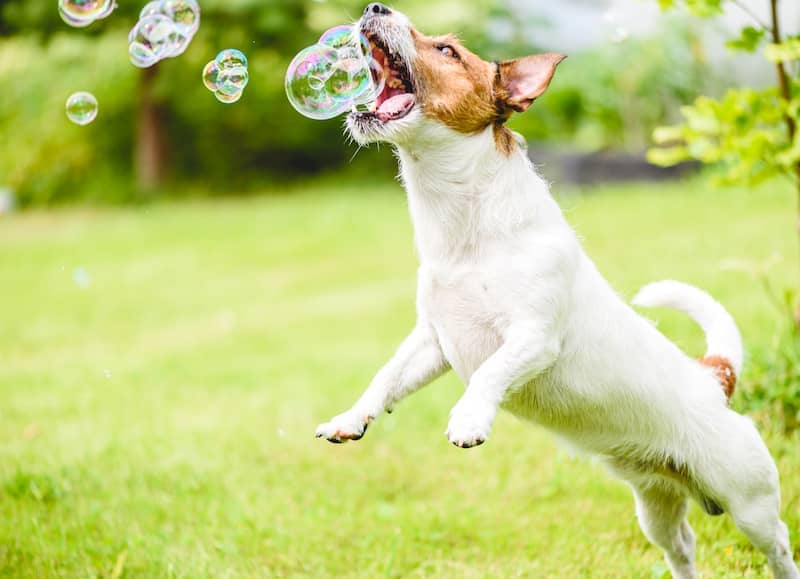 What's more fun than bubbles?! Dogs love to chase and pop bubbles, and so this makes this activity the perfect way to provide enrichment for your pup.
You can purchase a dog-safe bubble solution or make your own with ingredients that you probably already have in your home. Not only will these get your dog moving, but it will also be the most adorable thing you've ever seen in your life.
6. Freeze Treats In Ice Cubes
On those hot summer days, why not extend the fun by freezing your dog's favorite treats in ice cubes? They'll have a blast trying to lick and bite the treats out of the ice. You can use a regular ice tray, a silicone tray in different shapes, or even a muffin tin to freeze and encapsulate the goodies.
You may want to use this puzzle treat outdoors to avoid a big puddle inside of the house!
Ideas for DIY Enrichment Toys
Here are some ideas for how to make your own enrichment toys for dogs:
Tie a bunch of knots in an old t-shirt, creating a "puppy tug toy" or a DIY snuffle mat for free.
Take a muffin tin and fill each cup with a different treat, then stuff the tin with a small towel or a tennis ball. Your pup will have to use its sense of smell to figure out which treat is in each muffin tin cup.
Take cardboard boxes of different sizes and put treats in them and loosely fold them closed. Then tuck each box into the next one. Allow your dog to nosedive into each cardboard box to get the treats.
These are easy ways to use what you have laying around to invent plenty of fun games that many dogs will enjoy. I bet you can think of a few fun game ideas of your own with other materials! Share them in the comments to help other humans and their puppers.
The Bottom Line
Canine enrichment is crucial for your dog. Providing enrichment activities is actually a fun way to bond with your furry friend and provide them with mental and physical exercise.
So get out there and start playing!
Your dog will thank you for it, and may even become smarter and have a better quality of life in the process. Who knows, your pupperino may even motivate you to click the off button on the TV remote and seek more enrichment in your own life!