Just like the fads that come and go with human accessories, the dog collar is also ever-evolving. Should you choose a sparkly number for your pup? Maybe a classic leather look? What about the all-important safety features, do we need to consider those?
It can be a headache to sift through all the choices, so I'm here to help you select the perfect collar for your doggy. I'll walk you through features like style, size, and materials, so you can find a dog collar that's perfect for your pupper's lifestyle.
By the end of this article, you'll be ready to invest in the perfect collar and feel confident that your doggie is safe and looking their furry best.
Once you've chosen the right collar type for your pupper, check out our 10 Best Dog Collars Per Type article to get the bestest one for them!
Considerations To Make When Choosing the Best Dog Collar For Your Pup
Let's get you trained on all of the most important considerations when shopping for the best collar for your doggo. Once you cover all the bases, you'll be ready to pick the perfect one for them.
1. Measure Your Doggie's Neck
The key to finding the best fit for a dog collar is to know your furry bestie's neck size. Sizes such as "small", "medium", and "large" can be quite subjective, so it's best to know the exact measurements in inches or centimeters. Use a soft, flexible tape measure and wrap it around your pup's neck, ensuring not to pull too tight. Make sure you can fit two fingers snuggly between the collar and neck for optimal comfort.
If you have a growing doggo in your house, you'll need to measure their neck again to buy larger collars until your pup is full-size.
2. Choose the Right Material for Your Dog Collar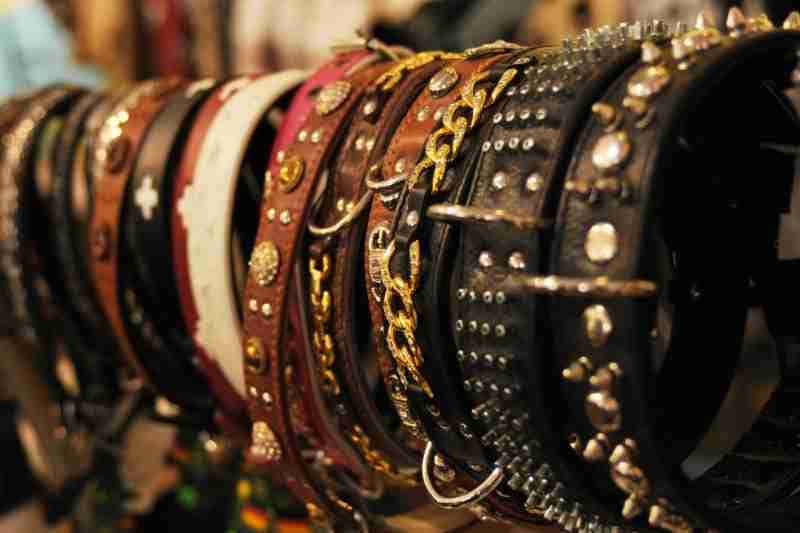 Now that you know your doggerino's neck size, it's time to figure out which material is best for their lifestyle. Here are some of the most popular choices:
Leather: Leather is a favorite choice for dog collars because it is natural and the collar softens and conforms to your dog's neck over time.
Nylon: Nylon is lightweight, easy to clean, and comes in a variety of colors and patterns. However, nylon can be stiffer and a bit more abrasive, which can be uncomfortable on your dog's neck.
BioThane: This lesser-known material is excellent for dogs with active lifestyles and puppers that love to play in the water. They're extremely water-resistant, stain-proof, flexible, and comfortable for your dog's neck. They're a bit more expensive than other materials but are a happy medium for dogs that spend a lot of time outdoors.
Hemp: This increasingly popular textile is good for the environment, soft on your doggie's neck, and machine washable. But they do lose their shape over time, and heavy-chewing dogs may be able to rip the collar over time.
3. Consider Your Dog's Lifestyle
When selecting the perfect collar for your pupper, it's important to consider their lifestyle. If they are an active doggo who likes to go hiking or swimming, you may want to look for a waterproof option or one with reflective elements.
You'll need to consider the climate you live in too: if you're living in hotter climates, breathable materials such as cotton or hemp will keep your pup cool; whereas thicker materials like leather or PVC are better for cold weather.
4. Safety Features Are Key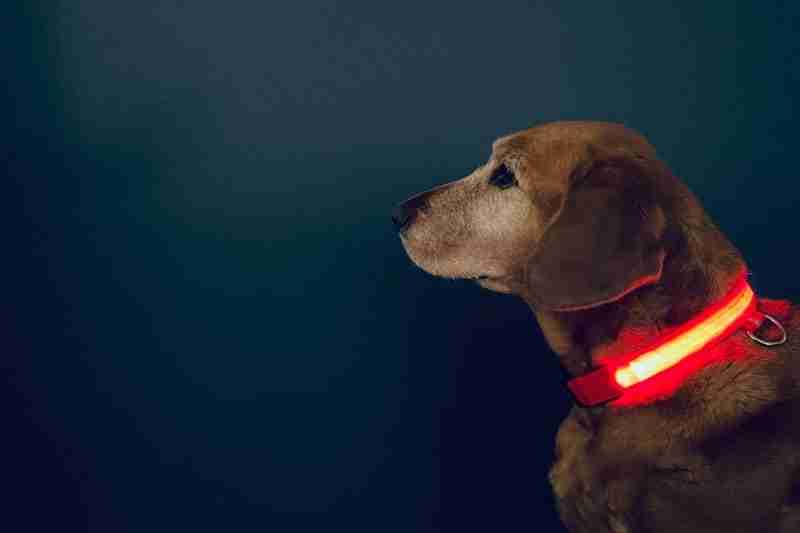 Your pup's safety should always be a priority, so it's important to look for collars with features that will keep your doggie safe. Here are some of the most common safety features:
Reflective or LED Elements: Reflective or LED elements help keep your pup visible in the dark, allowing cars to spot them better and keeping them safer.
Quick-Release Buckles: Look for a collar with a quick-release buckle so you can easily remove it in an emergency.
ID Tag: Make sure your pup's collar has an ID tag with their name and your contact information, just in case they get lost. A collar with high-quality materials helps to ensure that the tags won't break off easily.
10 Common Collar Types Your Doggerino May Need
Without further ado, here are the most common collar types that may be beneficial for your dog:
1. Martingale Dog Collar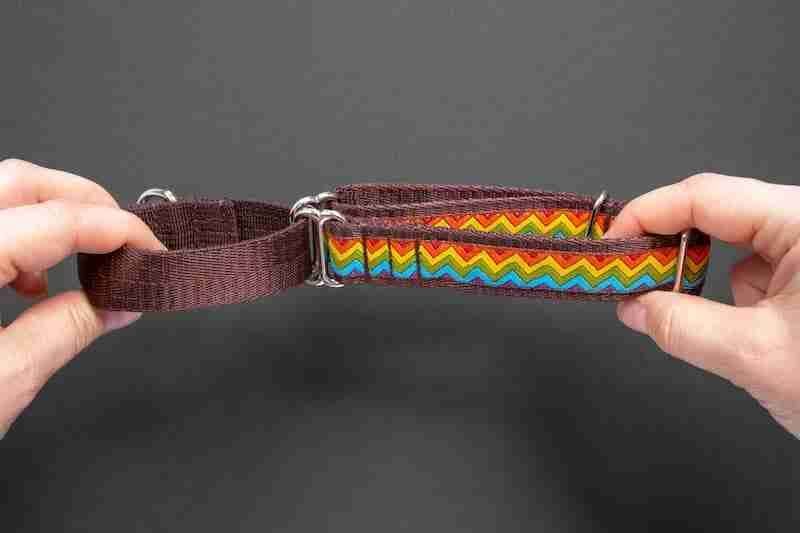 The martingale is a type of collar with two metal rings at each end with a separate loop passing through them. The standard leash attaches to one ring on this loop. The martingale is designed to snug around your dog's neck when they attempt to back out of it. It will only tighten as much as their neck size, never enough to choke them.
If your dog continuously escapes their collar or is afraid of going on walks, this narrow-headed collar will be perfect for you and your pupperino.
2. Flat Dog Collar
This is the classic, everyday collar. The flat collar is designed to fit snugly around your dog's neck and typically has a buckle or plastic clip closure. This type of collar usually comes with an ID tag as well. They work great with dog coats, and a variety of leashes, and they come in many different styles including reflective, minimal, and heavy-duty.
The most important benefit of using a flat collar is the fact that it's so easy to put on and take off. However, it's still sturdy enough to attach a leash to, so you and your dog can enjoy walks together.
3. Shock Dog Collar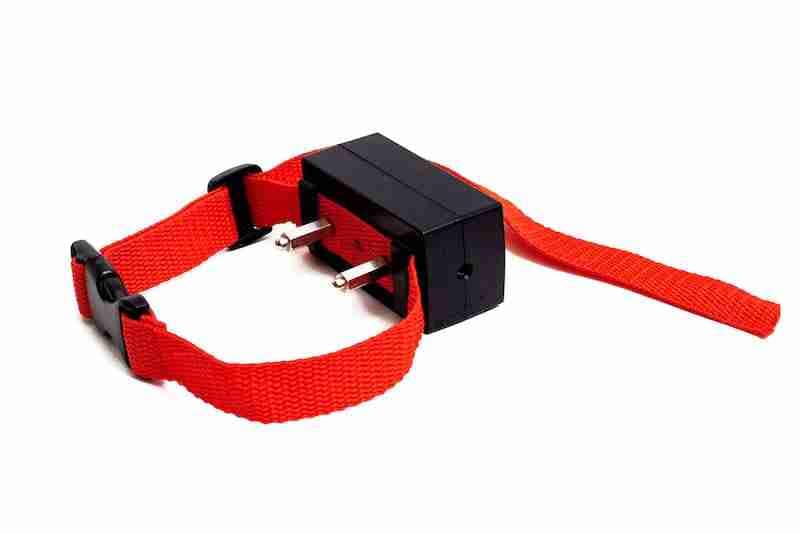 Shock collars are a controversial type of collar. This type of collar uses electric impulses to provide feedback or correction to your dog's behavior. While some people believe that these collars can be used as a training tool, many experts advise against their use and prefer more humane options.
4. Pinch Dog Collar
Pinch collars are also controversial and have been known to cause neck injuries. These collars feature a series of metal prongs that press into your dog's skin when they pull on their leash. This, in theory, discourages them from pulling on the leash.
Pinch and prong collars should only be used for training and are meant for dogs with large and muscular necks. Use these with caution and under the supervision of a qualified dog trainer.
5. Gentle Leader Dog Collar
The gentle leader is a type of slip headcollar with a strap that attaches to your dog's muzzle and neck. This collar applies pressure to your dog's face as an alternative to pulling on their neck.
The gentle leader is a great option for dogs who are strong pullers or constantly yank on the leash. It's also helpful for dogs who are easily distracted on walks. A puppy version of this collar is also available to help with training young dogs.
6. Halti or Head Halter Dog Collar
The Halti or Head Halter collar is also a type of slip headcollar which has an additional strap. The Halti comes equipped with an adjustable strap that extends from beneath your pup's chin and attaches firmly to their collar.
The leash is connected to the strap tied around the dog's neck, resulting in some of the pressure being directed away from its head and throat.
The Halti collar has a little more slack than the traditional gentle leader, which can be more comfortable for your dog, especially if you're training a puppy.
7. Breakaway Dog Collar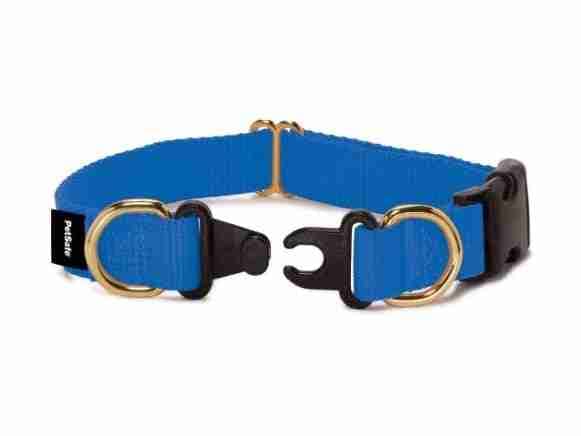 The breakaway collar is designed for smaller breeds and puppies, as it features a buckle that is meant to release if too much pressure is applied. This type of collar can be helpful for keeping your pup safe in an emergency, as it will easily snap open with one pull.
So if your dog's collar gets caught on a branch or fence, or if they try to back out of their collar, the breakaway will help keep them safe, and may even save your pupper's life.
8. Bark Dog Collar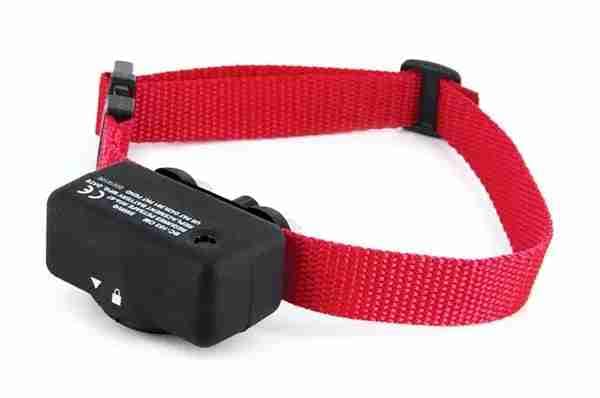 Bark collars are designed to discourage excessive barking in your pup. They can use either shock, spray, or ultrasonic sounds, and work by delivering a negative stimulus that will stop your pup from barking.
Most bark collars come with adjustable settings so you can find the right intensity for your dog. However, some experts believe that bark collars can lead to fear and aggression in some dogs, so it's important to use them with caution.
9. GPS Dog Collar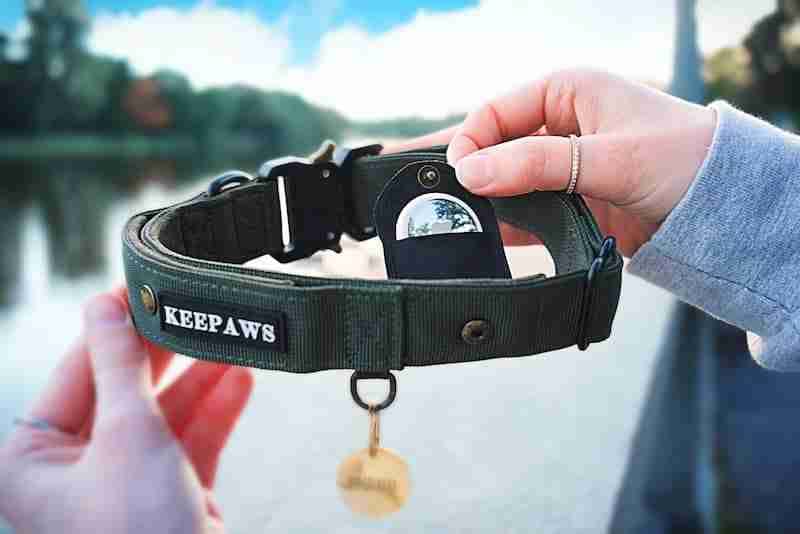 Are you ready for a smart dog? Well, your dog is already smart, but I mean a seriously smart dog! A smart GPS collar can help you keep track of your pup's whereabouts and provide peace of mind.
These may come as a tracking device that can be attached to your pup's existing collar or as a collar with a built-in device. The device will send out a signal so you can locate them using a phone app if they ever wander off from home.
Another alternative is a dog collar with a slot to insert an Apple AirTag, a Samsung SmartTag, or a Tile, but be aware that AirTags can only be tracked with Apple devices, SmartTags only with Samsung devices while the Tiles work with either one. The short video below covers everything you may want to know to make an informed decision.
10. Flea Dog Collars
Flea dog collars help protect your pup from pesky fleas and ticks. These collars contain insecticides that will repel fleas and ticks, as well as keep them away for several months at a time.
Flea collars can be a great way to protect your dog without having to use traditional topical treatments or oral medications. However, their effectiveness depends on the ingredients in the collar and how often it is replaced.
There has been an article published in 2021 that a popular brand of flea collars has been linked to pet deaths. These concerns have later been invalidated by this other article.
FAQs: Common Dog Collar Questions
When should a puppy start wearing a collar?
A good general guideline is to start leash and collar training when your puppy reaches 10 weeks old. This gives your dog a few weeks to get acquainted with their new home and surroundings before starting their training. When your pup moves into their new home, they might have to adjust to several things at once. To make the transition easier on them, take it slow.
Is it OK to walk a dog with a collar?
Yes, it is perfectly fine to walk your pupper with a collar. Collars are essential for keeping your doggie safe and secure on walks. They also provide an easy way to attach ID tags and other items they may need while out and about.
However, if your dog is a puller, has breathing issues, or has had neck or spine injuries, it may be best to choose a different type of collar or even a harness for walks.
Are dogs meant to wear collars?
It's very important that your dog wears a collar both indoors and outdoors. A collar can help keep your pupperino safe, secure, and provide identification in case they ever get lost. Collars also provide a convenient way to attach ID tags and other items they may need while out and about.
Should I use a collar or harness when walking my dog?
If your dog is constantly yanking on the leash or has difficulty with their neck, spine, or breathing, a harness would be an ideal solution. However, if your pup is well-trained and doesn't pull on their leash, a collar may be the best option.
The Bottom Line on Dog Collars
The best dog collar for your pet is one that is comfortable and fits correctly. It should also be adjustable, so you can increase or decrease the size as your pup grows.
You may need to try a few different options to figure out which one works best for walks and will be durable in the long term.
The price of the collar should not be the deciding factor but rather, safety and comfort for your pup. It will pay off in the long run if you invest in a good-quality collar that will last.