Are you a dog lover who likes to go camping? If so, you know that it can be a lot of fun to bring your furry friend along with you. What makes your adventure with your pup one for the books? The perfect camping gear for dogs!
Yes, even dogs need the right camping equipment to have a great time. This helps them to feel comfortable and safe in an unfamiliar environment.
In this blog post, we will discuss the best camping gear for dogs. We'll cover everything from paw cleaners to car liners and water bowls. Check out our separate post for great products to bathe your dog after your camping trip.
We'll also provide some tips on how to keep your dog safe and comfortable while camping.
So, whether you're a first-time camper or an experienced outdoorsman, this guide is for you!
Camping Gear for Dogs: 13 Essential Items for Awesome Adventures With Your Furry Friend
Imagine you're on the open road with your best friend, your special pup. The sun is shining and the breeze is blowing through your hair (or fur).
You're both excited about a weekend of camping, hiking, and exploring new trails.
But before you can set off on your adventure, there are a few things you need to pack for your pupperino. Here is a list of the must-have dog camping gear:
Dirty paws can be a pain on a camping trip, especially when those seemingly innocent puppy pads track mud all over your tent's interior and sleeping bag. A dog paw cleaner is a perfect solution to this problem.
The Dexas MudBuster is a handheld device that quickly and easily cleans your dog's paws. It comes with a built-in brush that helps to remove debris and dirt, as well as a reservoir for water or soap.
Could also come in handy on smaller adventures, a.k.a. when going to the park, like a few other items on this list. Check out our separate guide on how to trim your dog's nails for perfect manicure all around!
If you and your pupperino like taking long hikes, make sure to bring plenty of water for your pup. That's where the Puppy Water Bottle Dispenser saves the day.
This clever contraption holds up to 12 ounces of water and has a built-in bowl so your dog can easily drink while on the go, making it essential camping gear for dogs. Watch it working in this TikTok video.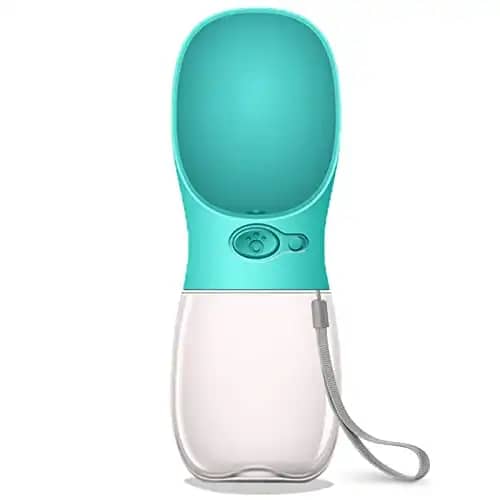 Even if you're not hitting the trails, your dog will still need plenty of hydration on a camping trip. That's where these collapsible dog bowls become super useful.
These silicone bowls fold up for easy storage and hold up to 34 ounces of water or food. They're also dishwasher safe, making cleanup a breeze once you get home.
Wax may not be the first thing you think of when you're making your camping trip list. But this product is actually a must-have for doggos who love to explore the great outdoors.
Musher's Secret makes a paw wax that helps to protect your dog's paws from the elements. It creates a barrier against snow, ice, salt, and sand, and also helps to heal cracked or chapped paws.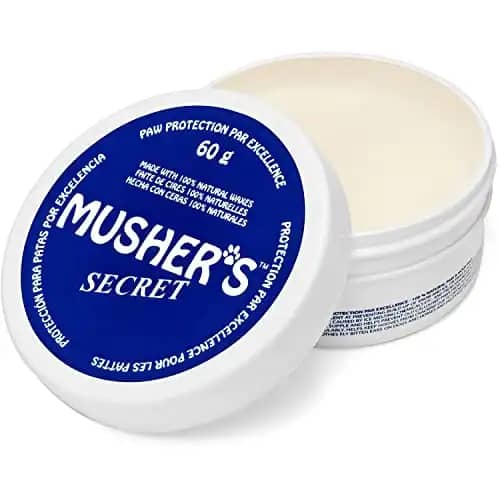 We want to let our doggies be free in nature, but we don't want to lose them! That's where the Tractive GPS Dog Tracker is more than a nice-to-have.
This device attaches to your dog's collar and uses GPS technology to track their location.
You can see their current location on a map, as well as set up safe zones and receive alerts if they leave that area.
Dogs need luggage too! It can be hard to keep up with all of their belongings when you're on the go, but with the Modoker Dog Travel Set, it's easy.
This set comes with a tote bag, an accessory loop, a placemat for eating on, 2 food bowls, and a dog food container, all of which are made from durable and lightweight materials.
If you have an especially fluffy or larger dog, you'll be happy to bring a cargo liner for your car. A good option is the SUV Water Resistant Cargo Liner, which will protect the backseat of your vehicle from dirt, dog hair, and stacked camping gear. It's also easy to clean and comes in 2 different sizes to fit most vehicles.
I love giving my doggo a comfortable place to lay on when we're on a camping trip, but I hate bringing that stinky hairy dog bed along. That's where the weather-resistant Cheerhunting Outdoor Dog Bed comes in handy.
This dog camping bed is made from water-resistant and durable materials, and it can be easily cleaned with a damp cloth. It also comes in a variety of colors and 2 sizes.
The best part is that it folds up and fits into a small pouch, making it super portable. You can then wash it in your washing machine when you're back home.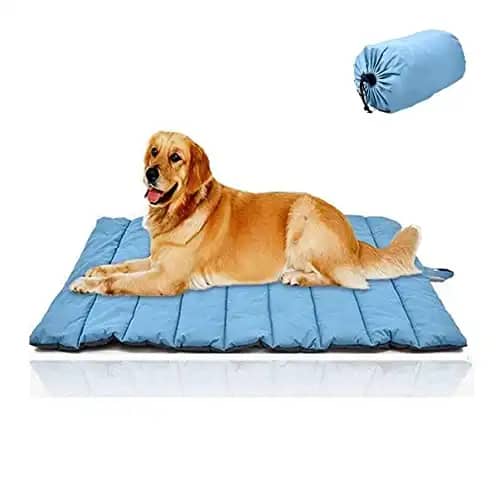 For longer hikes or backpacking trips, you'll want to bring your pup its own pack! This saddle bag fits snuggly on your furry friend without chafing or restricting its movements.
You can pack dog treats, toys, dog food, and water in its two large side pockets.
Just like you, your pet needs a first aid kit that's specifically tailored to their needs.
It comes with a variety of supplies, including scissors, tweezers, bandages, and a dog first aid kit guide. It's also lightweight and easy to carry around.
My favorite feature in this dog first aid kit is the LED safety collar. It can help you to avoid accidents when walking your dog at night. This is especially important if you're camping in an area that's unfamiliar to you and isn't brightly lit.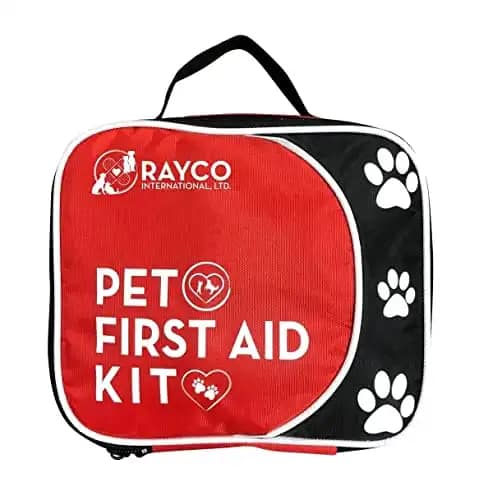 If your dog doesn't like being on the leash but you're at a campsite where you have to keep them close by, a playpen is a must-have when it comes to dog camping gear.
This one from Foldable Metal Dog and Pet Playpen is sturdy and easy to set up. It's also foldable for easy storage when you're not using it.
Here is a leash option that will help you to avoid tangled messes. The XiaZ Dog Tie Out Cable is a cable that extends up to 50 feet or 15m.
This means that your pup can safely roam around and explore without getting strangled or wrapped around trees or picnic tables while also not getting too far away from you. Plus, it's made from durable materials that can withstand the outdoors.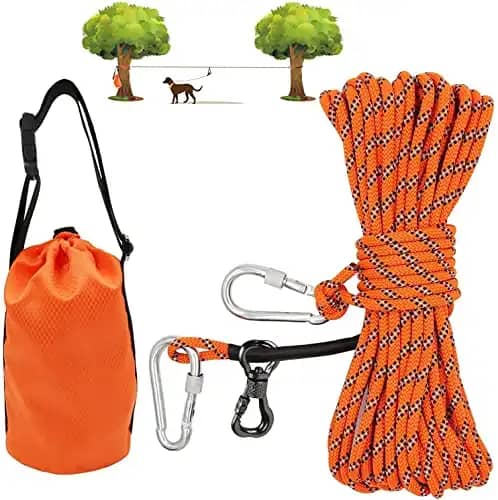 Are you and your doggerino the adventurous type? Then it's important to protect your best friend's eyes.
These QUMY Dog Goggles are perfect for those who love to take fast car rides with their head out of the car window or road trips while camping.
How to Take Your Dog Camping
Now that you have all the gear you need, it's time to start planning your camping adventure.
But before you load up the car and hit the road, there are a few things you should keep in mind to make sure your trip goes smoothly.
Here are a few tips for taking your dog camping:
Choose a campsite that is close to a water source and has plenty of shade. It's easy for your pup to overheat when camping, so you'll want to make sure they have plenty of opportunities to stay cool.
Avoid crowded campsites. You'll want to choose a spot that is quiet and not too busy. This will help your dog feel more comfortable and less stressed.
Bring along some toys and chew treats. This will help keep your dog entertained and occupied while you're setting up camp or hiking.
Be sure to pack extra food and water. It's always a good idea to have more than you need when camping, just in case.
Keep your dog on a leash. This is for their safety as well as the safety of other campers. There's plenty of dog camping gear that makes it easy to leash your pup in nature.
Be prepared for emergencies. It's always a good idea to bring along a first aid kit for your dog (and yourself), in case of any accidents.
Avoid hiking in the heat of the day. Stick to early morning or evening hikes when it's cooler.
Stick together. Never leave your dog unattended at the campsite.
Stop often on long car rides. Let your dog stretch its legs and use the bathroom. For more on road trips with your dog click here.
With a little planning and preparation, you and your furry bestie can have a great time camping together!
Just remember to pack the essential gear for dogs.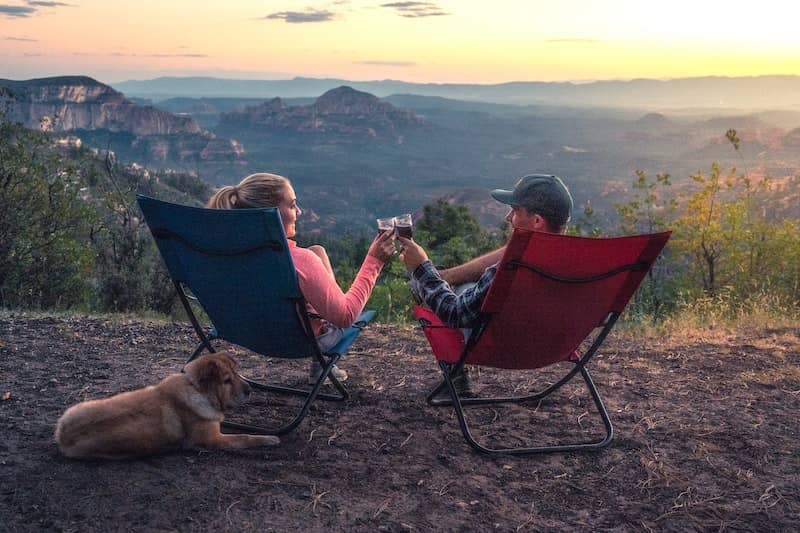 Where Can I Camp With My Dog?
There are plenty of great places to camp with your pupper, but not all campsites allow pets.
If you're looking for a place to take your pup, be sure to check the rules and regulations before making reservations.
Here are a few popular campsites that allow dogs and are run by dog-owning campers:
If you're looking for a more rustic experience, there are also plenty of campgrounds and backcountry areas that allow dogs.
If you enjoy State park camping, for example, nearly all of them allow dogs on a leash.
Remember to check the specific park rules before you go.
How to Keep Your Dog Safe While Camping
Safety is a top priority when camping with your dog.
Here are a few things to keep in mind to make sure your pup stays safe while you're away from home:
Be Aware of Your Dog's Personality
Not all dogs are comfortable camping. If your pup is timid or afraid of loud noises, it may be best to leave him at home.
Good dog owners pay close attention to their dog's temperaments to make sure they are comfortable in every situation.
Make Sure They Are Wearing Identification
In case your dog gets lost while you're camping, it's important to have them wearing identification at all times.
Make sure their tags include your contact information as well as their rabies vaccination information.
Know Your Dog's Limits
Just like you, your dog needs plenty of water and rest while camping. If they start to show signs of fatigue or dehydration, it's time to call it a day.
Situations such as extreme cold, heat, or inclement weather are important things to look out for before your trip.
Camping gear for dogs should include a doggy backpack with water and supplies.
Keep Your Dog In Sight
It's always a good idea to keep your dog in sight while camping. This means keeping them on a leash at all times and avoiding busy campsites.
A hands-free dog leash can be a great way to keep your pup close by while you're busy with other tasks.
On night walks, you can use collars with reflective trim or LED lights so that they are easily visible.
Make sure to choose the best camping gear for dogs when it comes to visibility and safety.
Be Prepared for Emergencies
Accidents can happen when camping, so it's important to be prepared.
Make sure you have a first-aid kit for your dog (and yourself) and know how to use it.
The campground staff may also have first aid kits on hand and can also help in an emergency.
Keep an Eye Out for Other Dogs
If there is a dog owner near your camping site, be sure to talk to them about how their dog behaves.
It's important to be aware of any possible dangers your dog may face while camping.
Clean Up After Your Dog
It's always a good idea to clean up after your dog, whether you're at home or camping.
Not only is it considerate, but it's also the law in many places.
Bring plenty of poop bags and clean up your dog's poop regularly so it doesn't attract other animals to your camping spot.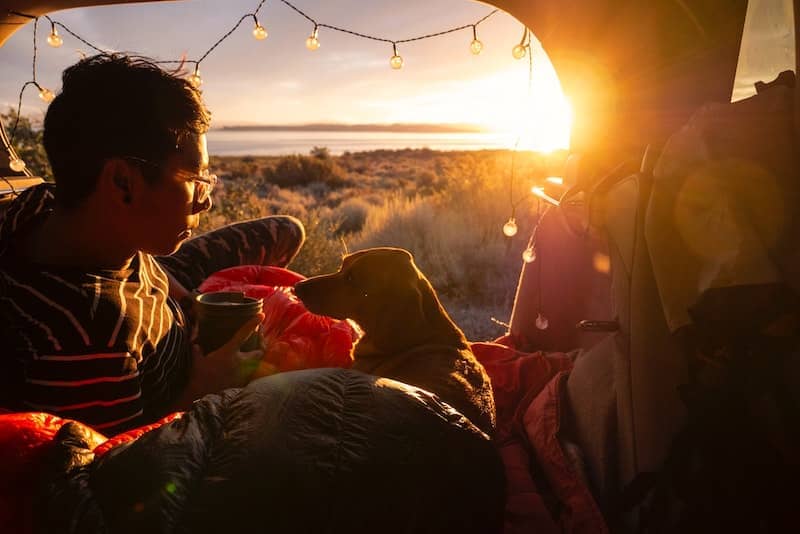 Do Dogs Like Camping?
Dogs generally love nature, and many of them absolutely love camping.
You will get a sense of your dog's temperament around the neighborhood.
Is your dog confident and loves sniffing around new environments?
They will love camping. If they are timid, stay close to home at a campground that allows pets.
You can take time to expose your pup to dog camping with a few short visits before taking a longer trip.
There are plenty of products on the market to make camping with dogs more comfortable for both you and your pup, so check out what's best for you.
Final Thoughts
Now you're prepared with the best camping gear for dogs, and you and your furry friend are ready for a great outdoor adventure!
Dogs love to be a part of their human's camping experience and, with the right camping supplies, they can have a great time, too.
Featured image credit by Patrick Hendry on Unsplash