Are you looking for the perfect collar for your pup? With so many different types of collars available, it can be a difficult decision to make. From traditional leather and nylon collars to high-tech GPS tracking collars, there are countless options out there.
To make things easier, I've put together a collection of the 10 best dog collars per type for 2023. Our list includes both classic and innovative options that will keep your furry friend safe and stylish at all times.
Read about the different dog collar types here for more details, then come back to see our top choices below.
The 10 Best Dog Collar Choices For 2023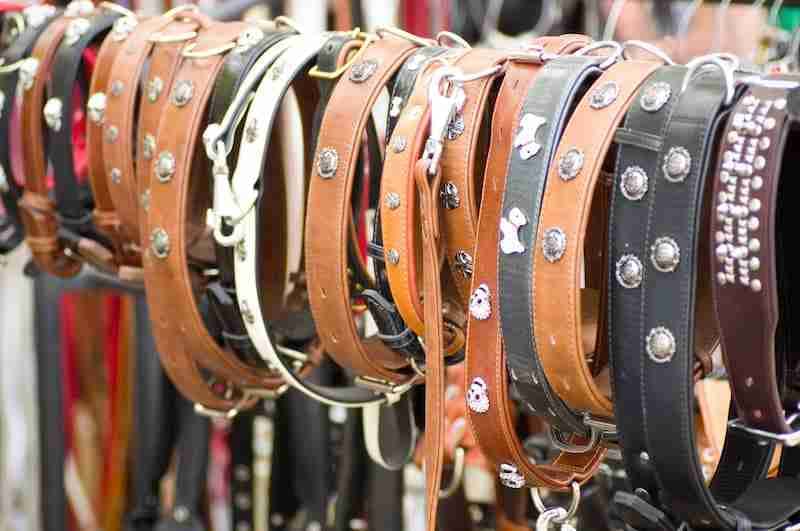 Flat collars are very common and popular for everyday use. They are usually made of natural or synthetic materials and feature a buckle closure.
The flat collar is best for dogs that don't excessively pull on their leashes and tend to stay closer to you. This is because the flat collar is designed to stay snug around the dog's neck and may cause unnecessary strain on the neck if your pupper is a puller.
Our pick for the best flat collar is the ROAM Premium dog collar. Constructed with incomparable durability and built to last, ROAM collars are designed using genuine nylon webbing and corrosion-resistant metal hardware.
The top-notch metal buckle features a gentle locking system to guarantee secure and fast release. You can also choose between 0.5″, 1″, and 1.5″ collar widths. This is helpful because it allows you to choose the best size for your pupper's neck.
A head collar is a good choice for owners of pullers and doggos that need a bit more help to stay close. This type of collar is designed to provide you with better control over your pup's movements.
It clips around the doggo's muzzle and attaches to their regular collar in order to give you added leverage when walking them on a leash. The halter works by gently redirecting the pup's head in a different direction when they pull.
The Halti Optifit Headcollar is a high-quality option, designed to be comfortable and adjustable. It provides a comfortable fit for all shapes, sizes, and breeds with its universal design.
With its 7 distinct functions, the Halti Training Lead will help you train your dog with ease. With its adjustable length, this training leash is ideal for any level of dog training – from short to long leash lengths. Not only can you have a hands-free walking experience, but also the ability to train two dogs simultaneously from one leash. It also makes supervised tethering at restaurants and outdoor seating areas effortless.
Best Head Collar
Halti Optifit Headcollar and Training Lead Set
The Halti Headcollar and Training Lead are the ideal power couple for optimum steering and control of your pupper. The multiple connection points offer enhanced stability compared to other options, making it an essential addition to your dog's gear collection.
It's also multifunctional, which is convenient for owners who prefer to use a head halter for everyday walks and training.
Buy on Amazon
We may earn a commission if you make a purchase, at no additional cost to you.
When a new puppy reaches 8 weeks old, it's a good time to familiarize them with collars. By this age, they should be comfortable enough with their surroundings and owner to allow them to put a collar around their neck.
The Blueberry Pet Essentials Dog Collar is made from high-density nylon webbing, which is durable and long-lasting. The Eco-friendly plastic buckle ensures the dog collar will stay snug. The strong chrome steel D ring can hold up to energetic pupperinos, while also providing a secure attachment point for your dog's matching leash.
You can adjust the size of the collar just by sliding the metal slider to accommodate any growth spurts your pup may have. The Blueberry Pet Essentials collar is available in 22 stunning colors and sizes starting from XS.
Best for Puppies
Blueberry Pet Essentials Collar
To ensure that your puppy continues to have room for growth, be sure to invest in a collar that's lightweight and adjustable. Look no further for the perfect budget dog collar for your pup.
The Blueberry Pet Essentials Dog Collar is our top choice. With its lightweight nylon design that won't strain your dog's neck and an affordable price tag, you can enjoy this guilt-free replacement when needed.
Buy on Amazon
We may earn a commission if you make a purchase, at no additional cost to you.
Martingale dog collars, also known as "greyhound" collars, are particularly designed for dogs with heads that are more slender than their necks. For Whippets, Greyhounds, Salukis, and similar breeds with slim heads, these are popular options.
The Max and Neo Nylon Martingale is our go-to martingale collar for dogs of all sizes and breeds. With its quality nylon and metal construction, you can be sure that this collar will last your pup a long time.
It's also a reflective dog collar, which is a great safety feature for nighttime walks. The adjustable length and easy-to-use buckle make it easy to get the perfect fit for your pup. Its D-ring allows you to easily attach a leash and ID tag.
Available in sizes ranging from XS to XL, this collar will ensure that any pup with a slender head is safe and secure during their adventures.
Best Martingale Dog Collar
Max and Neo Nylon Martingale
The martingale collar is one of the best dog collars for any pup that tends to escape or back out of their collar.
They work by gently tightening around the neck when pulled, providing greater control with minimal discomfort.
Buy on Amazon
Buy on Chewy
We may earn a commission if you make a purchase, at no additional cost to you.
Using a gentle leader head collar can effectively keep dogs from showing unwanted behaviors while out in public, by leading their focus away from distractions and back to you. This collar should be made of durable fabric that can withstand a fair amount of wear and tear, as well as fit comfortably around your pupperino's upper nose area and neck.
You could use these collars to stop unwanted behaviors such as pulling, lunging, barking, and jumping on people. Furthermore, they provide a convenient way of teaching your pup how to stay by your side and heel. Many dog owners use these collars for training and then switch to an alternate option after the training period.
The dog collar is adjustable at two different points and available in sizes ranging from XS to XL, so you can find the perfect size for any breed or a mix of breeds. The two snap buckles make it easy to adjust and take off the collar quickly. The quick-release buckle is a convenient and safe way to remove the collar.
Best Gentle Leader Collar
PetSafe Gentle Leader Headcollar
The PetSafe Gentle Leader collar is one of the best choices for your dog due to its blend of durability and comfort.
This collar is made out of padded neoprene and lined with soft microfleece to provide your pupper with a comfortable fit.
Buy on Amazon
Buy on Chewy
We may earn a commission if you make a purchase, at no additional cost to you.
Flea collars provide an effective and efficient way to protect your pet from fleas by releasing medication gradually over a period of several months. Plus, they are much less messy than topical treatments.
When it comes to flea collars for your pup, you can't go wrong with the Seresto Flea and Tick Collar. This dog collar is our top pick, offering superior protection against pesky pests.
Through a mix of powerful ingredients, this revolutionary product slowly releases chemicals that fight and protect your pupperino against parasites before they can start biting and feasting.
Using a simple, low-dose application, flumethrin and imidacloprid distribute evenly over your pet's body for complete and effective flea and tick control.
This waterproof dog collar makes it easy to give your pup a revitalizing bath or a rewarding swim without any concerns. Picking out the right Seresto flea collar for your pup is easy! Simply determine whether your dog weighs over or under 18 pounds / 8.16 Kg and you'll know which one to buy.
This pet collar is designed for ultimate comfort and convenience, with a ratchet adjustment system and thin strap that won't bother your furry friend.
Best Flea Collar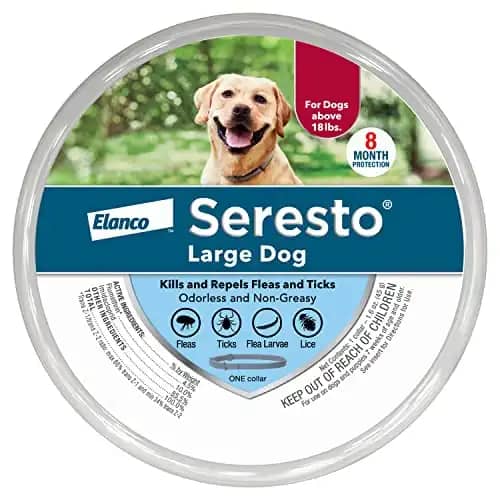 Seresto Flea and Tick Collar
Utilizing a simple, odorless collar, you can provide your pet with eight months of flea and tick prevention.
This collar works effortlessly and odorlessly, so you'll hardly notice it. Put the Seresto Flea and Tick Collar on your dog, and it will begin eliminating fleas within 24 hours.
This incredible collar eliminates not only fleas but also ticks and lice, so you don't have to spend money or time dealing with multiple treatments for different pests.
Buy on Amazon
Buy on Chewy
We may earn a commission if you make a purchase, at no additional cost to you.
These days, most humans have access to some form of GPS technology. But did you know that you can also use it to keep track of your doggerino? With the Whistle GPS Health and Fitness Smart Dog Collar, you can stay connected with your furry companion no matter where they roam.
This clever GPS tracker collar is designed for pet parents who need an extra level of safety for their dog when they're out and about. The device easily clips onto your pup's existing collar and comes with an accompanying app that you can access from any smartphone or tablet.
The device has a 20-hour battery life and it's rugged enough to handle any outdoor adventure.
This dog collar attachment is ideal for dog owners who are trying to help their dogs lose weight, work on their anxiety, and even monitor any chronic illnesses they may have. The Whistle GPS will provide you with invaluable data to help you better understand your doggo and make more informed decisions about their health care. Plus, the device is small and lightweight enough that it won't add too much bulk to your four-legged friend's neck.
Subscription required. Only works on the AT&T network.
Best GPS Collar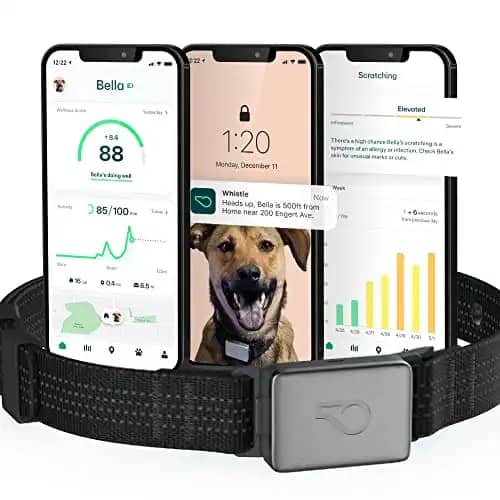 Whistle GPS Health and Fitness Smart Dog Collar
The Whistle GPS boasts some great features, including real-time location tracking, activity monitoring, health insights, safety alerts, and more.
It also offers customized alerts so you can stay updated on your pup's activities, including barking frequency and distance traveled.
Buy on Amazon
We may earn a commission if you make a purchase, at no additional cost to you.
Barking is a normal part of a dog's life. It's how your furry loved one talks to you, alerts you of danger, and even just wants a little attention. But if your pupperino's barking is getting out of hand and becoming disruptive, it may be time to consider investing in a bark collar.
Many dog collars are shock collars, which negatively reinforce barking, stress out dogs, and can be uncomfortable for your pup. So we stand by the belief that the best dog collar for barking is one that is pain-free and more humane.
The Stopwoofer Sog Bark Collar is a great option for this. This device utilizes only sound waves and vibrations to get the attention of your dog. It also allows you to adjust the 7 levels of intensity of both vibration and sound. Most importantly, it does not require electrical stimulation – rendering it one hundred percent safe even when used over long periods of time.
The technology for this model is waterproof, allowing you to utilize it in any weather conditions without fear of damage. Constructed with feather-light nylon material, this dog collar offers a customizable fit to accommodate dogs of all shapes and sizes.
Best Humane Bark Collar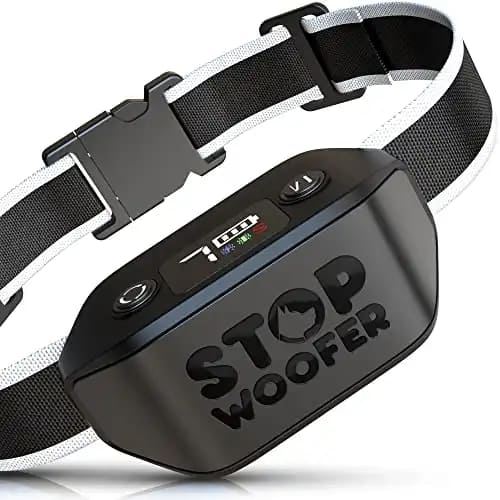 STOPWOOFER No-Shock Dog Bark Collar
This no-shock humane device is easily rechargeable with just a two-hour charge, lasting up to 14 days on one charge.
And the best part, it comes complete with its own USB cable so there's nothing else you need to purchase to get started.
Buy on Amazon
We may earn a commission if you make a purchase, at no additional cost to you.
Leather dog collars are a popular choice for many doggo parents due to their timeless style and durability. A leather dog collar also makes puppers happy because they're comfortable. They are generally taut and stay in place, but over time, the material conforms to your pup's neck, making it even more comfortable.
This happens when your dog's natural oils mix with the dog collar's leather, giving it a personalized fit that won't chafe or rub.
Crafted with full-grain Aniline genuine leather, carefully tanned without harmful chemicals or dyes. It's also fitted with a Dog Tag ring by the buckle. All this makes it an accessory that promises unmatched quality and style.
If you love to support companies that give back, this dog's collar is a great choice. They are devoted to creating a better planet for our four-legged friends, so they donate 1% of all sales to no-kill shelters and animal rescues.
Best Leather Collar
Riparo Genuine Leather Padded Heavy Duty Dog Collar
If you're looking for a luxurious leather dog collar, then the Riparo Genuine Leather Padded Dog Collar is an excellent pick.
This stunning collar is made from high-quality genuine cowhide leather and features a soft padded sheepskin inner lining to keep your pupperino comfy all day long.
Buy on Amazon
We may earn a commission if you make a purchase, at no additional cost to you.
Dogs wear their collars all day long sometimes, so it's of the utmost importance that they have a comfortable fit and don't rub or irritate their neck. Some factors that contribute to the comfort of a dog collar include its material, width, and construction.
The Black Rhino Comfort Collar is the perfect choice for pet parents who want to keep their furry friends safe while simultaneously ensuring they are cozy and comfy.
Designed for all breeds, this heavy-duty, adjustable, reflective, and weatherproof accessory will provide the perfect fit for your doggerino.
The Black Rhino Comfort Collar comes in ten stylish colors and ranges from extra small to extra large sizes. It also has reflective stitching, which provides nighttime visibility and safety when you're walking your dog at night.
Best Comfort Collar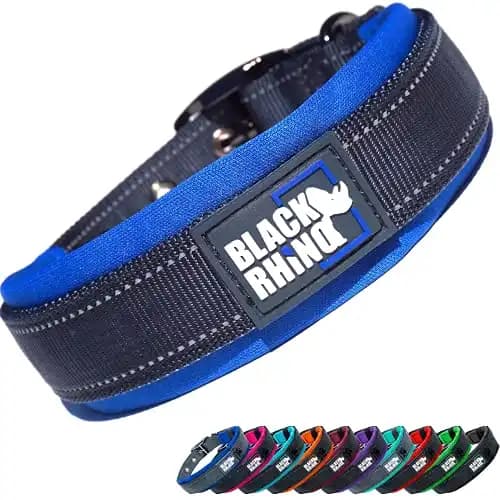 Black Rhino: The Comfort Collar
The neoprene padding in this collar dries quickly and is odor-resistant. The collar is made with a snap-lock gunmetal buckle for an easy on/off and adjustable fit.
There's also a quick-release option, so if your pup ever gets caught in something, you won't have a safety issue.
Buy on Amazon
We may earn a commission if you make a purchase, at no additional cost to you.
What Collars Do Vets Recommend?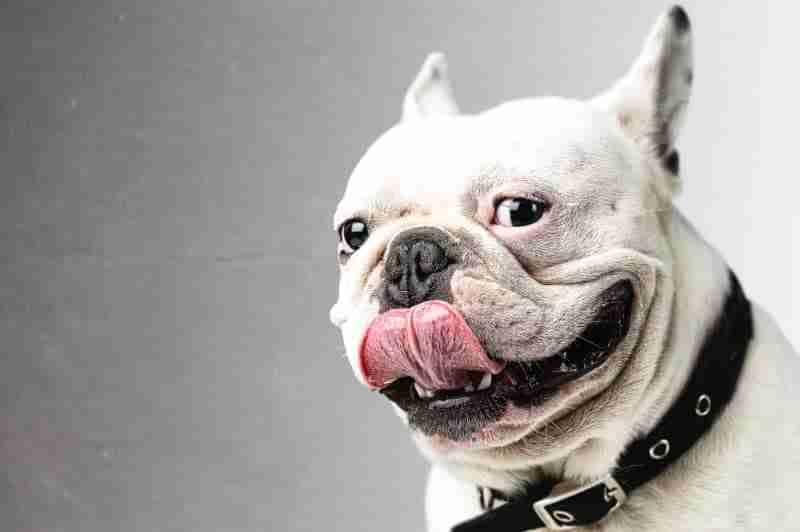 Three common dog collars that vets recommend for your pooch are flat collars, martingale collars, and head collars. These types of dog collars are generally considered safe and effective, as long as they are properly fitted.
Many vets avoid or don't condone choke collars, prong collars, pinch collars, and shock collars. There are many physical and psychological issues that can arise from using these types of dog collars, so it's best to avoid them and use only the right kind of collar for your pup.
Vets suggest, especially with more active and energetic puppies, that you use a flat collar with an ID tag attached. This can come in handy if your pup ever accidentally slips away or gets lost.
Do Vets Recommend Collars or Harnesses?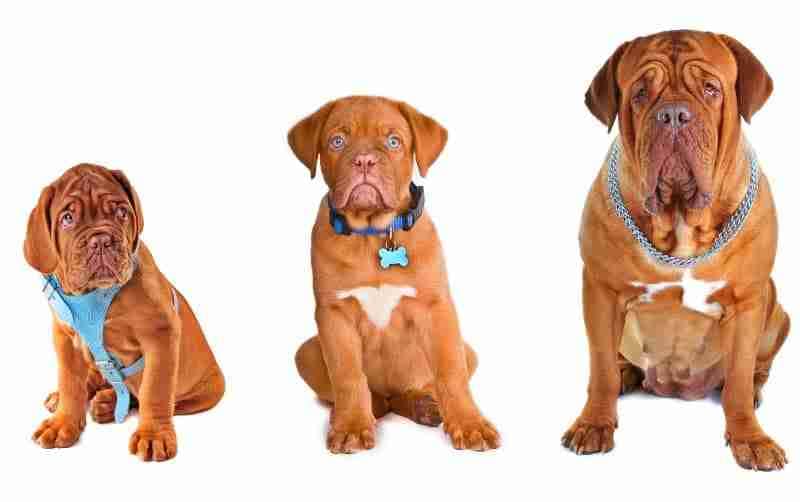 In general, harnesses are a much better option when it comes to walking your dog. Unlike a collar, a harness won't choke your pup or cause any discomfort. Harnesses also provide more control and stability when you are out on the town with your four-legged friend.
That said, some dogs may prefer collars over harnesses since they feel more comfortable in them. This is why it's important to observe your pup and see which one he prefers.
Wearing both a harness and collar is the best option, as it provides your pup with both security and comfort. The collar is perfect to attach an ID tag to, while the harness is better for providing a sense of control when out in public.
Whatever you choose, always make sure that your pup's collar or harness fits him properly. A loose-fitting collar or harness can lead to escape or injury.
What Is the Best Durable Dog Collar?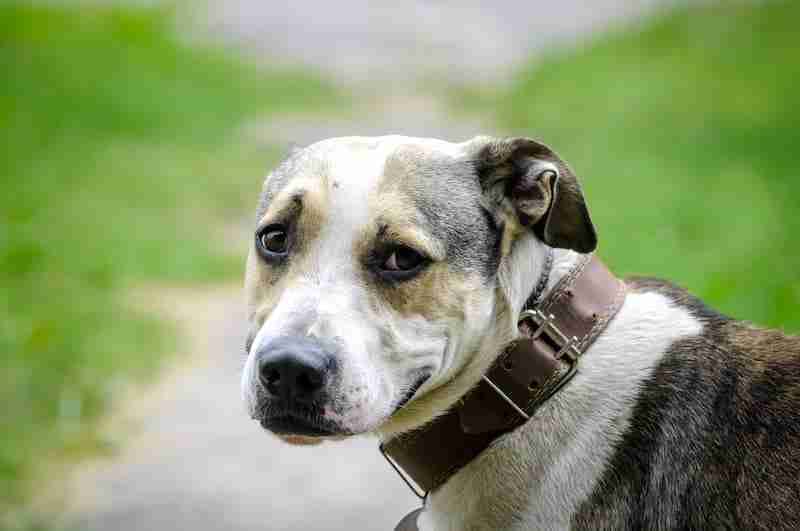 When looking for signs of a durable and long-lasting dog collar, it's all about finding the most functional choice.
Here are a few features that you should look out for when making your decision:
First and foremost, it's important to opt for a collar made from quality materials that won't rip or tear easily. Look for dog collars constructed with heavy-duty nylon, genuine leather, or even metal links. All of these materials can withstand wear and tear and will last longer than thinner options or those made from synthetic material.
Next, you'll want a collar that offers an adjustable fit. This will not only help provide your dog with the best comfort but will also ensure a secure fit even as your pup grows. Additionally, look for collars that come with quick-release options so you can easily remove the collar in case of emergency.
Finally, it's always a good idea to opt for dog collars featuring reflective or glow-in-the-dark details like stitching or appliques. This will help you keep an eye on your pup even in the dark and potentially prevent any unfortunate accidents.
What Collars Does Cesar Millan Use?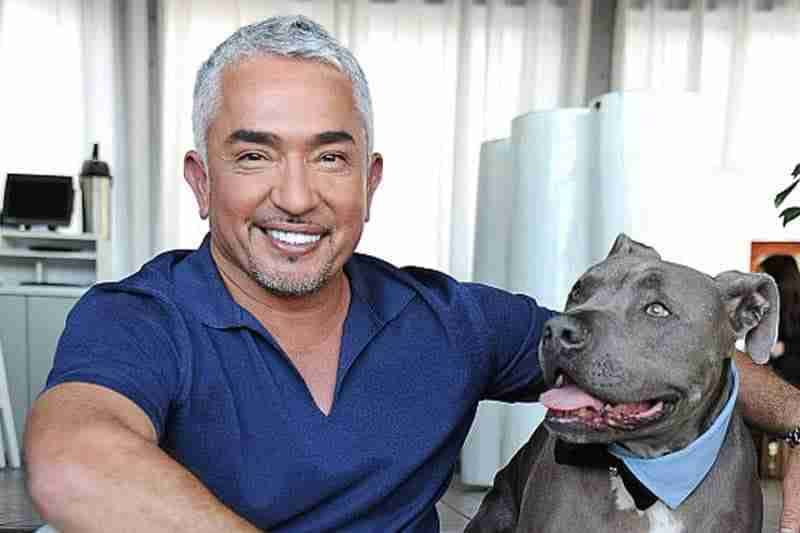 Cesar Millan recommends the Pack Leader Collar. With this collar, you can readily manage and guide your pup on walks by having it stay snugly around the top of their neck. This allows for easier correction when necessary while taking a stroll together.
This contemporary-looking grey collar is made to last with a heavy-duty neoprene material that won't easily tear.
Cesar Milan recommends using this dog collar with a short leash attachment so that it's easier to control your pup and keep him away from potential hazards, especially when training your doggo with the device.
Are Collars Safe for Dogs?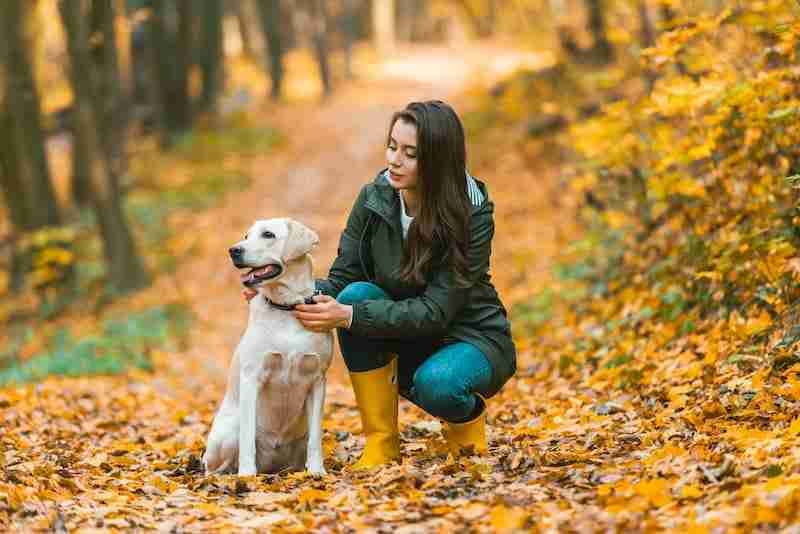 Yes, dog collars are safe for dogs, especially when they're used correctly. To guarantee the safety of your furry pal, a snug and cozy collar comes in handy.
It's imperative to make sure they don't wear them for too long periods. Pay close attention to your pup for any indication of uneasiness or skin irritation and ensure the collar is neither too tight nor too loose.
When fitting your pup's collar, you should be able to slide two fingers underneath with ease. But when a collar is too loose, it can potentially be removed by your pup or get stuck on objects during playtime.
Are Collars Safe for a Dog's Neck?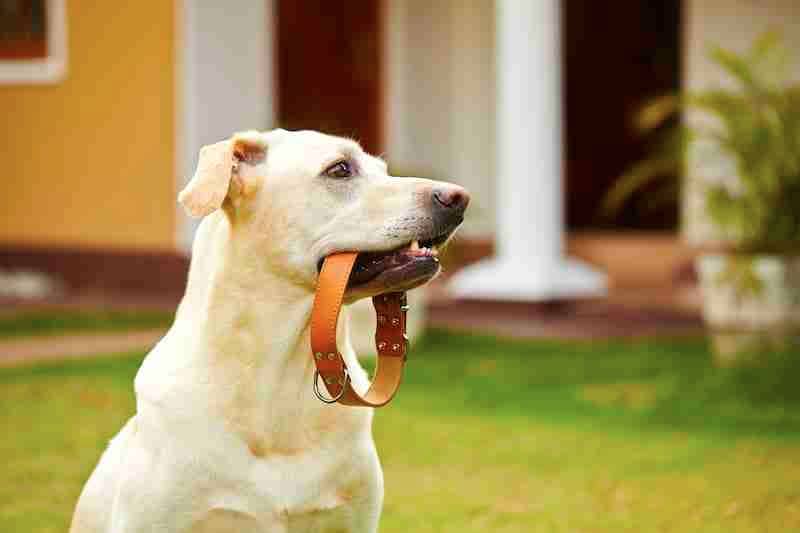 Making sure not to excessively pull the leash is also essential to guarantee your pup's safety. Dogs should always be gently guided and never dragged, as this can cause neck injuries or even internal trauma if done with too much force.
Finally, make sure you keep your pup away from dog collars that come with spikes or studs as these can lead to serious injury.
What Material Is Best for a Dog Collar?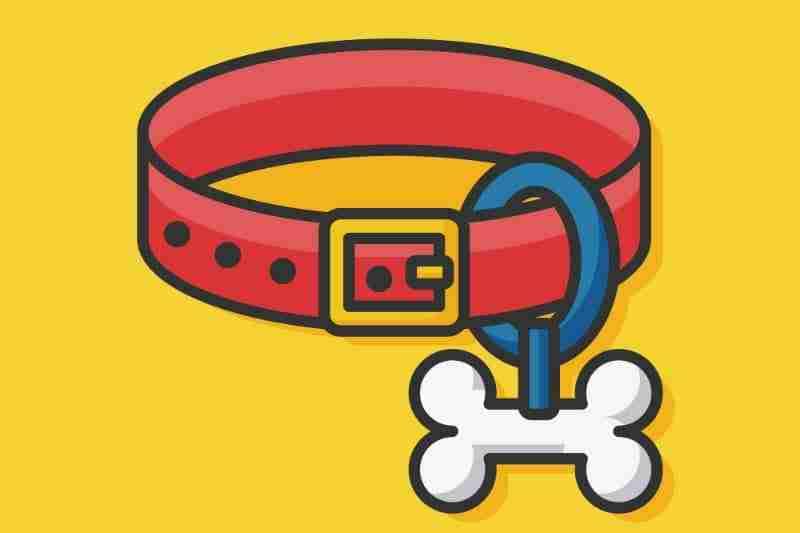 The best material for a dog collar depends on the pup's lifestyle and needs.
Heavy-duty nylon is a popular choice since it's durable and weatherproof, making it ideal for active dogs who love exploring the outdoors. Nylon collars also come in many colors, sizes, and are adorned with fun designs that are sure to keep your pup looking stylish.
Genuine leather collars are another great option for dogs who are in need of a more traditional look. This material is known for its durability and will often last longer than nylon collars with proper care and maintenance. Additionally, some leather collars will ergonomically conform to your pup's neck for extra comfort.
Neoprene is a newer material used for dog collars which often come in a more modern, sleek style. Neoprene is lightweight and water-repellent, making it ideal for outdoor pups during the warmer months. Since it's nonporous, it also resists odors.
The Bottom Line: Best Dog Collar Per Type
And there you have it, these are the top 10 best dog collar options for dog owners. Your dog's collar should be comfortable and secure while allowing you to better monitor and control your pup during walks.
Whether you end up with a sleek neoprene collar, classic leather, or durable nylon option, make sure it fits properly and is suitable for your pup's lifestyle.