Whether you're a first-time pup parent or a seasoned pro, I know it can be tough to find the perfect bed for your furry bestie. That's why I put together this guide to the top dog beds on the market today. From luxury orthopedic beds to cozy cots and everything in between, we've got you covered.
So before you hit up the pet store or online retailer, check out our list of the best dog beds for every pupper. Your best friend will appreciate getting to sleep in comfort and style.
10 Best Dog Beds For Your Furry Friend
Let's look at my Top 10 for the best dog beds on the market first and then we'll help you decide what you need:
How To Choose the Best Dog Bed For Your Pup
You'll need to think like a dog in order to figure out what type of bed they would like. Here are some of the main considerations to keep in mind when purchasing your pup's new dream palace:
Size: This is probably the most important consideration when purchasing a new bed for your pup. You want to make sure that the bed is big enough for them to stretch out and move around. But don't get a bed that is too big – if you have multiple dogs, they may all pile up in one bed and fight for the best spot!
Washability: Just like human beds, doggie beds get dirty. Especially because they're usually sitting on the floor! Make sure to choose a bed that's easy to wash and has a material that can easily have fur removed from it.
Design: Your dog already looks incredibly cute when sleeping, but how much cuter would she look if she was cuddled up in a stylish bed? Choose an option that matches your home decor and your pupper's personality.
Sturdiness: As mentioned above, dog beds live on the floor. This means they can get beaten up pretty quickly. Make sure to read reviews as well as the manufacturer's notes to decide if your dog's bed will hold up over time. This can save a lot of money in the long run.
Comfort and Support: Dog beds are filled with a variety of different materials. Make sure to choose one that can provide a good balance of firmness and softness. This will ensure that your doggie is comfortable no matter how much they move around in their sleep.

Types of Dog Beds
There are plenty of different types of dog beds on the market, so it's important to know what you're looking for before you start shopping. Here are some of the most popular types of dog beds:
Orthopedic Dog Beds
For older dogs or those with joint pain, an orthopedic dog bed is a must. This type of bed provides extra support and cushioning to help your pup sleep soundly through the night (or day).
Memory Foam Dog Bed
If your pupperino is a larger breed and needs a bed with a lot of contour support, a memory foam bed is a great option. These beds are made with pressure-relieving memory foam that conforms to your dog's body and provides support for his joints.
Donut Dog Bed
A donut dog bed is perfect for dogs who like to curl up when they sleep. They're also good for anxious pups that want to feel swaddled and safe in their sleeping area. These beds have a raised edge all the way around, so your doggo can rest his head on the soft bolster.
Elevated Cot Dog Bed
A cot dog bed is perfect for hot summer days or for dogs that tend to overheat when they sleep. These beds keep your pup off the ground and away from any drafts, so they can stay cool and comfortable.
Do Dogs Really Need Beds?
Dog beds provide your pup with their own special space that they can call their own, this being even more important for dogs living in apartments. It's a place where they can feel safe and comfortable away from the hustle and bustle of daily life. Dogs also sleep a lot – up to 18 hours a day! – so it's important that they have a bed that is comfortable and supports their joints.
Here are some benefits of providing a sleeping space specifically for your dog:
It Gives Them a Sense of Security
Dogs feel safest when they're in their own space. By giving them a bed of their own, you're providing them with a place where they can go to relax and feel safe. This is helpful if your doggo gets anxious or stressed easily. It's also great during storms or fireworks when your dog may be feeling scared.
It Keeps Them off Your Furniture
If you don't want your pupper sleeping on your furniture, a dog bed is a perfect solution. By providing them with their own bed, you can keep them off of yours and avoid any unwanted fur or dirt on your couches and chairs.
It Helps With Aging and Arthritis
As dogs age, they can start to experience joint pain and stiffness. An orthopedic dog bed can help to alleviate some of this discomfort by providing extra support and cushioning. Choose a thicker bed if your dog is on the larger side, or a memory foam bed if they need extra contouring support.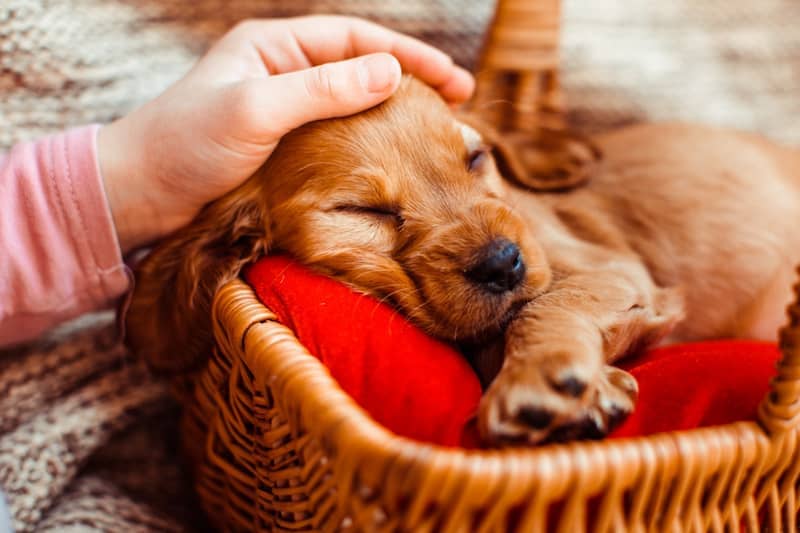 When Should I Replace My Dog's Bed?
Even the best dog beds won't last forever. Depending on how often your dog uses his bed and how well it's made, you may need to replace it every few months to a few years. Keep an eye out for signs that your dog's bed is ready to be replaced, such as:
The fabric is ripped or torn
The filling is lumpy or flattened
The bed is starting to smell
There are holes in the bed
Your dog is sleeping less or seems uncomfortable
If you notice any of these signs, it's time to start shopping for a new dog bed. Your pup will thank you for it!
Do Dogs Need Pillows?
While dogs don't necessarily need pillows, some may enjoy the extra comfort and support that they provide. A pillow can help to keep their head and neck in alignment. For older dogs with joint pain, a pillow can also provide some relief by lifting them off of the ground slightly.
However, many dog beds feature a built-in pillow or bolster that serves the same purpose. If your dog bed has one of these, you likely don't need to add an extra pillow.
Do Dogs Prefer Hard or Soft Beds?
Since dog beds are usually placed on surfaces, it's important to have a firm material. This helps to prevent your dog from sinking too far and keeps them supported. However, the bed should also have some softness to it so that your pup can rest comfortably.
The best dog beds strike a balance between firm and soft. They usually feature a hard base with a softer top layer, such as memory foam. This provides the support that your dog needs while also being comfortable enough to sleep on.
Are Raised Beds Better for Dogs?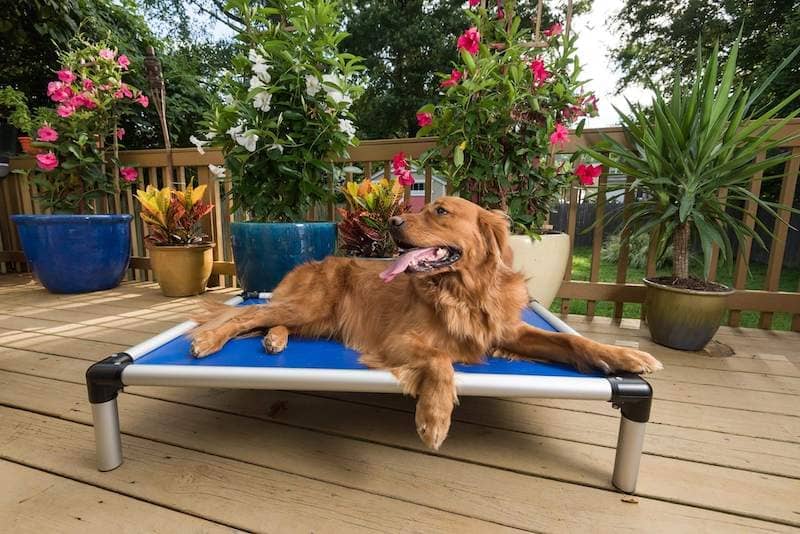 Raised dog beds are a good option for dogs that tend to overheat or have joint pain. These beds keep your pup off of the ground and away from any drafts, so they can stay cool and comfortable.
If you live in a hot climate or your dog has trouble regulating their body temperature, a raised bed is a great choice.
It's also a good option for campers and nature enthusiasts because it keeps your dog away from potential bugs, snakes, and other critters.
How Often Should You Wash Your Dog Bed?
You should wash your dog's bed at least once a month. If your dog sleeps in her bed every day, you may need to wash it more often.
Washing the bed helps to remove any dirt, hair, or other debris that may be collecting on it. It also freshens up the fabric and helps to prevent any odors.
As mentioned above, there are plenty of beds that have removable covers and tops to make washing easy. Other beds can go straight into the washer without any disassembly.
When it comes to washing, always follow the manufacturer's instructions. Some fabrics may require special care or attention.
There are some additional tools and products that can help to keep your dog's bed clean, such as:
A lint roller or pet hair brush
A vacuum with a pet attachment
An enzyme-based cleaner
Spot cleaners
Stain removers
I love to use the ChomChom Pet Hair Remover when I'm spot cleaning for my pup Indy. It quickly and easily removes any pet hair from upholstery, clothing, or bedding. Click here for more dog hair removal tools.
How Do I Get Rid of Dog Smell in My Dog Bed?
One of the biggest drawbacks of having a dog is the potential for pet odor. Dogs can have a strong smell, especially if they're not bathed regularly. This scent can transfer to their bedding and make it difficult to keep your home smelling fresh.
We've covered How to Get Rid of Dog Smell While Keeping the Dog in this separate blog post but here are a few things you can do to reduce or eliminate dog smell in their bed:
Wash the Bed Regularly
The easiest way to control an odor on your dog bed is by keeping it clean. One month will help to keep the dog bed fresh, but two weeks will keep it pristine.
Make sure to use a dog-friendly detergent and fabric softener to avoid any irritation.
Use Vinegar and Water
Vinegar is known for its ability to neutralize odors. You can create a solution of one part vinegar and two parts water to spray on your dog bed.
Let it soak for a few minutes before blotting it up with a clean cloth. You may need to do this a few times to completely eliminate the odor. This is a natural solution that won't harm your dog or your bedding.
Use Baking Soda
Baking soda is another natural deodorizer that can be used on your dog bed. Simply sprinkle a layer of baking soda over the bed and let it sit for 30 minutes to an hour.
Afterward, vacuum up the baking soda and enjoy the fresh smell. You may need to do this every few weeks to keep the odor under control.
Use an Enzyme-Based Cleaner
Enzyme-based cleaners are designed to break down organic matter, such as pet hair and odor. These cleaners can be sprayed on your dog bed and left to air dry.
Some enzyme cleaners may require you to rinse the bed after application, while others will work without any rinsing. Be sure to read the manufacturer's instructions before using to make sure you're using the product correctly.
Use a Pet Odor Candle
Pet odor candles are a great way to freshen up your home and eliminate any pet odors. These candles contain essential oils that will help to neutralize the dog smell in your bed.
Allow the Bed to Air Out in the Sun
The sun is a powerful disinfectant and deodorizer. You can easily freshen up your dog bed by letting it sit in the sun for a few hours.
This is a great way to eliminate any musty smells that may be coming from the bed. Just be sure to bring the bed inside before it gets too hot or sunny outside. Keep it off of the ground if possible to avoid any pests.
Replace the Filling if It's Absorbent
Sometimes, the filling in your dog bed can become absorbent and hold onto smells. If this is the case, you may need to replace the filling entirely.
This can be a costly fix, but it may be necessary if all else fails. You can also try washing the filling if it's removable and see if that helps to eliminate the odor.
Add a Few Drops of Essential Oil to the Bedding
Finally, you can add a few drops of essential oil to the bedding to help freshen it up. Lavender and lemon are great choices for neutralizing pet odors.
You can also try using a diffuser with these oils to help keep your entire home smelling fresh.
The Bottom Line
Dog beds are just as important as people beds, and they come in just as many varieties! When choosing the best bed for your pup, you'll want to consider your dog's size, temperament, and any health concerns.
Once you've found the perfect bed, it's important to keep it clean to avoid any odors. Regular washing, sun exposure, and enzyme cleaners can help to keep your dog's bed smelling fresh. If all else fails, you may need to replace the filling or invest in a pet odor candle.
What are your favorite tips for picking out the perfect bed for your pup? Share your tips in the comments below!